Miriam Garfinkle: 1954 - 2018
My partner Miriam died on September 15.
Miriam died at home, surrounded by the love of her family and friends. Left to mourn, and to cherish her memory, are her partner Ulli Diemer, her daughter Leah, her son Simon and daughter-in-law Melissa, her grandson Ben, sisters Diane (David) and Carol (Johnny), her nieces, nephews, great-nieces, great-nephews, and those she called her "chosen family".
Her chosen family was large, because she touched so many lives: Smadar, Reem, Miriam M., Peggy, Judy, Sini and Kai especially were like family in every sense, and many others were deeply woven into her extraordinary network of relationships.
She was an amazing mother to Simon and Leah, and she watched their progress in life with pride and devotion. In her last 18 months, it gave her great joy to see her grandson Ben blossoming into the world.
Dr. Miriam, as she was known to her patients, practised medicine in Toronto for more than 30 years. As a physician, she engaged with her patients in a way that went far beyond the provision of clinical services. She was a doctor who would make a 'house call' on a homeless patient in the park where he lived, head out without her coat in the middle of winter to find a patient having a mental health crisis, or drive twenty kilometres to the home of a patient who didn't have a phone when she received a lab result that needed immediate action.
Miriam spent many years working at the Immigrant Women's Health Centre and at the Regent Park Community Health Centre, where she was known, not only for her conscientiousness and compassion, but for her sense of humour and infectious laugh. Her concern was not only for her individual patients, but for the social conditions that lay at the root of many of their problems. On her own time, she fought for an increased minimum wage, lobbied for better funding for reproductive health care for immigrant women, and occupied a cabinet minister's office to demand full funding for health care for refugees.
Her activism went far beyond issues related to health care. Raised in a left-wing secular Jewish family, she was eight years old when she wrote her first political letters, to U.S. President Kennedy and Soviet Premier Khrushchev, asking them to stop testing nuclear bombs. As she told them, "I am sure me and everybody else will appreciate it." When she was fourteen, she spent Saturday afternoons leafleting outside her local supermarket in support of striking farmworkers.
The cause of the Palestinian people was central to her political activism. As a Jew, she felt a special obligation to speak out about this and to say "Not in my name." She saw the parallels between the oppression of Palestinians and the oppression of indigenous peoples in Canada, and she spoke up often for indigenous rights.
What tied her diverse involvements together was a fierce commitment to justice, to doing what was right. She was a committed socialist who was enraged by injustice and never wavered in her belief that the world had to rid itself of capitalism and replace it with a new society based on justice and grassroots democracy.
Befitting someone who was a force of nature, Miriam was happiest when she was out in nature, be it in Toronto's High Park, Pukaskwa on Lake Superior, or Gros Morne in Newfoundland. Famously impatient with urban annoyances like traffic jams (she would get off the bus and walk rather than sit in traffic), she could spend hours in the woods watching and listening to birds and frogs. At home she was often outdoors gardening, or trying (always failing, but never giving up) to find a foolproof way to keep squirrels and raccoons from raiding her bird feeder.
Perhaps her greatest loves in life were music and dancing. She played piano, guitar, banjo, and sopranino, and she danced at every opportunity, be it at a "mug-up" in Newfoundland, a folk dance in the park, or dancing with Ulli in her own kitchen.
Whatever she did, she did with passion and a sense of joy. She will be missed, but those who lives she touched will remember her for as long as they live.
Interment with be at the Necropolis Cemetery. A memorial gathering to celebrate Miriam's life will be held at a later date. Information about arrangements, as well as tributes to her life, can be found on Miriam's memorial page at www.diemer.ca/Miriam/
Moments with Miriam: Memories, Stories, Tributes, Photos


Moments with Miriam



This page was created to enable Miriam's friends, family, and the people whose lives she has touched, to share their stories, memories, and photos.

The "Moments with Miriam" page features memories, stories, tributes, anecdotes, and photos, as well as a selection of Miriam's own words, actvism, and photos.

If you wish to contribute your own story or appreciation for Miriam and her impact on your life and the lives of others, please use the Add option on the "Moments with Miriam" page to share your memory or tribute or photo(s). Please note that the "Add" option includes a registration feature. You will be asked to submit your email, and you will then be sent a confirmation email. When you have received the email and clicked on the confirmation, you can then proceed to Add, using the form that pops up. If you have trouble using the form for some reason, you can also email your contribution to ulli [at] diemer.ca.

The "Moments with Miriam" page is set up to display contributions in random order. If you wish to change the order you can click on Order to order contributions by date, title, or contributor.
Appreciation
Cards & letters from patients upon leaving her Spadina practice. 2000.
Making mid-life changes
Judy Steed wrote this feature article about Miriam in December 2001.
Articles, Statements, Interviews
Resisting the Occupation with Olive Oil or PDF 2014.
Open Letter: Health Care Providers Support OPS and SCS. September 5, 2018. Days before she died, Miriam gave her support to this statement.
An Open Letter from Jewish Academics and Elders Regarding False Allegations of Student Anti-Semitism. November 13, 2017
Ontario's Health Workers Call for Improved Sick Leave Policies. 2017.
An Open Letter from Jewish Canadians in Support of Nadia Shoufani. September 2, 2016.
Petition in support of statement: Jewish survivors, descendants of survivors, and victims of Nazi genocide unequivocally condemn the massacre of Palestinians in Gaza. August 2014.
Fill the Gap: Ontario Should Insure Injured Migrant Workers. April 8, 2014.
Denying health coverage to injured migrant workers is shameful. September 18, 2013
Porter's corporate interests can't be allowed to trump public health. 2013.
Deputation Opposing Island Airport Expansion. 2013.
Some pumpkin recipes: Turn your Hallowe'en pumpkins into delicious and nutrious food. 2012.
Gaza: Health System in Collapse. 2008.
Health care and children in crisis in Gaza. 2007.
Also available in Arabic, French, German, Italian, Polish, Portuguese, Spanish.
Canadian Health Professionals Join the International Call to End The Humanitarian Disaster in Gaza. December 15, 2007.
TOGETHER for GAZA: Palestinians and Jews work together to act on the health crisis in Gaza. March 15, 2007.
Province Must Treat Health Centre Staff Fairly. January 12, 2007
Looking at Israel from the other side. (Book review: 2006)
Humanitarian Situation in the Occupied Territories, Lebanon, and Israel. August 16, 2006.
Statement of Concern for the Public Health Situation in Gaza. July 31, 2006. Also available in German .
Zatoun: Bridge-builder at a Crucial Time.
My Mom, Mastectomy and Me. September 9, 2004.
Dave Kashtan: A Eulogy. December 12, 2003.
We can't afford a dim view: Deputation at City Hall regarding funding for women's health clinics.
Jimmy Garfinkle: A Eulogy. November 5, 1984.
See a copy of the booklet from the November 5, 1984 Memorial for Jimmy Garfinkle here.
Progressive doctors condemn opting out. 1982.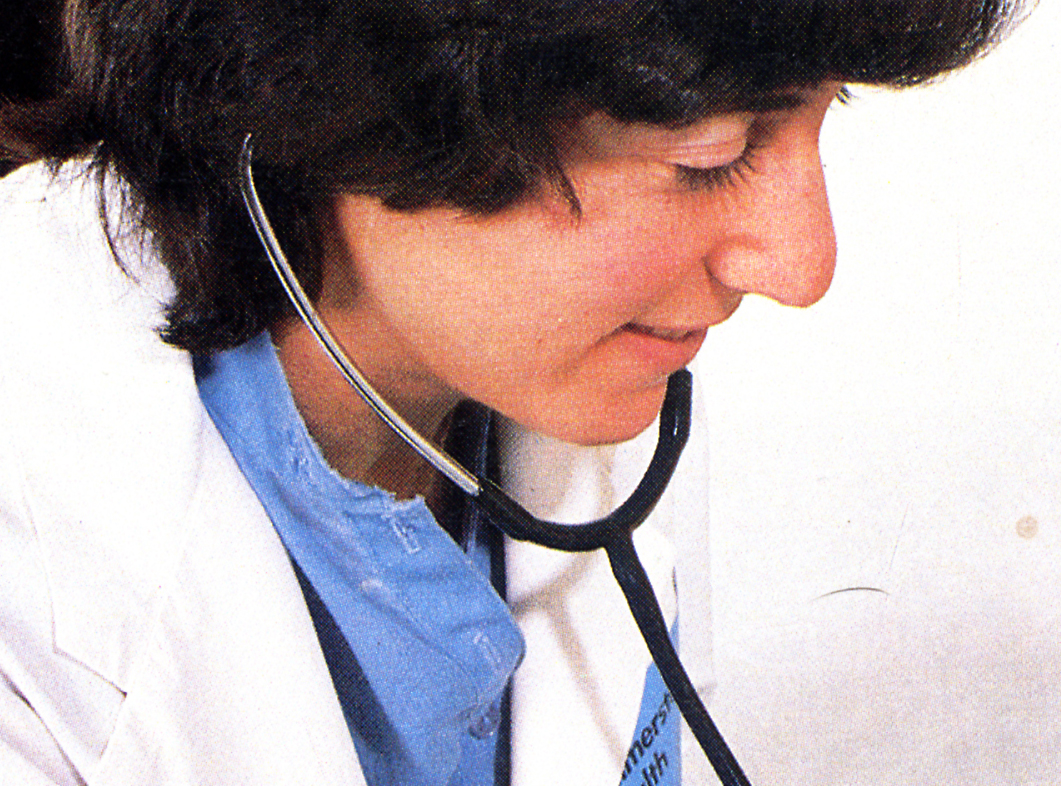 Letters
Ontario Health-Care Reform and Community Health Centres. January 7, 2017.
Legal Case Deserves Support. October 26, 2016.
Line 9 Pipeline Needs Review. January 31, 2016.
Don't Toss Out Your Pumpkins. October 30, 2015.
Spirit of Truth and Reconciliation Already Broken. June 29, 2015.
Time to Break Silence on Gaza Assault. May 10, 2015.
Rail Disaster Strategy Lacking. March 16, 2015.
Airport Expansion. February 20, 2015.
Shut Down the Tarsands. December 10, 2014.
Medical Programs for Homeless. September 9, 2014.
Gaza Headline Absurdly Inaccurate. July 19, 2014.
Diminishing residential schools abuse?. June 28, 2014.
No Compassion on Immigration. March 3, 2014.
Regent Park Story Not so Simple. March 3, 2014.
Pete Seeger Was the Best of Us. February 2, 2014.
Plan Already Disastrous. September 8, 2013.
Little Regard for Poor Countries. September 15, 2012.
Health Care is for Everyone. May 14, 2012.
Charity Nice, but No Solution. December 27, 2011.
Pipeline Follies. November 19, 2011.
The School Funding Debate. March 1, 2011.
A Second Tier in Public System. April 14, 2009.
The single-state solution. May 16, 2008.
Sewage Disaster in Gaza. March 2007.
Israel's Use of Cluster Bombs is a War Crime.
Desperate Situation in Gaza. August 2006.
Letter to Metro Morning. May 11, 2005.
Response to Toronto Sun article. September 1, 2001.
Letter to CBC Producer Ira Basen. November 8, 1997.
Letter to Ontario Minister of Education and Training, John Snobelen. March 4, 1997
Community is my family's support system. July 8, 1995.
Letters to U.S. President Kennedy and Soviet Premier Krushchev. October 1962.
In the News
Making mid-life changes
Judy Steed writes: "A year ago Garfinkle caused shock and tears among her patients – I was one of them – when she announced she was giving up her practice. We were bereft. We hadn't realized how much we'd come to rely on our family doctor until she told us she was leaving; she carried our personal and family history in an intimate way no one else did." – Toronto Star, December 28, 2001.
Jewish dissenters speak out over Gaza
On Wednesday, a dozen Jewish women "occupied" the Israeli consulate on Bloor St., demanding an end to the Israeli siege of Gaza. The women expressed "outrage at Ottawa's refusal to condemn the massacres," said spokesperson Miriam Garfinkle. They urged the media to report that "many Jewish-Canadians do not support Israel's violence and apartheid policies." – Toronto Star, January 11, 2009
Olive oil, opposition and Gaza
Rick Salutin writes: "On Tuesday, I wrote my friend and sometime doctor, Miriam Garfinkle, to say I'd run low on the olive oil, from Palestine, that she sells. She is normally diligent, even fanatical, about it. It soothes her, she says, as she has grown ever more distressed by Israel's occupation there, and more involved in dissident Jewish actions.... Then, on Wednesday, I saw in the news that she was among a group of Jewish women who occupied the Israeli consulate in Toronto." – Globe & Mail, January 9, 2009.
Death becomes rallying cry
Miriam Garfinkle joined other friends and activists yesterday to remember homeless man Paul Croutch, who was beaten to death in Moss Park. – 24 Hours, September 16, 2008
Women behind the Wheel
– The Medical Post, March 20, 2007.
Brasileira Consegue Compaixao Humanitaria Em Aprovacao Surpreendente
– Brasil News, December 5, 2006
Immigrant women face barriers to health care
The young woman stumbled into a mobile heath unit parked in a northeast Toronto factory district. She was obviously ill, and everyone in the van rushed to help her. But she didn't speak English, and no one could speak her language, either. "This woman struggled to come to us for help, but no one spoke her dialect," recalls Dr. Miriam Garfinkle, medical director of the Immigrant Women's Health Centre. – Toronto Star, October 4, 2003.
Private-school debate grows
The Harris government's plan to provide tax-credit funding to private schools meets with widespread public opposition. Miriam speaks at a public meeting called to oppose the scheme, saying it will undermine public education. – Globe & Mail, May 25, 2001
Hockey Doc
To say Dr. Miriam Garfinkle practises in this city has a double meaning. – Family Practice, 1997
Boys: Do you know where your mothers are?
Dr. Miriam Garfinkle got tired of being just the mom in the stands. She instigated the uprising from fan to player at her son's house league championship team party. – Toronto Star, June 17, 1997
The doctors who care — also as PDF
"We aren't the Ontario Medical Association, that's for sure," grinned Dr. Miriam Garfinkle, a family physician, 31 this week, and a woman with a thoughtful, calm manner. – Globe & Mail, April 25, 1985
Ontario group wants earlier, easier abortions
A group of 150 Ontario physicians has called for the establishment of free-standing abortion clinics because they say the current system is "unnecessarily dangerous...." Dr. Miriam Garfinkle of the group said it was unacceptable for the government to continue prosecuting Dr. Morgentaler for operating a free-standing clinic "despite four jury acquittals on the same charge." – The Medical Post, January 22, 1985
Abortion faster safer in clinics MDs' group says
Ontario should permit abortion clinics because they allow women to have abortions earlier in their pregnancies when there far less health risk, a group representing 150 Ontario doctors said yesterday. – Toronto Star, January 9, 1985
Government assailed on abortion policy
Dr. Miriam Garfinkle, a Toronto family physician, said the province should recognize Dr. Henry Morgentaler's Toronto abortion clinic and similar facilities that other doctors would establish. – Toronto Sun, January 9, 1985
MRG Abortion Press Conference
It is unacceptable, said Dr. Miriam Garfinkle of Toronto, for the government of Ontario to continue prosecuting Dr. Morgentaler, the operator of such a clinic, despite four jury acquittals on the same charge. Rather it should use the money it is spending in the courts to solve the underlying problem by establishing publicly supported clinics. – MRG Newsletter, January 1985
United Church Observer issue on medicare, with Miriam on the cover
– United Church Observer, March 1984.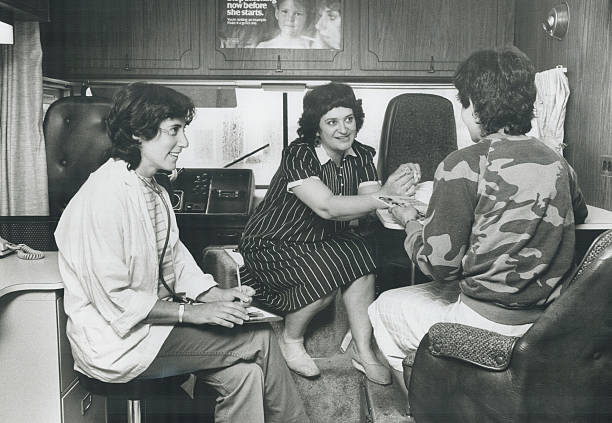 Miriam on the bus: the Immigrant Women's Health Centre mobile unit.
Actions & Activism
Handing out flyers at the Bloor Hotdocs Cinema.
Miriam and a friend tangle with a TIFF employee who tells them they are not allowed to hand out flyers oppsoing the Line 9 pipelines on the sidewalk. September 16, 2015. For a copy of a flyer explaining Line 9, click here.
What is Stephen Harper doing to Canada? How can we stop him?
An anti-Harper flyer handed out by Miriam and friends, September 2015.
Swift-watching
A chance encounter with a group of young birdwatchers in the Rouge Park in June 2013 introduced Miriam and Ulli to the pleasures of swift-watching: standing staring up at a chimney shortly before dusk, waiting to see chimney swifts plunging into their roosting chimneys for the night.
A couple of days later, Miriam and Ulli headed over to St. Anthony's Church for their first swift-watching experience. Some 50 swifts flew into the chimney that night. Miriam especially was hooked. From then on, she devoted many hours to working as a citizen scientist: observing and documenting the swifts' behaviour in order to contribute to a body of knowledge that could help us to protect these threatened birds – and many other species – in the face of habitat loss and climate change.
Aroma Espresso Bar Protests. 2010 - 2011.
Aroma Espresso Bar is part of an Israeli-owned chain. One of Aroma's branches is in Ma'aleh Adumim, a large Israeli settlement in the occupied Palestinian territories. Anti-apartheid activists have called for a boycott of Aroma as part of a larger movement by Palestinian civil society to find non-violent means to end the occupation and apartheid.
1) Aroma protest: Toronto: Bloor & Albany. September 2010 (video).
2) Aroma protest: Toronto: Eaton Centre. December 2011 (video).
Solidarity with Bil'in
The village of Bil'in in the occupied Palestinian territories became a centre of non-violent resistance to the Israeli occupation and continuing Israeli land seizures. One of the leaders of the Bil'in resistance, Mohammad Khatib, toured Canada in the summer of 2009, along with Israeli human rights lawyer Emily Schaeffer, to build international support for Bil'in and the Palestinian resistance. Miriam was heavily involved in helping to mobilize support for Bil'in, and Mohammed stayed at Miriam and Ulli's house while he was in Toronto.
Jewish Women Occupy Israeli Consulate in Toronto. January 7, 2009.
In the midst of the brtual Israeli attack on the people of Gaza which began on December 27, 2008, a group of Jewish women occupied the Israeli consulate in Toronto. Miriam was the media spokesperson for the group, standing outside the building doing media interviews while the occupation was underway.
Arrests underway in Toronto Israeli Consulate Sit-in. January 7, 2009.
Protesting against the Israeli invasion of Lebanon, 2006.
Independent Jewish Voices - Canada. 2005 -
Miriam was one of the founding members of Independent Jewish Voices IJV), and served on its steering committee for a period of time. IJV grew out of previous Palestinian solidarity initiatives in Canada's Jewish community. IJV believes that "no one should have to choose between embracing Judaism or Jewishness and supporting Palestinian rights". IJV was the first national Jewish organization to endorse the Palestinian-led Boycott, Divestment and Sanctions movement. Read the IJV basis of unity here.
In 2018, Independent Jewish Voices Canada gave Miriam a special recognition award for her work on behalf of Palestinian freedom.
Special Diet Clinics. 2005.
In 2005, the Ontario Coalition Against Poverty (OCAP) announced a Special Diet signup clinic on the front lawn at Queen's Park to be held on October 3rd. Over 1,000 people signed up for the clinic. Miriam was one of the health providers from Regent Park who participated in the signup clinic.
Jewish Voices for Peace and Justice. June 2003.
In 2003, Miriam helped organize a conference of Canadian Jews opposed to the continued occupation of the West Bank and Gaza by Israel.
Middle East Peace Quilt. 2001.
The Middle East Peace Quilt is an international community art project, co-ordinated by Sima Elizabeth Shefrin, and made by over 300 people ranging in age from 5 to 85, including men and women, Jews and Palestinians and professional artists. In 2001, Miriam arranged to bring the Quilt to Toronto, where it was displayed at the Morris Winchevsky Centre through November and December.
Founding women's hockey league
When her children was old enough to start playing hockey, Miriam spent a lot of time at the local rink, Bill Bolton arena, watching first Simon's, and then also Leah's hockey games. Thinking it would fun to play, but with no local women's hockey teams to join, Miriam talked to other mothers and women in the neighbourhood about starting a women's hockey league. There was a lot of enthusiasm, and a women's hockey league was born.
Supporting a woman's right to choose an abortion
In the 1980s, when women seeking an abortion faced multiple obstacles, the Medical Reform Group of Ontario (MRG) took the position that abortion should be a matter of a woman's personal conscience, and that free-standing (i.e. non-hospital) abortion clinics should be set up to provide medically insured abortions. Leading the MRG's work in supporting the right to choose to have an abortion were Miriam Garfinkle and Mimi Divinsky.
In 1985, with an intense political battle underway over abortion, the MRG called a press conference on January 8 to publicize its support for a woman's right to choose an abortion if she so chose. MRG spokespersons at the press conference were Drs. Miriam Garfinkle, Debby Copes, and Bob James.
See also the June 1983 issue of the MRG Newsletter (page 5) for a previous update on the MRG's, and Miriam's, work in supporting choice.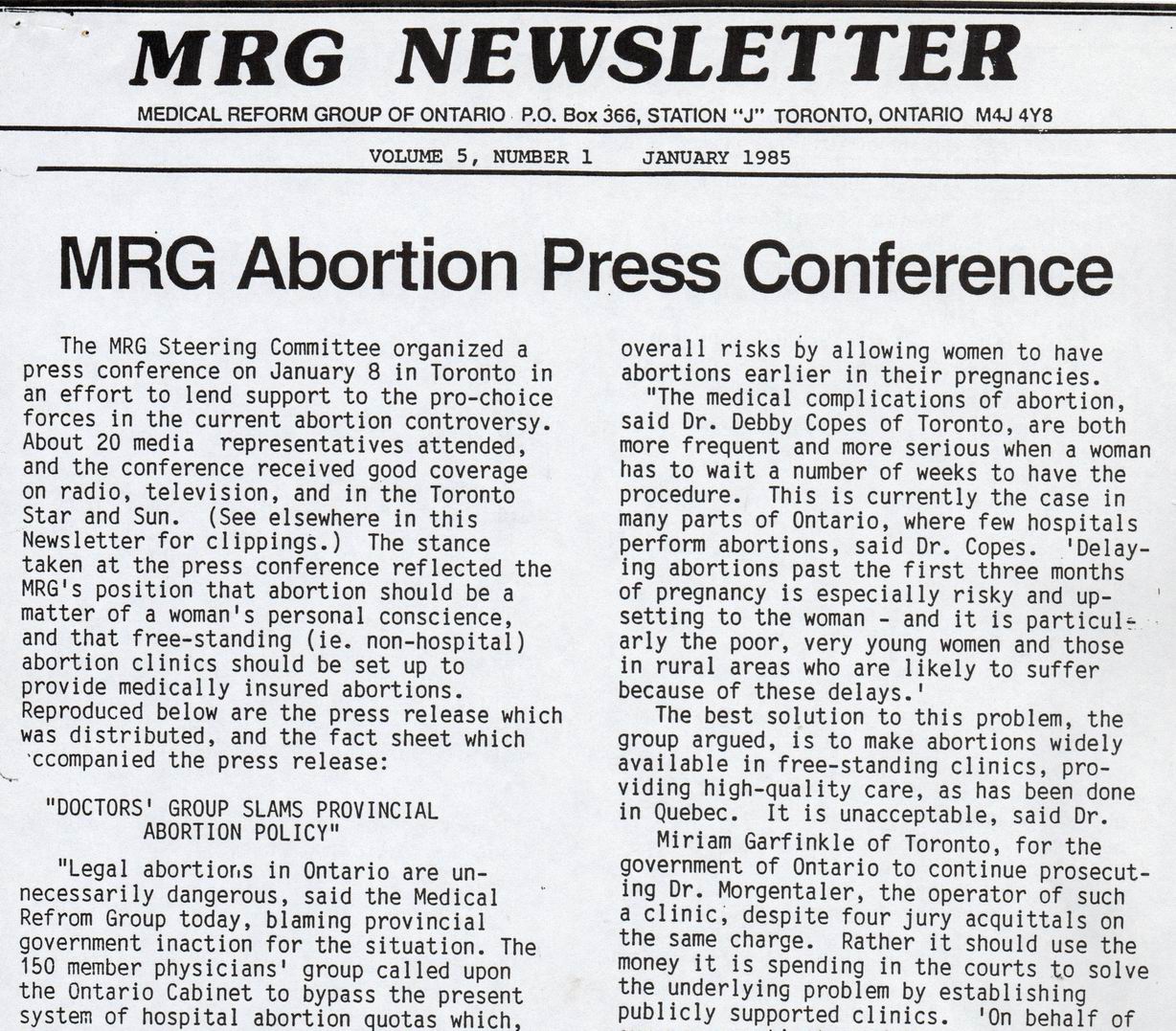 Medical Reform Group
Miriam was one of the founders of the Medical Reform Group of Ontario. The first meeting took place in her living room.
The Medical Reform Group brought together doctors who were concerned that there was no voice for progressive, socially-conscious physicians in Canada. They did not feel a forum existed to address the social dimensions of health and disease. Members were united around three principles:
1. The universal access of every person to high quality, appropriate health care must be guaranteed. The health care system must be administered in a manner which precludes any monetary or other deterrent to equal care.
2. Health care workers, including physicians, should seek out and recognize the social, economic, occupational, and environmental causes of disease, and be directly involved in their eradication.
3. The health care system should be structured in a manner in which the equally valuable contribution of all health workers is recognized. Both the public and health care workers should have a direct say in resource allocation and in determining the setting in which health care is provided.
Miriam was involved in many aspects of the MRG's work, especially in opposing barriers to health care such as user fees "extra-billing" by physicians, and in supporting the pro-choice movement in Canada.
To see newsletters published by the Medical Reform Group, see here. To see news releases issued by the MRG between 1979 and 1995, see here. For a brief history of the Medical Reform Group (to 1994) see here.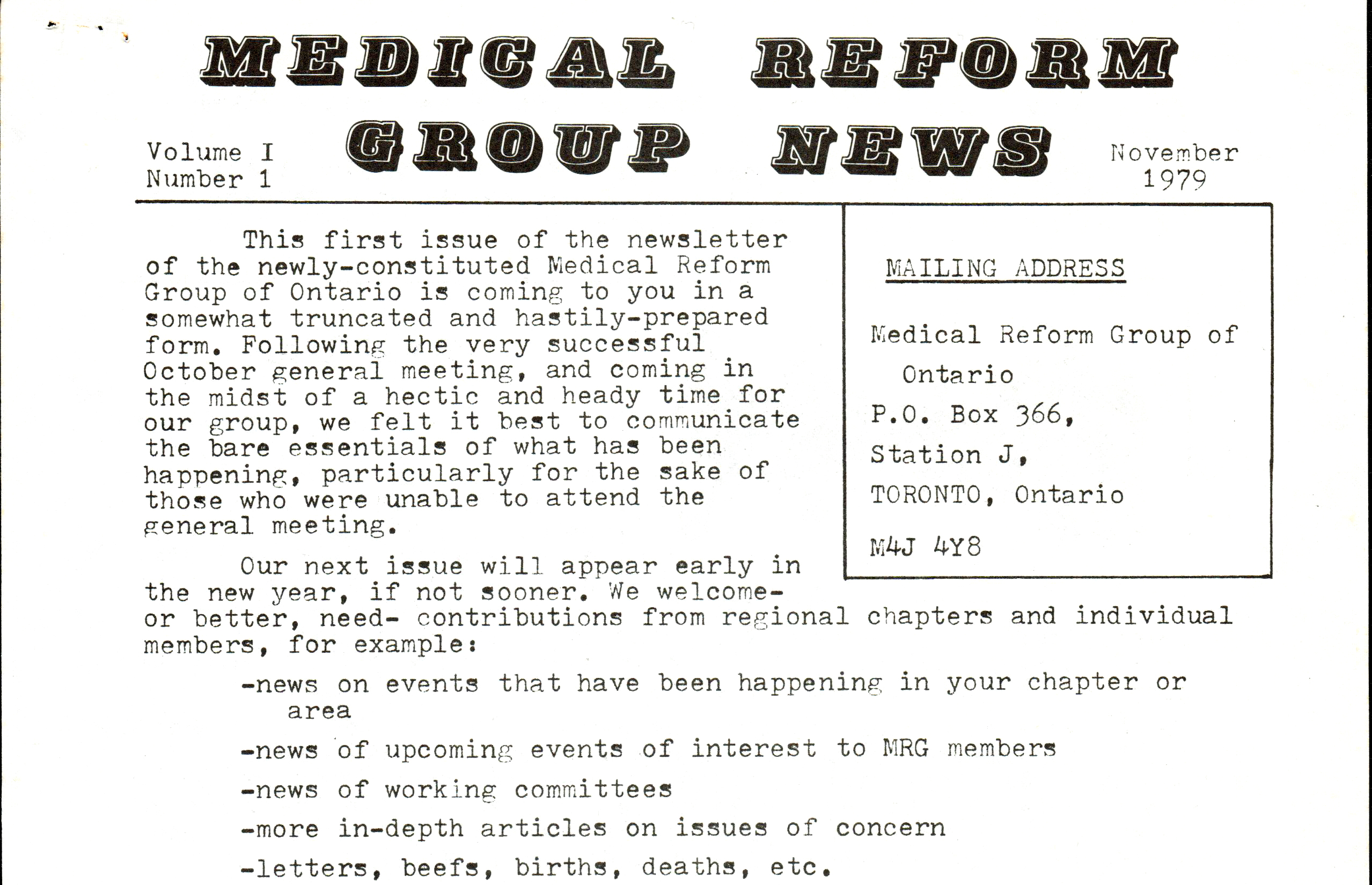 Toronto Liberation School. 1975-1980.
From 1975 to 1980, Miriam was a member of the Toronto Liberation School. The Toronto Liberation School (the name was later changed to Libertarian Socialist Collective) was a Marxist libertarian socialist group which engaged in various forms of popular education, and which also published a newsletter, The Red Menace. The group briefly described its political orientation as follows: "We want to overthrow the capitalist system and build a new world in which freedom and creativity can flourish, a world in which people are in control, in which they run things democratically and collectively. A libertarian socialist world."
Photo Albums
---
On the shore, near Caraquet, New Brunswick, 2012