Karl Heinz Diemer
By Ulli Diemer
Karl Heinz Diemer, a Newfoundland businessman, photographer, and classical music aficionado, died February 3, 2006, at the age of 85.
Karl Heinz - called Heinz by his German friends and family, and Karl in Canada - was born in Oberkaufungen, Germany, on July 23, 1920. His father, Adolf, was an injured war veteran and a member of the newly formed German Communist Party. The young Karl Heinz grew up in a politically tumultuous time. A family photo shows him as an eight-year-old, walking with his younger sister Emma in an anti-Nazi protest march. When the Nazis came to power in 1933, twelve-year-old Heinz was sent to warn his grandparents, also Communists, that their farm was likely to be raided, while his mother, Luise, hiked through the woods in the middle of the night carrying ammunition to be used in a possible uprising against the Nazis. The uprising never came. In 1934 his father was convicted of treason for opposing the Nazis, and jailed.
Karl Heinz left school at sixteen to study drama and voice, pursuing his goal of becoming an actor. His studies were cut short by the outbreak of World War II. A soldier at nineteen, Karl Heinz was first sent to Kirkenes in the far north of German-occupied Norway, and then to Africa. He served in the German army's Afrika Korps under Rommel, and was captured October 23, 1942 during the battle of El Alamein.
From a temporary camp in Egypt, the captured German soldiers were sent by ship, via the Suez Canal, to Canada. Karl Heinz spent the rest of the war in Canadian prisoner-of-war camps in Quebec, Ontario, and Alberta. The prisoners included men who in civilian life had been university professors, teachers, linguists, and various kinds of professionals and skilled workers, so the camps quickly developed a curriculum of lectures, courses, and other educational activities. Karl Heinz studied English, Russian, and literature. The war in Europe ended in May 1945, but logistics and a critical shortage of food in Germany meant that he and most of his fellow prisoners-of-war could only be repatriated in mid-1946, more than a year later.
Upon his return, he took work in an optical plant while attempting to pursue his acting career, but it proved impossible for him to make a living in theatre in the difficult post-war period. In 1948, he married Sieglind, and a son, Ulli, was born in November 1948.
In 1954, Karl Heinz returned to Canada as an immigrant, followed a year later by his wife and son. After a stint working for the CPR in Toronto, he became a school photographer. His work took him to Newfoundland in 1956, sparking a life-long attachment to the province. Working as a school photographer in the subsequent years, he visited every community on the Island as well as many in Labrador. He was proud of the fact that he was one of the first people to drive a car across the entire Island of Newfoundland from Port aux Basques to St. John's.
Karl moved to Newfoundland permanently in 1960. His marriage ended shortly afterwards, and Sieglind returned to Toronto with their two sons, Ulli, and Peter, who had been born in 1958.
In 1962, he and his new spouse, Roberte, opened a photography business, Nova Photo, in Corner Brook, while continuing with school photography. They also established a photographic processing lab, located first in Curling and then in Pasadena. The business continued for 40 years until Karl and Roberte finally sold it.
In Pasadena (near Corner Brook), where Karl and Roberte moved in 1978, Karl pursued his many interests, including architecture, art, tree-planting, and his beloved Chow-Chow dogs. An active member of the Rotary Club, he gave a number of talks about his wartime experiences and the madness of war. He and Roberte organized and hosted a popular series of classical music concerts in their Pasadena home.
Throughout his life, he maintained a strong attachment to his German roots. He made frequent trips back to Germany, and maintained contacts with family, school friends and with fellow former prisoners of war. He always remained a member of the Schlaraffia Club which he had joined in Kassel as a young man.
In the 1990s, he returned to northern Africa to attend a reunion with other veterans. He was especially moved by the memorial service attended by German, Italian, and British veterans, former enemies, coming together in reconciliation.
He is survived by his wife Roberte, his sons Ulli and Peter, his sisters, their spouses, and grandchildren, nieces and nephews. A memorial service took place at First United Church, Corner Brook.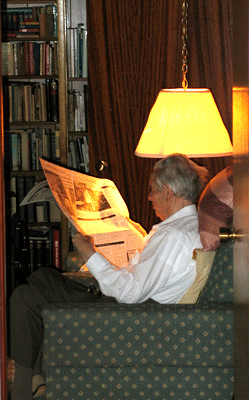 Schlaraffia photo 1 Schlaraffia photo 2 Obituary in the Western Star