Radical Digressions

Ulli Diemer's Notebook #9
Nature Calendar September: Monarch
September 1, 2019 - #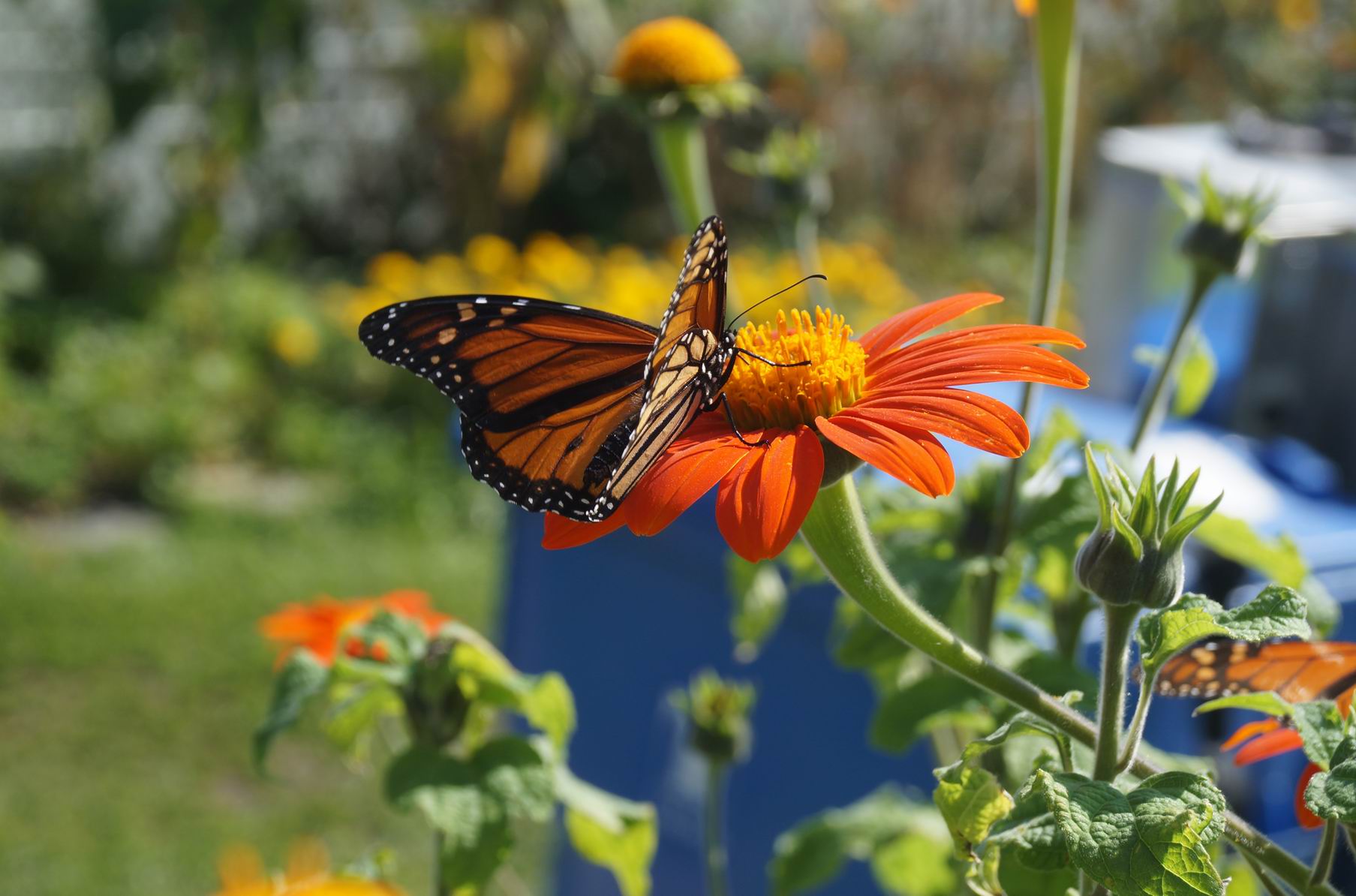 Miriam's Nature Calendar, September: Monarch butterfly, Toronto Islands. Photo by Miriam Garfinkle.
Time for creative disruption?
September 2, 2019 - #
The business world, including business schools and the corporate media, is in love with "disruptive innovations" which "disrupt" established ways of doing things. Like all buzzwords, "disruption" has become a woolly cliche whose meaning is rarely defined. But we are meant to understand that "disruptive innovations" are great, the very epitome of progress – and anyway, they're inevitable, so there is no use questioning them or trying to stop them.
But what gets to be called a "disruptive innovation?" We tend to think that it involves a new technology of some kind, but in fact that is rarely the case. The disruptive innovations we are seeing typically involve a new way of doing something that is already being done, using already-existing technologies.
So what about them is new?
Not so much, actually. They are simply the latest incarnation of a process as old as capitalism itself. Karl Marx described it more than 150 years ago. It boils down to this:
1) Wherever possible, eliminate jobs, because paying workers is expensive. Fewer workers = higher profits.
2) Where it is necessary to have workers, reduce their wages to the absolute minimum and make their working conditions as precarious as possible, to undermine their ability to organize and fight for higher wages and better working conditions.
3) Keep telling people that what is being done to them is (a) progress and (b) inevitable.
Could things be different?
It is possible to imagine other kinds of "disruptive innovations," different ways of doing things which would disrupt the status quo. To bring them about, we would need to come up with creative ideas, persuade other people that they are good ideas, and organize to bring them about. Here are a few ideas, none of them all that original, which would qualify as creative disruptions of the status quo.
1) Free public transit. Eliminate fares and improve service. This would, at the same time, fight climate change, help the working poor, and save all the money wasted on fare collection. We urgently need to transition away from our dependence on automobiles. Transit service that is reliable, efficient, safe, and free is absolutely necessary if we are to accomplish that transition. Let's disrupt the hegemony of the automobile by making transit cheaper and better.
2) Provide good housing for everyone who needs it. Our current system, which treats land and housing as commodities and relies on private developers to build housing, has failed miserably to provide good affordable housing. Let's disrupt the real estate industry, stop treating land and housing as commodities, and start building homes for people, not profit.
3) Disrupt the military-industrial complex. Far from making us safe, the madness of militarism threatens to trigger a war that would wipe out most of the human race. The military, and especially the U.S. military, which dwarfs all other countries, is also the single biggest producer of greenhouse gases and therefore a major cause of the climate crisis. And military production distorts the economy, producing for destruction while human needs remain unmet. A first step in disrupting the military-industrial complex would be to shut down all U.S. military bases in other countries. That's not enough, but it would be a start on the road to the ultimate goal of eliminating the military entirely.
4) Disrupt the tax system. The rich keep getting richer, and the majority of the population keeps getting poorer. One obvious step is to radically change the tax system. Eliminate exemptions and preferential tax treatment for capital gains and investments. Make the tax system truly progressive. Set a maximum income for individuals (let's be generous, and say $300,000 per year). Any income above that would be taxed at 100%. Tax wealth as well as income to prevent rich people from accumulating and holding on to obscene amounts of wealth.
Ulli Diemer
A new laneway mural by Nick Sweetman
September 27, 2019 - #
A new mural, by Nick Sweetman, has just appeared in the laneway which the City is about to designate as Miriam Garfinkle Lane.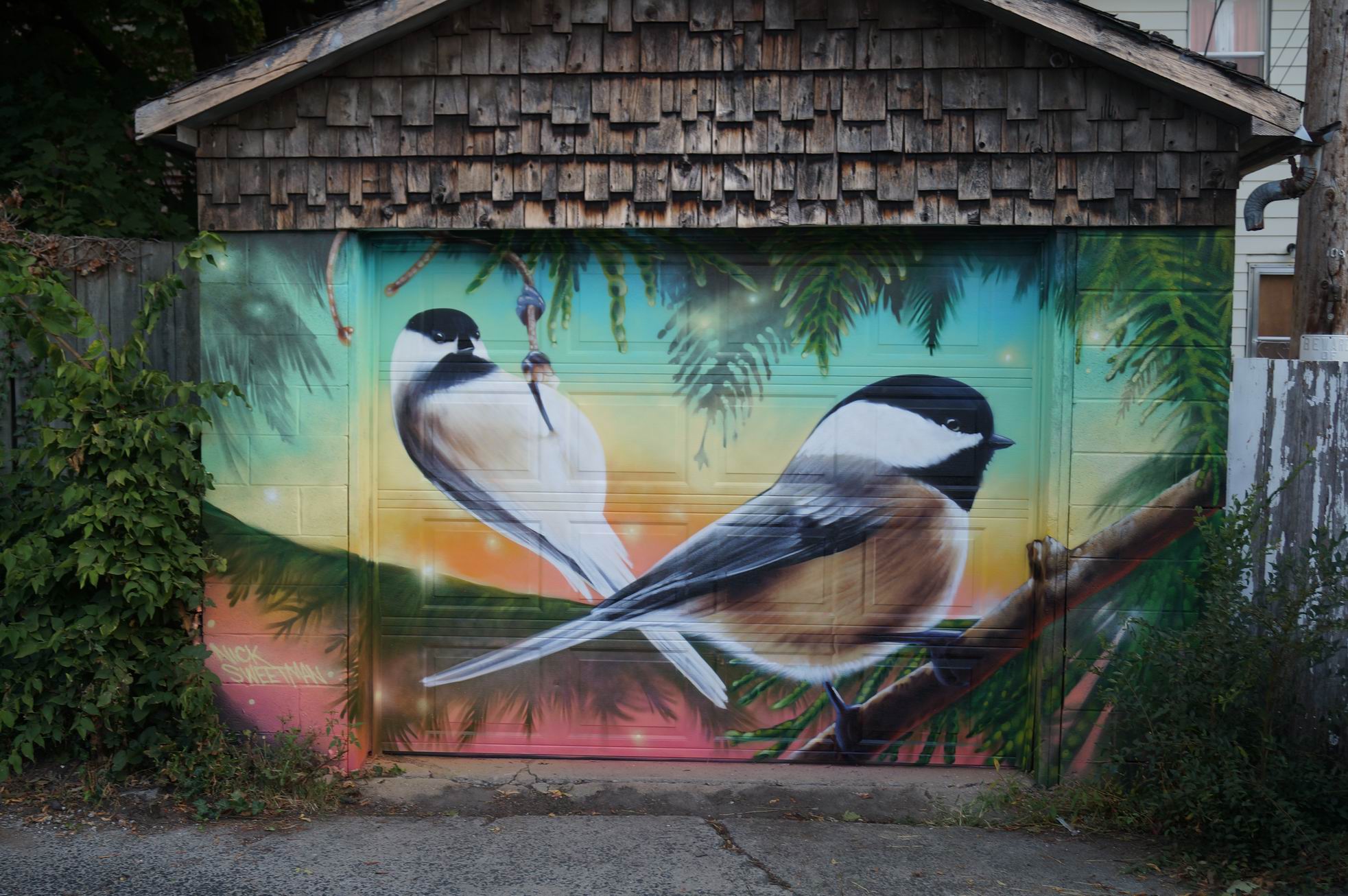 Nature Calendar October: White-tailed deer, Manitoulin Island
October 1, 2019 - #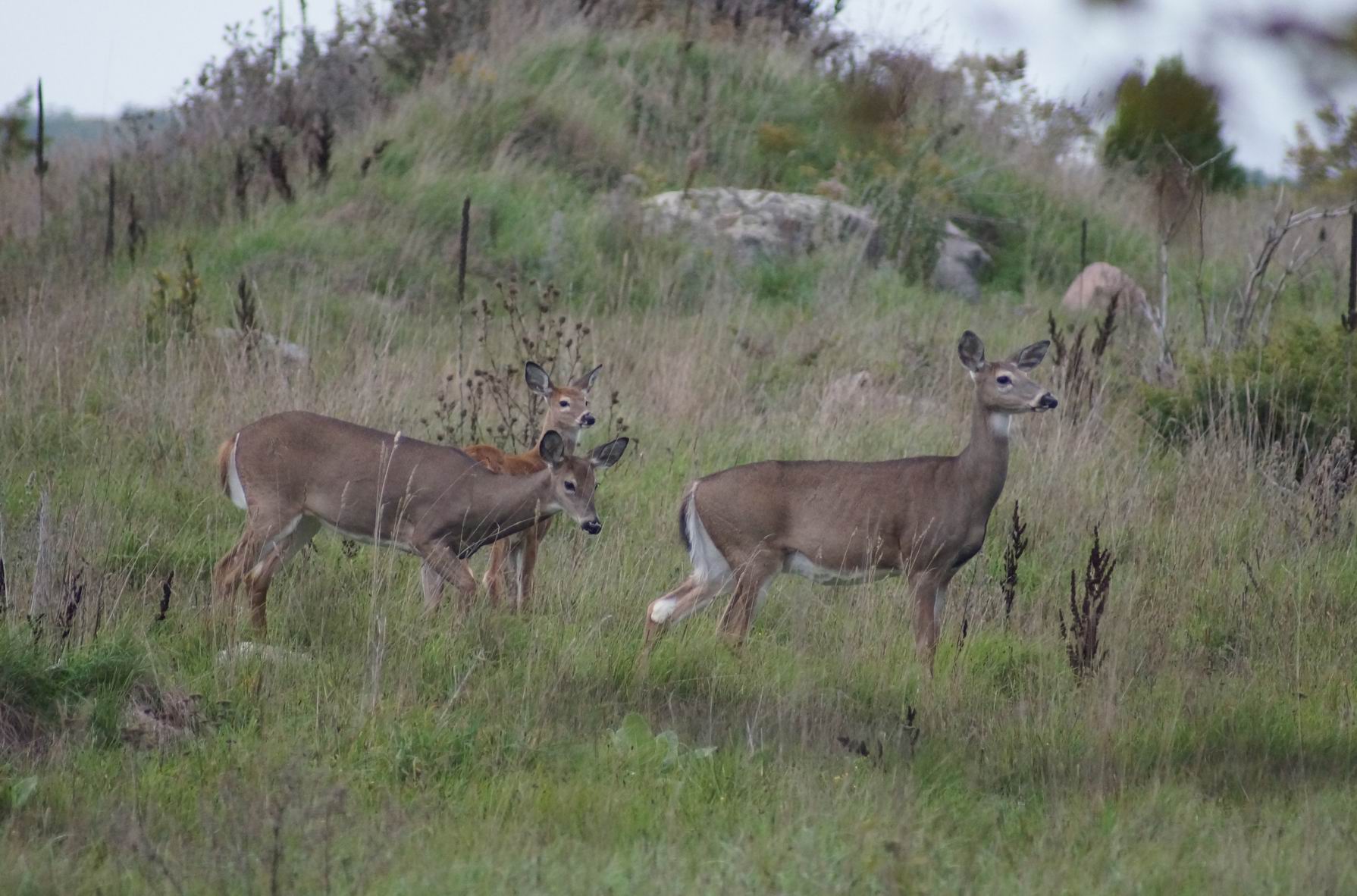 Miriam's Nature Calendar, October: White-tailed deer, Manitoulin Island. Photo by Miriam Garfinkle.
What Next? Other Voices – October 27, 2019
October 27, 2019 - #
Millions of us, in many different countries, came out in late September to demand action on the climate crisis. Around the world, in diverse ways, we are working to keep up the pressure. Time is short, and the tasks are huge.
In the midst of our activism and organizing, we need to keep asking ourselves some important questions: What are our goals? And what should we do to reach our goals?
The high of massive demonstrations is often followed by a slump of discouragement, when we realize that nothing fundamental seems to have changed as a result of our protests.
It may be worth remembering the history of other mass protests. In early 2003, a huge anti-war movement arose in reaction to the planned American invasion of Iraq. Some 36 million people came out in cities around to world to protest against the threat of this illegal war, launched on the basis of transparently false pretexts. Despite the massive protests, the war started, hundreds of thousands of Iraqis died, and the fallout continues to this day. The anti-war movement continued for some time longer, and then virtually disappeared, even though the threat of war has been increasing year by year, with the United States started pulling out of international arms control treaties and engaging in dangerous military provocations on the borders of Russia, China, and Iran.
The hard truth is that while mass protests can be energizing while they happen, their momentum can be difficult to sustain unless we are able to convert them into ongoing organizing.
To keep moving forward, we have to find ways of working together to create a counter-power to challenge capitalist system, including the political structures and institutions that sustain it. To put it another way, we have to understand where the real power lies, and we have to have strategies for challenging that power with the power of vast numbers of people, organizing together. We also have to have a clear idea of what our goals are – not only specific goals related to carbon in the atmosphere, but goals of worldwide system change.
This issue of Other Voices includes a number of articles, books, and other resources which suggest approaches to, and answers to, some of those questions.
Ulli Diemer
See the October 27 issue of Other Voices here.
Keywords: Anti-Capitalism – Capitalist Crises – Climate Change – Climate Justice – Ecosocialism – Just Transition – Movement Building – Working Class & Climate Change –
Nature Calendar November: Scarborough Bluffs
November 1, 2019 - #
Miriam's Nature Calendar, November: Scarborough Bluffs. The light-coloured bumps in the water are Trumpeter Swans. Photo by Miriam Garfinkle.
Fallacies about free public transit
November 25, 2019 - #
Whenever the movement for free public transit shows signs of gaining public support, the media digs up 'experts' who furrow their brows and tell us what an impractical idea it is. An article in the November 25 Toronto Star is a case in point. Here is a letter I wrote in response:
Opponents of free public transit resort to two fallacious arguments.
The first is that good transit is more important than free transit in persuading commuters to take transit. This is not an either-or choice. It is quite possible – and necessary, if we are to avert climate catastrophe – to have transit that is good, accessible, safe, and free.
The second fallacy is the claim that providing free transit will be expensive. This is false. The operating costs of a transit system are the same whether the costs are paid out of fares, or out of taxes, or some combination. Providing free transit would in fact eliminate the substantial costs of collecting and enforcing payment, including the horrendous costs of the ongoing Presto debacle.
Free transit simply means that transit is paid for out of general tax revenues, rather than fares. Free transit benefits everyone, including those who don't use it. It is an idea whose time has come.
Ulli Diemer
Keywords: Municipal Transit – Public Transit – Public Transportation – Urban Transportation
Miriam's Nature Calendar 2020
November 26, 2019 - #
Again this year, I created a calendar featuring photos taken by my partner, Miriam Garfinkle, who died on September 15, 2018. Miriam was frequently out in nature, and she'd often have a camera with her. As I did last year, I gathered up some of the photos she took and compiled them in Miriam's Nature Calendar 2020. I printed about 130 copies for friends and family. The PDF version is available online.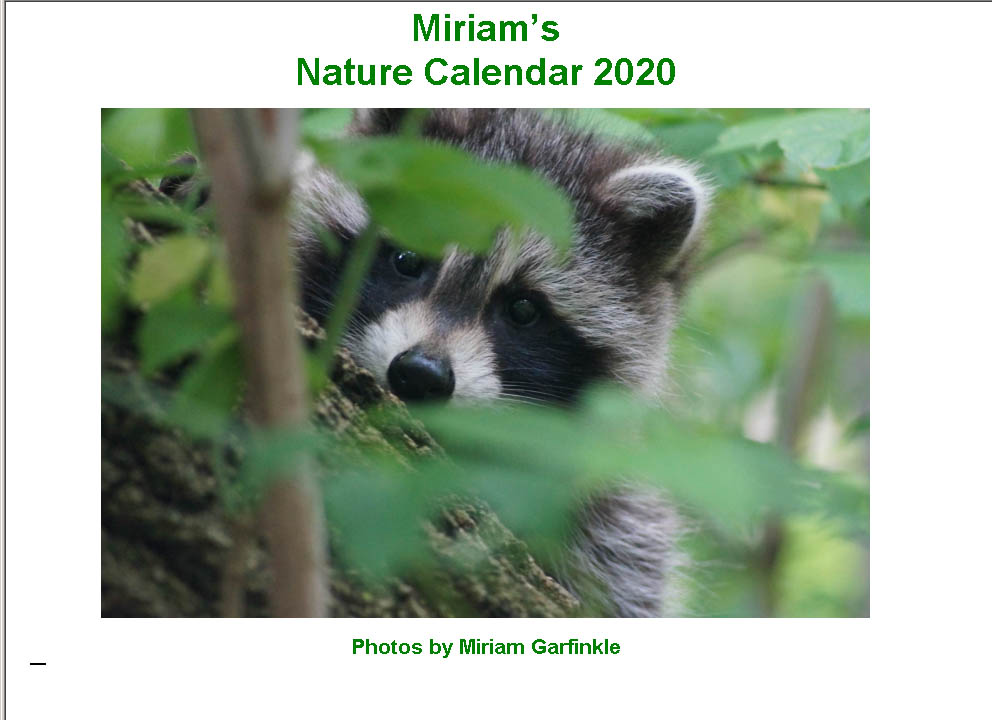 Nature Calendar December: After the ice storm
December 1, 2019 - #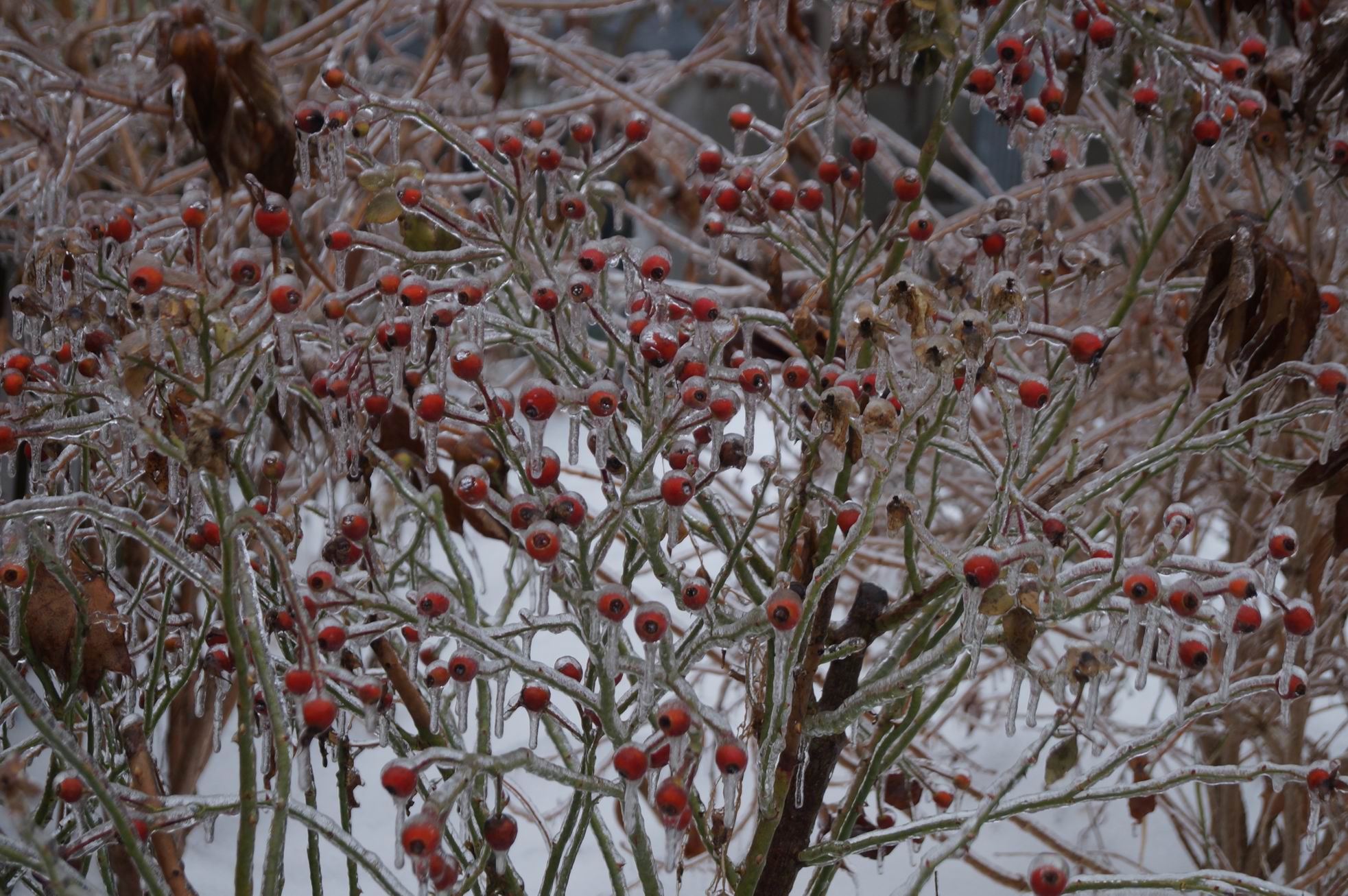 Miriam's Nature Calendar, December: After the ice storm, Toronto, December 2013. Photo by Miriam Garfinkle.
Faith, Hope and Persistence Other Voices – December 15, 2019
December 15, 2019 - #
When we look at what is happening in our world, it can be difficult to believe that there are grounds for hope, let alone faith. And yet we – we humans – continue to live and act in ways that testify to our hopes, and to our faith in the possibility of a better future. We plant gardens and trees, we have children, and we resist injustice and act to protect the planet we share.
Hope is something quite different from optimism. Optimism – and pessimism – assess the likelihood of something happening. But being optimistic or pessimistic is irrelevant to standing up for justice and defending the earth. For most of us at least, our moral principles aren't based on a calculation of the odds. And in fact most acts of resistance, and most movements for justice, arise in the face of what are often overwhelming odds. They are the powerless challenging those with entrenched power. It is only by acting that people who feel powerless come to feel that they do have power. And when we act, that which seemed impossible to achieve starts to become possible, because enough people believe it is possible and are working together to make it so.
Hope is about possibility, not certainty. Even when we know that we are rowing against the tide, as we often are, we know that the future is not preordained. We know the future is shaped by human actions, and so we act. And we hope that our actions will help to steer the future in the direction we want to go in.
When we act collectively, we are also expressing our faith in other people, and in ourselves. Not blind faith – we know our own contradictions and faults, and we know all too well the immorality and cruelty that humans, or at least some humans, are capable of. But we also know, from our own life experience, that part of the common heritage of humanity are impulses to create community, to share, to love one another, to treat others as we ourselves would wish to be treated. And the fact that these capacities exist is a basis for faith in people, including ourselves, and in our ability to change and to rise to our potential to be who we are capable of being. By working to change the world, we change ourselves.
One of the most moving and inspiring human capacities, and one that comes out so strongly when we act together to fight for justice, is our persistence, even in the face of overwhelming odds. This issue of Other Voices shares a number of such stories. In Oaxaca, a multi-ethnic network of towns fights a tenacious ongoing battle to protect their water against corporate takeovers. Mineworkers in South Africa spend nine days underground, on strike, until mine owners agree to act on sexual harassment in the mine. In Nashville, when Immigration and Customs Enforcement agents show up to arrest an immigrant father and son sitting in a van in their own driveway, neighbours spontaneously come out, spread the word to others, and surround the van to prevent the arrest, remaining on the scene until the ICE agents finally leave. Shadidul Alam emerges from jail, having been imprisoned for criticising the government, and defiantly continues his work. Suzanne Berliner Weiss, a Jewish child born in Nazi-occupied France, loses her parents, is cared for by loving caring strangers, and emerges as a adult who devotes her life to working with other for social justice.
When people are moved to act, when they have faith in the people who are acting with them, and when they have hope in at least the possibility of success, then they – we – can be astonishingly persistent. And so we carry on.
Ulli Diemer
See the December 15, 2019 issue of Other Voices here.
This article is also available in Portugese and Vietnamese.
Keywords: Faith – Hope – Society We Want
Nature Calendar January: Black-capped Chickadee
January 1, 2020 - #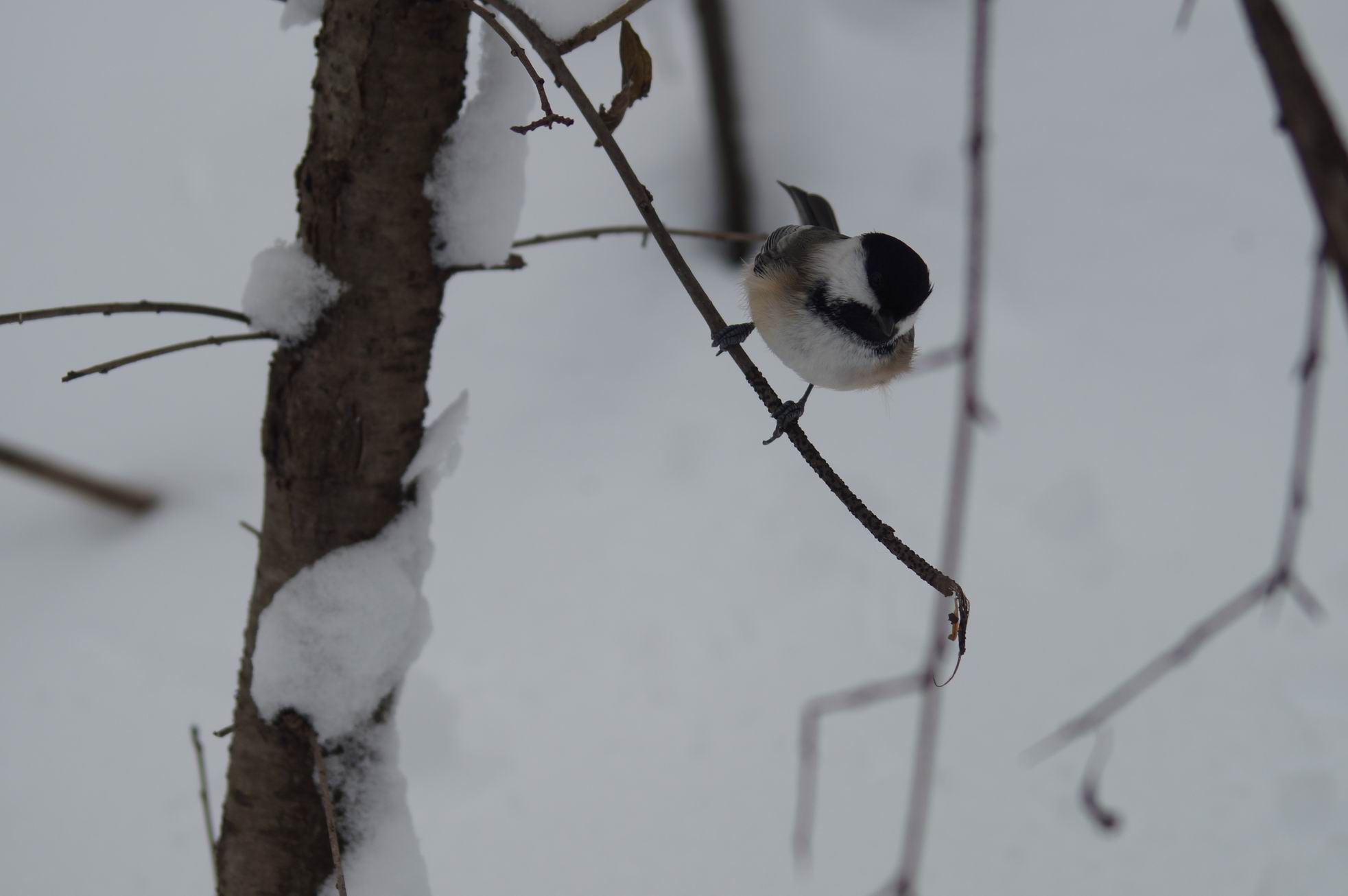 Miriam's Nature Calendar, January: Black-capped Chickadee, Toronto. Photo by Miriam Garfinkle.
A theological moment
January 3, 2020 - #
I'm walking to work along Bloor Street this morning. Two guys are smoking in a doorway. One of them stops me: "Excuse me. My friend and I, we are having a discussion. Do you know, what is purgatory?"
I reply: "Yes, it's where you go when you aren't good enough to go straight to heaven, but not bad enough to go to hell. It is an in-between place, sort of like jail, where you stay for a period of time, and then when you have served your time, you go to heaven."
Guy: "So you do go to heaven after?" He looks meaningfully at his friend.
"Yes," I reply. "If you believe in that kind of thing."
They seem happy with my answer. I go on my way.
Toronto's newest street sign
January 4, 2020 - #
Toronto's newest street sign went up yesterday on Miriam Garfinkle Lane. I don't think I ever had a favourite street sign before, but this one is now definitely my favourite.

Nature Calendar February: Winter Ducks, Leslie Street Spit
Febuary 1, 2020 - #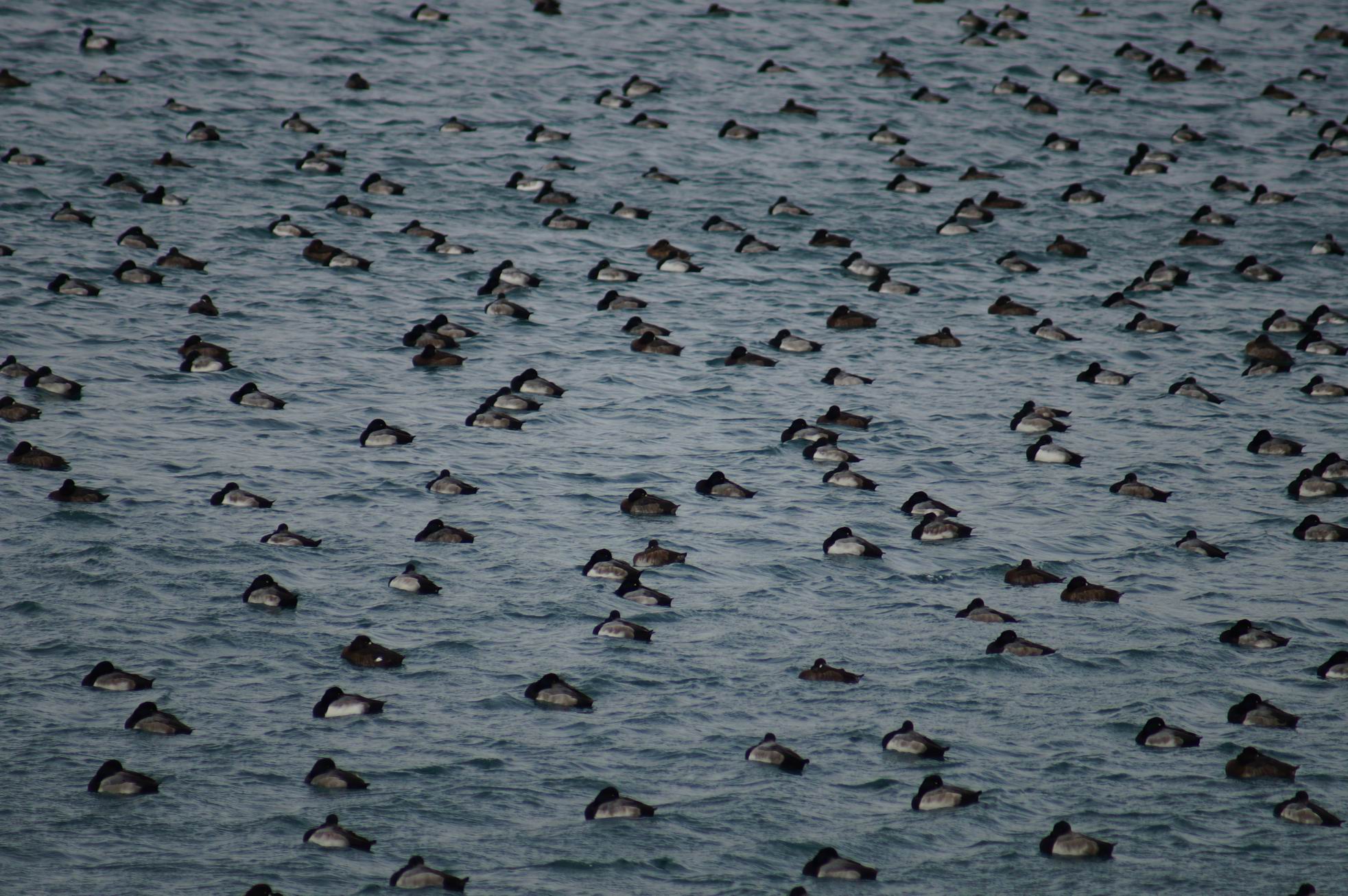 Miriam's Nature Calendar, February: Winter Ducks, Leslie Street Spit. Photo by Miriam Garfinkle.
Taking a Stand Other Voices – February 18, 2020
February 20, 2020 - #
Psychologists call it cognitive dissonance. George Orwell called it double-think. Some of us might call it organized hypocrisy.
Call it what you will, it surrounds us. The government proclaims its commitment to 'reconciliation' with indigenous people, and says that its relationship with them is its most important relationship. At the same time the RCMP, following an order by a colonial court, invades unceded indigenous land and arrests people for occupying their own land. Governments mouth platitudes about the importance they place on dealing with the climate emergency while at the same time they build new pipelines and approve massive new tarsands projects. The biggest polluter on the planet – the U.S. military – meanwhile receives constant increases in its budget, even while it pursues demented schemes to take us to the edge of war, mostly recently by deploying a new generation of "low-yield" thermonuclear weapons on submarines. The theory, presumably, is that if the U.S. drops a few "low-yield" nuclear bombs on Russia or China, the Russian and Chinese won't mind too much, and won't retaliate.
All this is business as usual. Fortunately many people across the country, and around the world, are saying no to business as usual. They are taking a stand and disrupting business as usual.
In this issue of Other Voices, we spotlight the actions of people who are taking a stand and, in many different ways, are insisting on change.
Ulli Diemer
See the February 18, 2020 issue of Other Voices here.
Keywords: Indigenous Struggles – Militarism – Nuclear Weapons – Oil & Gas/Environmental Issues – Police Raids – Anti-Psychiatry – Direct action – Non-violence – Rural Women
Nature Calendar March: Red-breasted Merganser
March 1, 2020 - #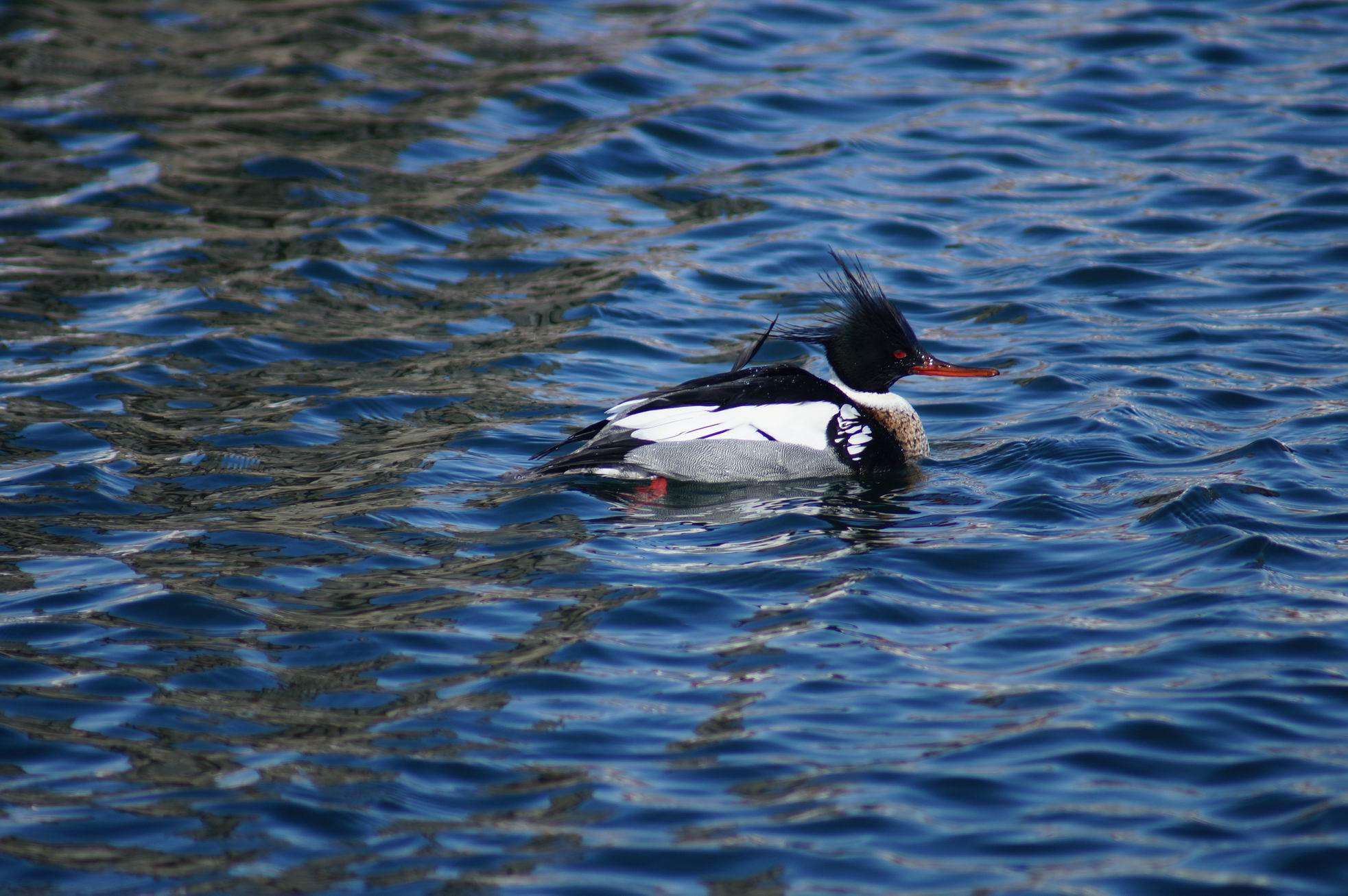 Miriam's Nature Calendar, March: Red-breasted Merganser, Toronto Island. Photo by Miriam Garfinkle.
Morality in an Amoral World
March 19, 2020 - #
A crisis is a mirror.
It shows us – if we have the courage to see – who we are as individuals and as a society. The self-congratulatory poses of governments, politicians, and state institutions are confronted with the harsh test of reality. Each of us – as individuals, friends, families, neighbours, communities – face new and sometimes difficult challenges.
The novel coronavirus COVID-19 is such a crisis. Governments? Some are well-prepared, with solid public health systems and free health care for all. Meanwhile, in the US, in mid-February, two weeks after the World Health Organization declared the novel coronavirus outbreak a public health emergency of international concern, the Trump administration pushed ahead with major funding cuts to U.S. public health programs, including a $25 million cut to Office of Public Health Preparedness and Response, and $85 million in cuts to the Emerging and Zoonotic Infectious Diseases program. In Ontario, when COVID-19 struck, public health authorities were facing the looming 27% cut to public health spending announced by the Ford government in its budget. (Belatedly, Ontario has just declared a state of emergency and put those cuts on hold – for now.)
In the confusing rush of events that mark a crisis, it is easy to be so focused on what is happening that we forget to ask why. Yet it is when we ask why that we confront the ethical and moral questions that illuminate who we are and what kind of society we live in.
Why, for example, are pharmaceutical companies competing to produce a vaccine for COVID-19? Why, instead of keeping their work secret, aren't scientists around the world collaborating, sharing their research, and making the results freely available? Why isn't this question even being asked in public discourse? It seems that we are supposed to take it for granted that, above everything else, the goal of scientific work should be to make a profit. U.S. government officials have already stated that an eventual COVID-19 vaccine may not be available to everyone in the U.S., let alone in poorer countries, because it may be 'too expensive.'
We've moved backwards.
The worst epidemics in Canada and the U.S. in the last 100 years were the recurrent polio epidemics. In Canada, an estimated 11,000 people were left paralyzed by polio just between 1949 and 1954. In 1954 alone, there were 9,000 cases including nearly 500 deaths. In the U.S., in 1952, there were 58,000 cases of polio, resulting in 3,135 deaths and 21,269 cases of paralysis. The polio nightmare started coming to an end when Jonas Salk developed the first successful polio vaccine in 1955. The patent? None. Salk refused to patent his discovery: he wanted it to be freely available to everyone.
Salk himself was following in the footsteps of Fredrick Banting, Charles Best, and James Colip, the discovers of insulin. They did patent their discovery – and then sold the patent to the University of Toronto, for $1. They said they didn't want to profit from a discovery for the common good.
Salk's and Banting's attitude would be unthinkable now. What capitalism has succeeded in doing, it seems, is to make it acceptable for corporations to engage in behaviour, on a large scale, which most of us, as individuals, would refrain from as a matter of common decency.
And indeed, as individuals, as friends, as a community, people continue to support and help each other in times of trouble. Informal networks of mutual support spring up, as they nearly always do in a crisis. Beyond the headlines about COVID-19 emergency measures, closures, and social distancing, there are countless stories about people reaching out and helping those who need help.
Yet capitalism tells us, endlessly, that selfishness is good and inevitable. In the place of morality, it proclaims an amoral vision in which nothing matters except making as much money as possible. Greed is good. Exploiting others, destroying the planet, condemning people to a life of poverty and suffering, it's all good, as long as money can be made. Capitalism allows no moral qualms.
While there are some – too many, it's true – who have internalized this attitude, most of us do not act this way in our own lives. Society could not exist if we did, because we need each other. As social beings, we survive and thrive to the extent that we can form and count on relationships that are built on mutual support, co-operation, and trust.
The moral principle that has come to be known as the Golden Rule embodies this truth. Versions of what we call the Golden Rule emerged in many different religions, as the Golden Rule poster below illustrates. The fact that it is part of so many different traditions tells us that it pre-dates those traditions: it is embedded in human nature itself.
If we, or at least most of us, did not recognize the fact that each of us is worthy of respect and deserving of having our needs met, we could not survive as a social species. At the same time, if treating others as we ourselves would wish to be treated were always perfectly natural and automatic, then we wouldn't need a Golden Rule. We don't have a rule that tells us to breathe. We just do it.
One of the things that the existence of the Golden Rule tells us, then, is that we humans are imperfect and full of contradictions. Even when we know what we should do, we sometimes fall short, and need to be reminded or held to account. That, no doubt, is why discussions of the Golden Rule so frequently stress compassion, forgiveness, and second chances. It recognizes that there are times when we need to forgive, and times when we need to be forgiven.
At the same time, no rule, no matter how profound, is a substitute for thinking critically about real-life situations. For example, few of us would advise a woman in an abusive relationship to return to her violent partner and give him a second – third – fourth – fifth chance. There are times when anger is a healthier response than turning the other cheek.
There are occasions, in fact, when, confronted with the life's complexities, we might also want to keep in mind George Bernard Shaw's contrarian dictum: "The golden rule is that there are no golden rules."
Nor does the Golden Rule, by itself, guide us in dealing with those who have power over us, especially when that power is wielded to oppress. To deal with them, we need to draw on another part of our human nature: our impulse to come together and support each other to fight for justice. As Cornell West has said, "Justice is what love looks like in public."
The coronavirus outbreak is a crisis that challenges us to look beyond our own immediate concerns and ask ourselves what kind of world we want to live in. We don't have much time: climate change will make this virus seem like a picnic.
But we do have some time right now, because many of us have had our lives put on hold. Let's try to use that time as constructively as we can.
There are things we can do to help, like donating money, even while we are self-isolating. There are people who are facing this virus – and other concurrent public health disasters, like malaria, which kills 3,000 children every day – under infinitely worse conditions than we are. Think of Yemen, Gaza, Congo. Venezuela and Iran are trying to cope with their outbreaks even while the United States is tightening sanctions on medical and humanitarian supplies.
They need our active solidarity.
One step you can take today is to donate to Tarek Loubani's GLIA Project, which is printing 3D masks and stethoscopes for Palestine and other under-served communities whose capacities for dealing with a health crisis are much worse than ours. You can donate to them here here.
Please help. And stay well!
Ulli Diemer
This article is also available in Bulgarian Portuguese Spanish and Vietnamese.
This article appeared in the March 19, 2020 issue of Other Voices.
Keywords: Corporate Ethics – Crises – Ethics – Golden Rule – Human Nature – Kindness – Morality – Pandemics – Public Health – Public Safety
Related Reading:
Abandoning The Public Interest
Contamination: The Poisonous Legacy of Ontario's Environmental Cutbacks
Public Safety: Other Voices, June 26, 2017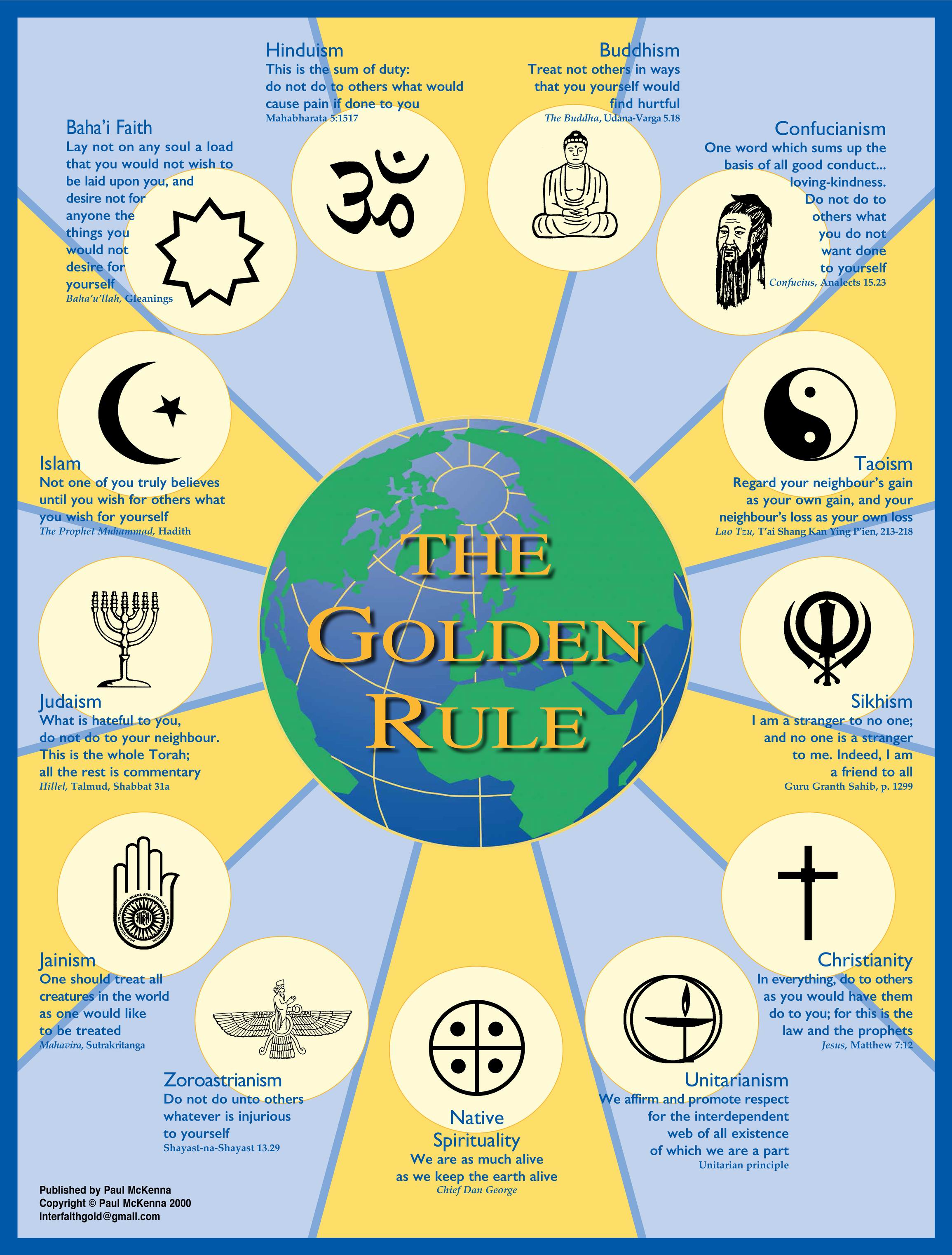 Nature Calendar April: Leopard Frogs
April 1, 2020 - #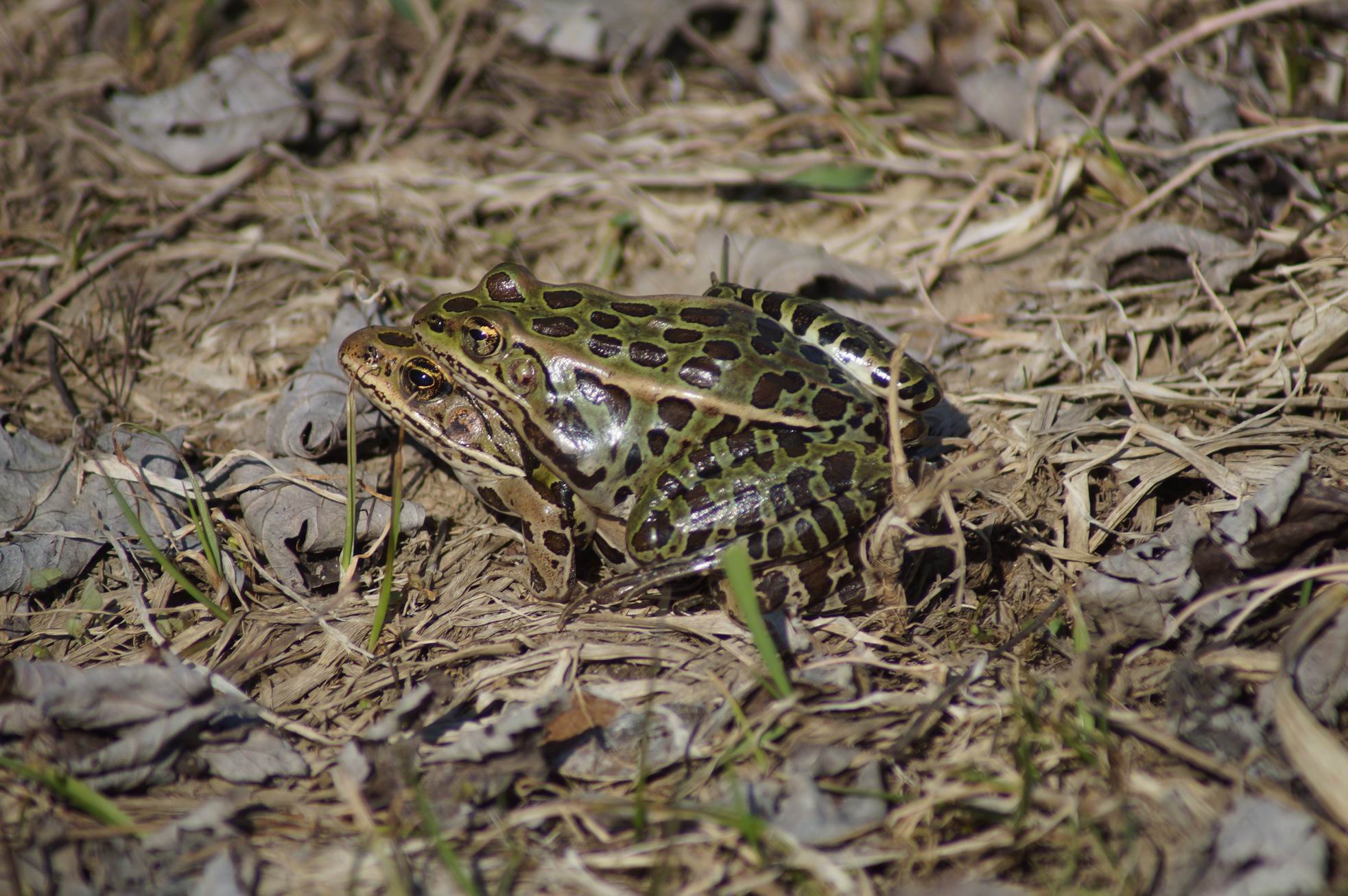 Miriam's Nature Calendar, April: Leopard Frogs, MacGregor Point, May 2018. Photo by Miriam Garfinkle.
Don't Use Bleach
April 16, 2020 - #
Among the many myths about the COVID-19 coronavirus is the theory that you can use bleach on yourself to kill it. DO NOT do this!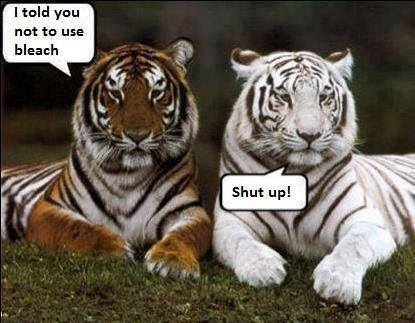 We Don't Repeat
April 23, 2020 - #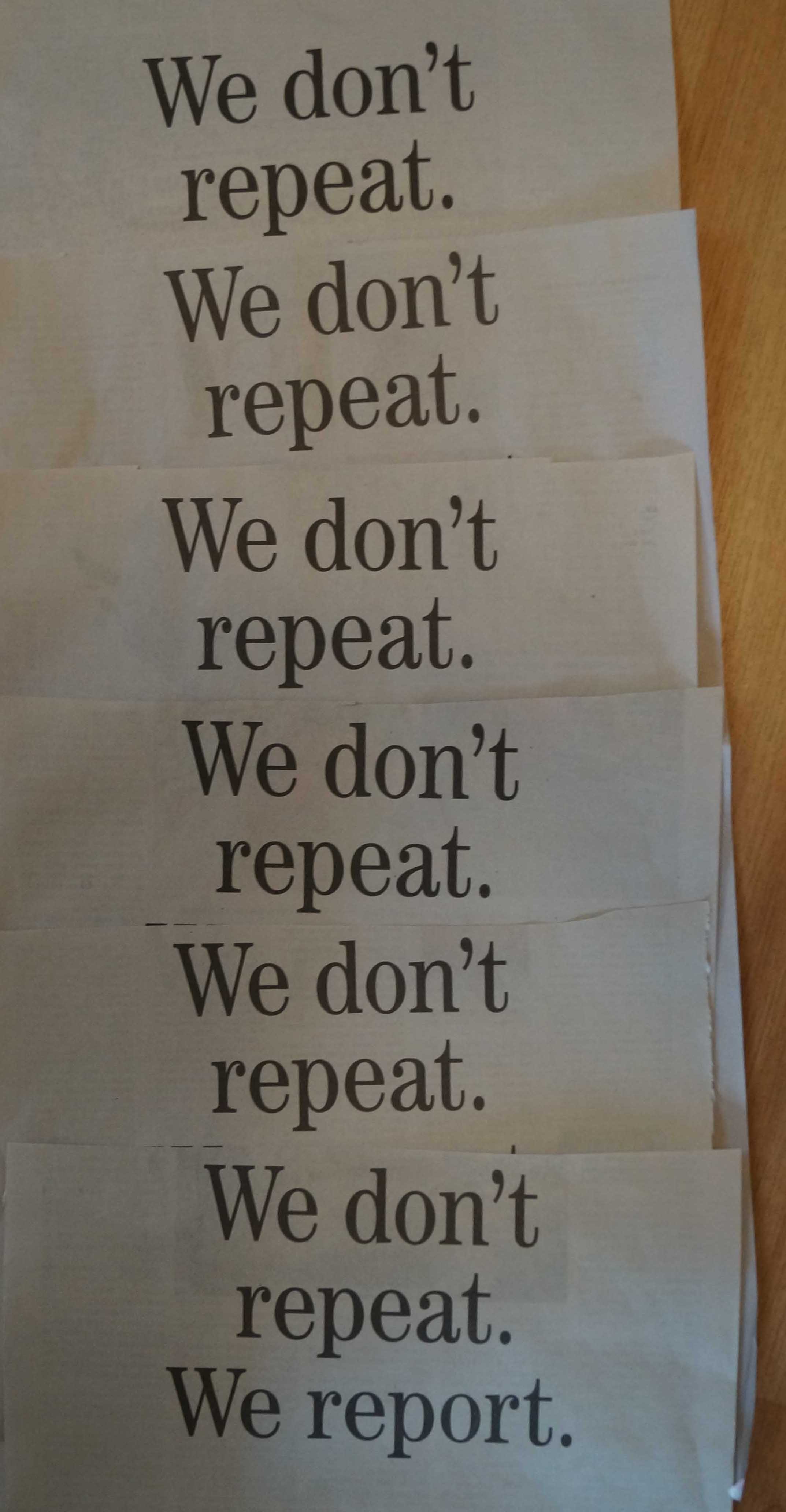 In an uncertain, disquieting world, it is reassuring to have moments that are predictable. For me, one such moment comes every morning when the Toronto Star lands on my doorstep. When I pick it up and take it inside, I am comforted by the knowledge that even though almost the entire paper will be full of COVID-19 coverage, every day the Star will manage to find one page to run a self-laudatory full-page ad telling me that
"We don't repeat... We don't repeat... We don't repeat... We don't repeat... We don't repeat... We don't repeat... We don't repeat..."
Nature Calendar May: Prothonotary Warbler
May 1, 2020 - #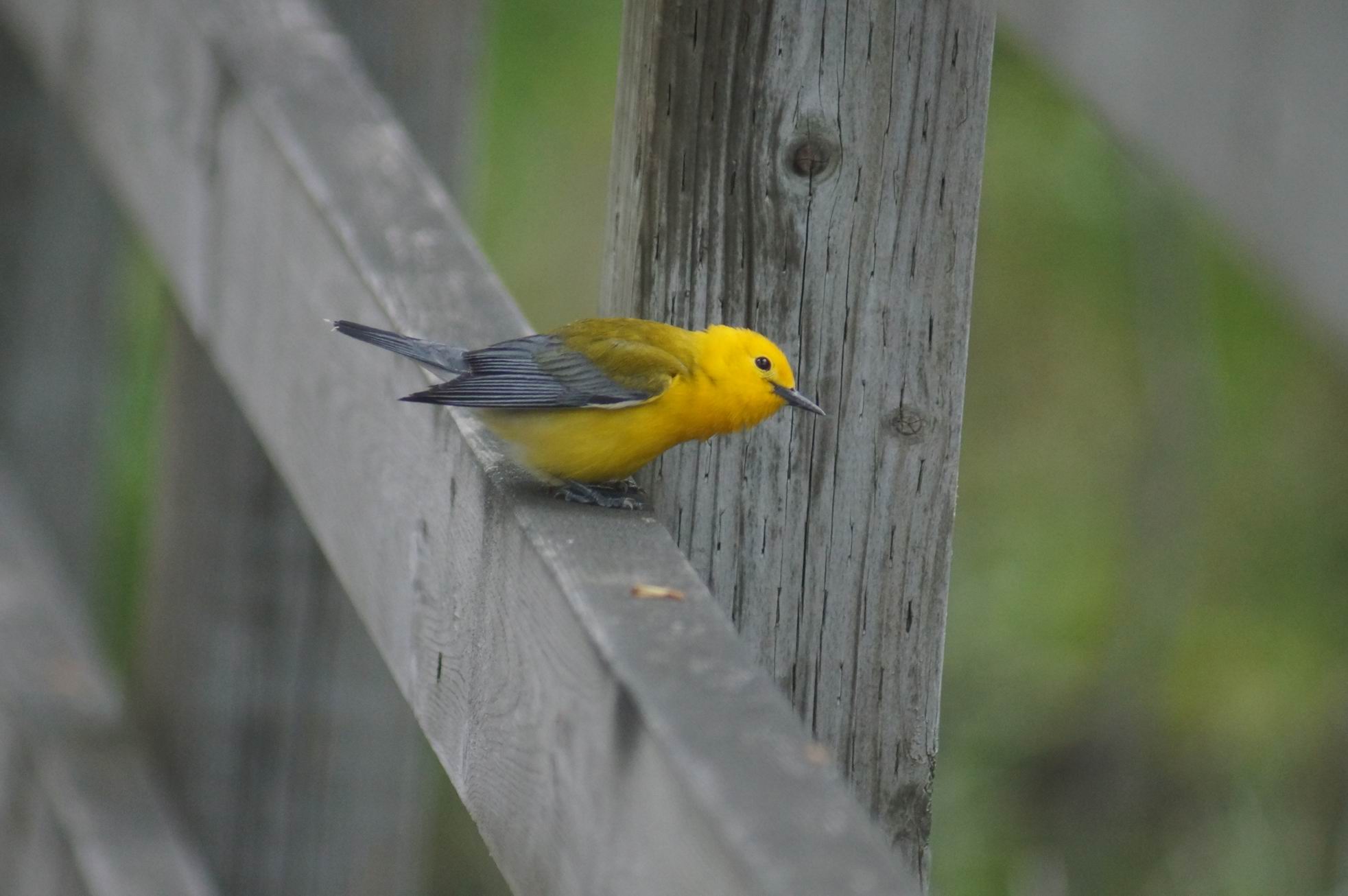 Miriam's Nature Calendar, May: Prothonotary Warbler, Rondeau, May 2018. Photo by Miriam Garfinkle.
Thinking Clearly in a Time of Crisis
May 12, 2020 - #
A crisis like this pandemic is not a time to stop thinking. It is a time when critical thinking and public discussion are more important than ever.
A small number of officials and politicians are taking decisions with enormous and far-reaching implications for the lives of many people, not just for the duration of this pandemic, but far into the future. The time to have serious discussions about what they are doing, and the direction we are heading in, is now, not some day in the future when it will be difficult, or too late, to change course.
To be clear: I believe that public health officials, the people who are taking a leading role in shaping our response to COVID-19, are doing their best to deal with a very real crisis. I respect their dedication, and I know that it is very difficult to respond to a rapidly changing situation with imperfect information and limited resources. And I certainly have no stomach for the rapidly spreading pandemic of conspiracy theories, let alone the disgusting racist attacks on Canada's Chief Public Health Officer.
Nevertheless, we need to be asking questions....
Read the full article here.
Nature Calendar June: Marsh Marigolds
June 1, 2020 - #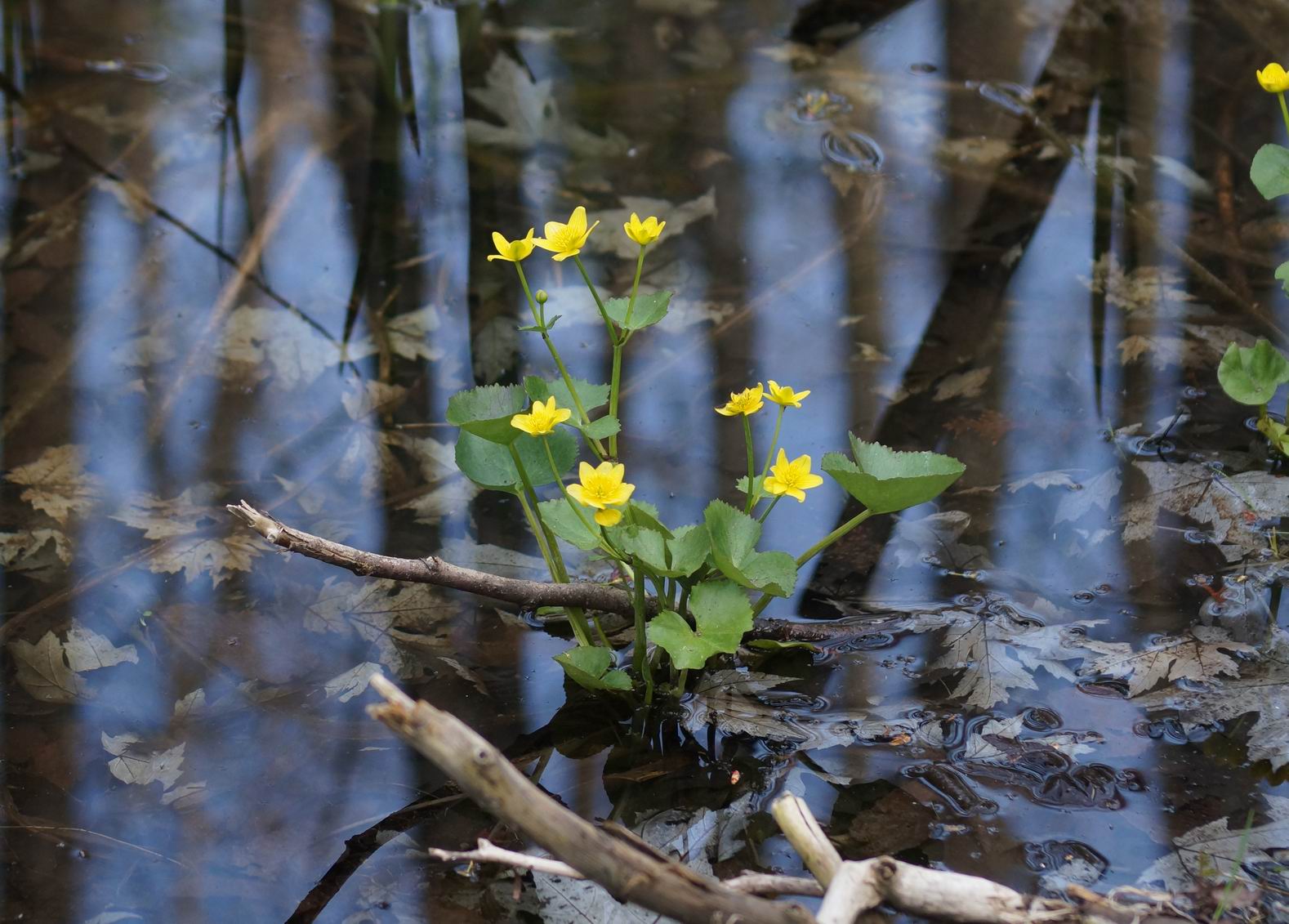 Miriam's Nature Calendar, June: Marsh Marigolds, MacGregor Point. Photo by Miriam Garfinkle.
M is for Miriam
June 5, 2020 - #
I've written a children's book about my partner Miriam Garfinkle, who died in September 2018.
It's an alphabet book, illustrated by Emma Lightstone, with each page devoted to some aspect of Miriam's life: C is for Community, D is for Doctor, G is for Garden, L is for Laughter, N is for Nature, P is for Piano, Q is for Questions, S is for Solidarity, W is for Waffles....
It's intended for kids aged roughly three to nine, but adults who knew Miriam seem to like it too. For more information including how to get a copy, see the Contact page.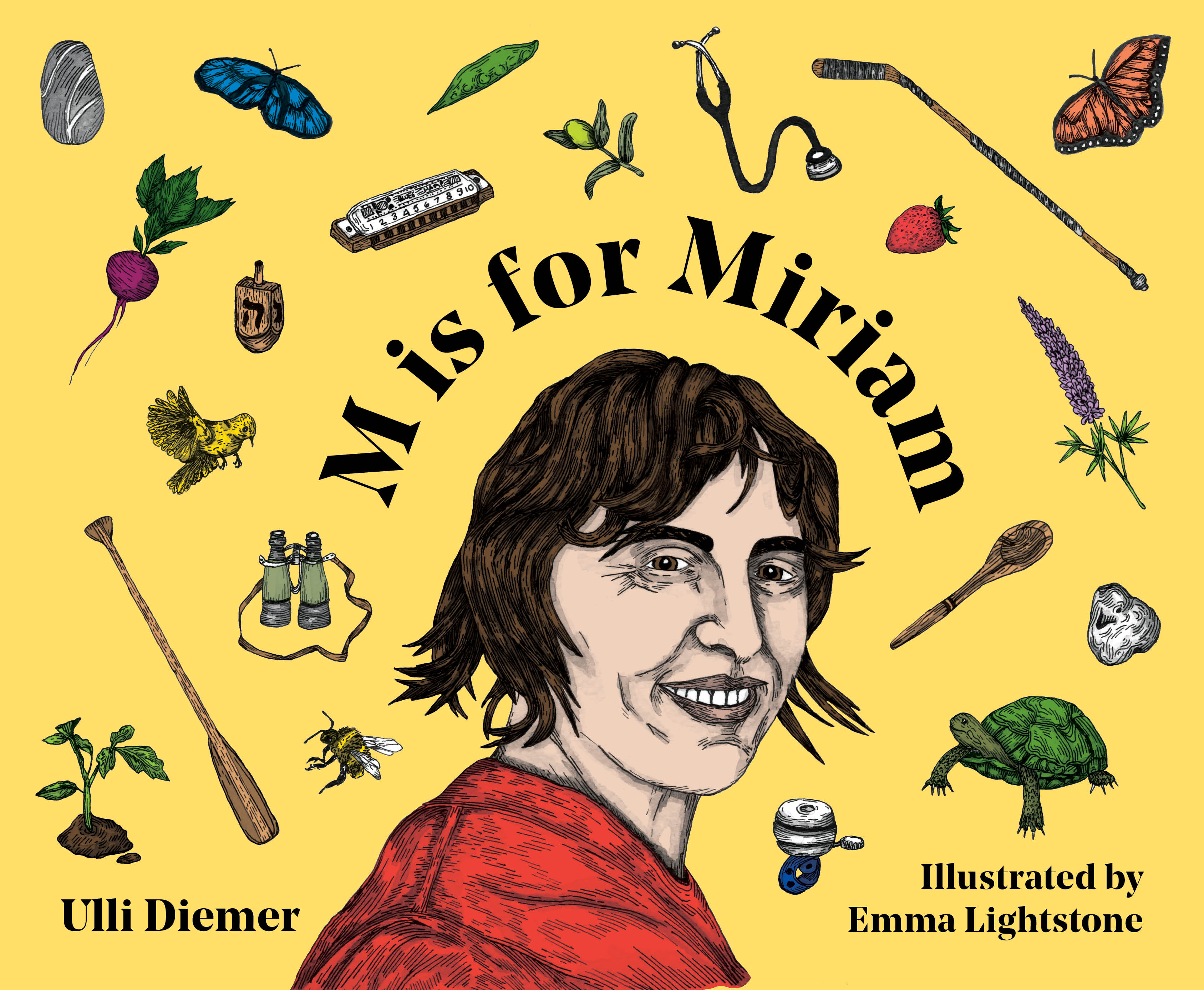 Strange Sounds Up in the Trees
June 6, 2020 - #
I'm sitting out back reading (Uncle Tungsten, by Oliver Sacks) but I find I'm being distracted by the sounds coming from up in the trees above my head. Usually I have some idea of what I'm hearing from up above – swifts, robins, cardinals, sparrows, squirrels, cicadas later in the summer – but these sounds I can't place. They're just weird: a combination of whistles, clacking sounds, chuckling, rattling, in no particular sequence that I can make out, and certainly not musical.
Finally I grab my binoculars and have a look. Two birds, darkish. It's not so easy to recognize a bird when it's 30 feet up and you're directly below it. Not for me, anyway. Hmmn, yellow bills. Aha: starlings. Since they have yellow bills, I presume they are adults, since the young have dark bills. They're sitting on separate branches, but occasionally one hops onto the branch the other is on. Some kind of mating behaviour? That seems possible, but they don't seem to be actually doing anything.
I look them up. My Peterson guide says they are "garrulous." That they are. Another bird book tells me that starlings are "monogamous," their version of monogamy being that they stick with one partner until they pick a new one. Yeah, OK.
So maybe they're discussing the pros and cons of raising another brood? Or maybe they just enjoy sitting around making weird noises? I don't know.
This seems to be the story of my life: I see things, but I don't really know what's happening, or why. It wasn't always like this: when I was 20, I knew everything. Since then, life has been a constant journey of discovery: that is, discovering how much there is to know, and how little I know.
The mosquitoes drive me inside. Back to Oliver Sacks.
Ulli Diemer
Some musings about risk
June 21, 2020 - #
The first time my partner and I arrived in Pukaskwa, a wonderful national park on Lake Superior, planning to spend a week or so camping, we were presented with some disconcerting news. "I just want to inform you," the person in the registration booth said, "that a woman was attacked by a bear in the park yesterday."
Not exactly news one wants to hear. I looked at Miriam, she looked at me. We didn't actually discuss what to do, because we knew each other well enough to assume that we'd have the same reaction, and looking at each other's expression was enough to confirm that. Off we went to pick a campsite and pitch our tent.
We had encountered enough black bears in the woods over the years that even the news of an attack wasn't enough to shake our conviction, born of our own and other people's experience, that bears are usually no trouble as long as you remain alert and, when you encounter one, back off slowly, muttering apologies. Even though we felt sorry for the woman who had been attacked, we suspected, perhaps unjustly, that she must have done something to provoke the bear – and we felt sad when we heard subsequently that the bear had been shot. After all, the park was its home, not ours.
The only time I can recall feeling nervous about a black bear was one time when we encountered a mother with three cubs. We backed off quite expeditiously on that occasion.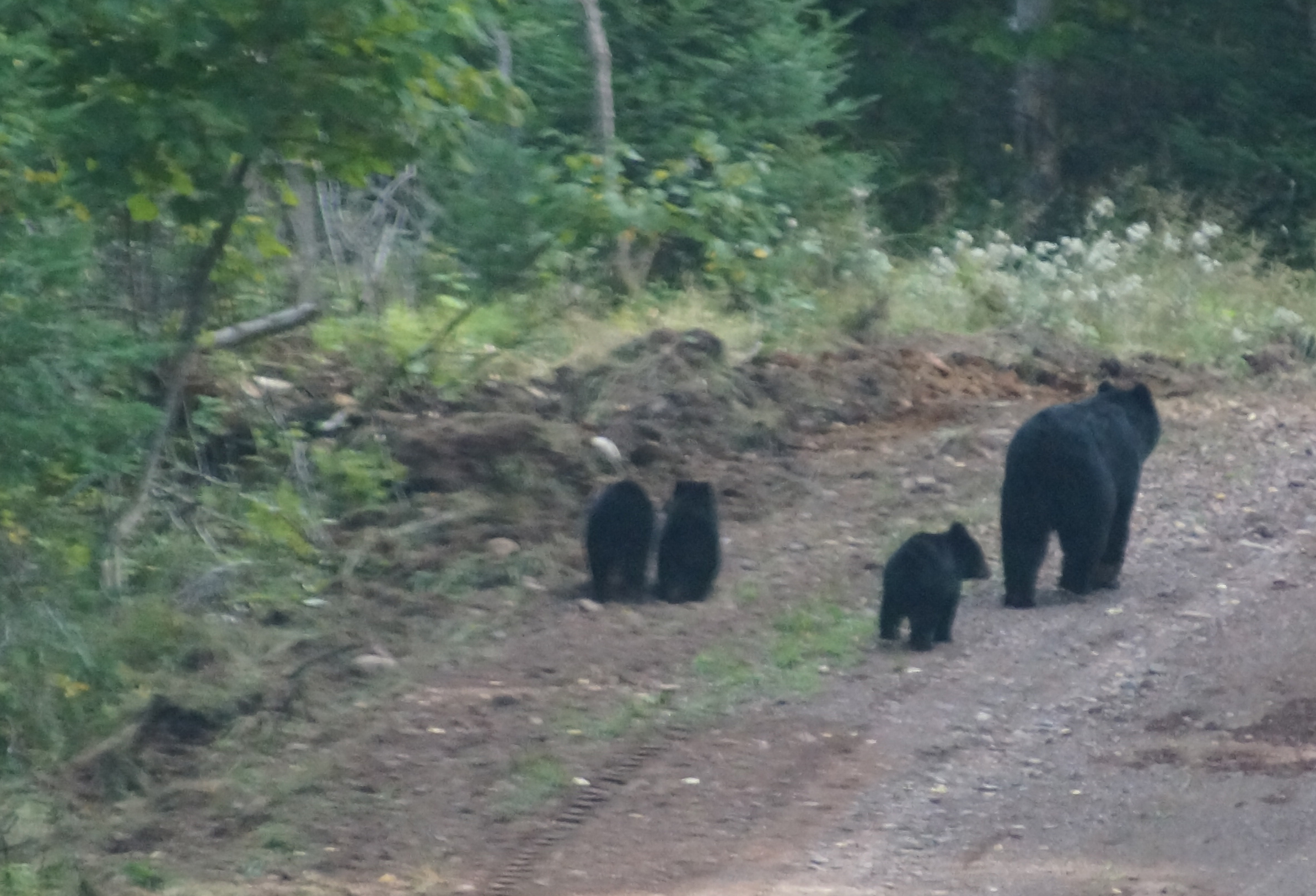 Mother with 3 cubs. Photo by Miriam Garfinkle.
I contrast this Pukaskwa experience with another one, in Southern Ontario, when we were told that a certain path was particularly bad for ticks, that is, the black-legged deer ticks that carry Lyme disease. We declined to set out on that path, both because of a fear of Lyme disease, and because seeing ticks crawling on your pants and sleeves, trying to find a way to get at your flesh, is really creepy. But we did head out on another path, relatively clear of tall weeds, where the tick risk was less, though certainly not non-existent.
All in all, I'm warier of ticks than bears. Black bears will nearly always leave you alone, as long as you leave them alone. Ticks will not leave you alone.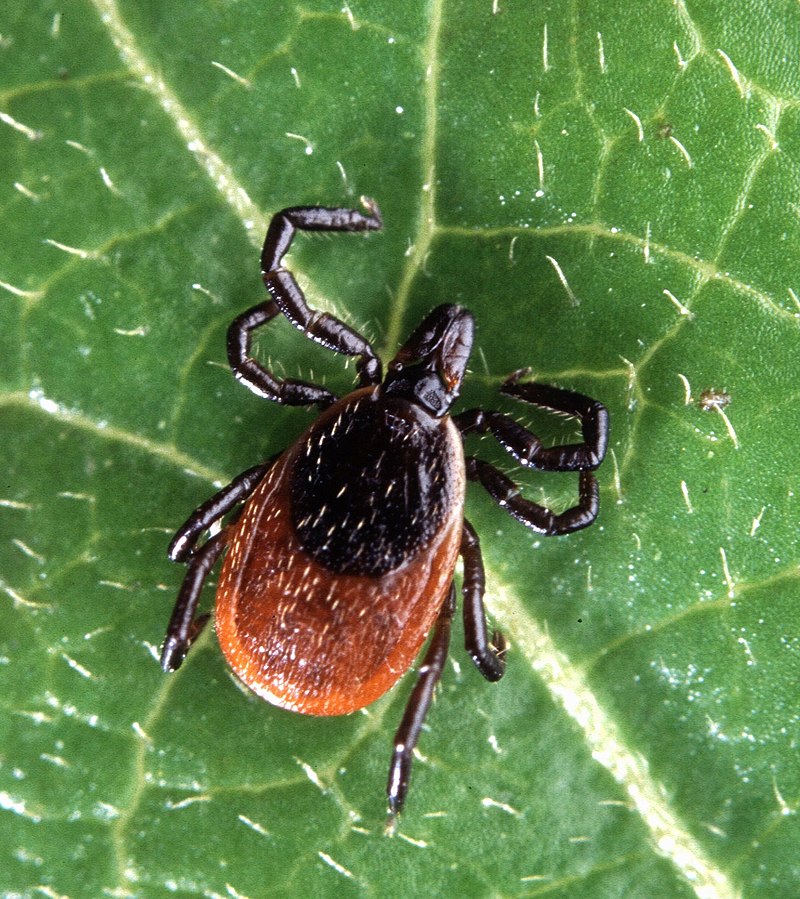 Black-legged (deer) tick.
It's similar with dogs. I'm comfortable around big dogs (unless the owner looks vicious) but wary around small dogs, because I know from experience that it's the yappy little ankle-biters which are liable to rush up to you and take a nip without any provocation.
I was thinking about this in the light of our reactions to COVID-19, and the different ways in which the people that I encounter seem to assess risk, and the choices that leads them to make.
It needs to be said though, that being able to make choices about what kind of risk to accept is itself a luxury and a privilege. The most dangerous situations are those that present a risk that can't be avoided. If your skin is dark, going to the corner store is inherently a riskier activity than it is for someone whose skin is light, and if a cop arrives on the scene, you may be in real danger. If you work in a factory where you are breathing toxic chemicals every day, you may be aware of the risk (though very likely the company is lying about it), but you also know that if you don't go to work, you won't be able to pay the rent and feed your kids, so accepting the risk is not much of a choice. If you're in a First Nations community and dangerous industries open up nearby (e.g. Grassy Narrows, Aamijwnaang), on land that used to belong to your people, you have no choice about what is happening to the air you breathe, the water you drink, and the fish you eat. The risks can be severe, but the choices are crummy.
This is true in the context of the pandemic as well. Even when 'everyone' was being urged to "stay home, stay home" there were many people who had no choice except to leave their homes, go to work and run the risks. The spike we are now seeing among migrant farmworkers, crammed together in close quarters so they can put food on our tables, is a grim illustration of this reality.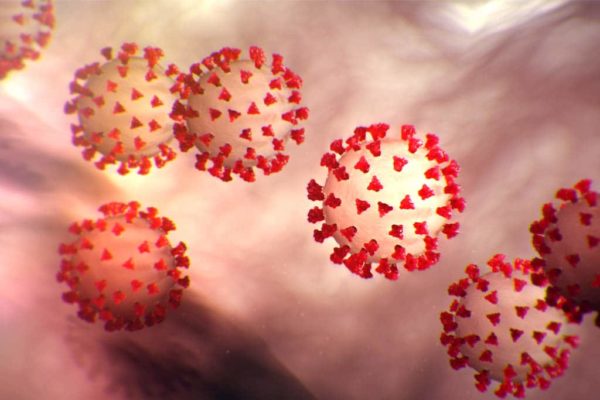 COVID-19 Coronavirus
Even for those who are able to minimize the risks by mostly staying at home and taking all the recommended precautions, the coronavirus challenges us to assess risk, and react to it in ways that seem appropriate to us. I'm out and about quite a bit, and I also have people coming to my place regularly to pick up copies of the children's book ("M is for Miriam") that I wrote recently, so I've been observing, and musing about, the noticeably different ways in which people react to the invisible threat of the pandemic.
The most obvious thing is whether or not they are wearing a mask. I rarely wear mine (a kerchief rather than an official mask) except when I go into a store, but if someone I'm talking to is wearing one, then I'll pull mine up, even when we're standing far apart, mostly because putting people at ease seems like the right thing to do.
Recognizing people I know, and reading their expressions, even when they are wearing a mask, has turned out to be much easier than I would have thought. I know I continue to smile and make other facial expressions when I am wearing my mask, and I perceive that other people do the same. Our eyes and our body language, it turns out, speak for us even when our mouths are covered. And some people, it's easy to tell, feel anxious whenever they are out of their homes, even when they are masked and the behaviour they're engaged in carries little or no risk.
But then what does "little or no risk" mean to each of us? After all, nothing we do in life is totally free of risk. Most of us engage in activities in our daily lives that carry some risk without worrying about it, and yet we may feel disproportionately anxious about other things. I know about that: every time I fly in an airplane, I'm convinced that I'm going to die. Other people, so I've been told, actually like flying.
I was talking to a friend about camping experiences a while ago and mentioned Algonquin park. "But aren't there wolves there?" she asked. "I sure hope so," I replied. "I wouldn't feel comfortable going where there are wolves," she said. Yet this person goes scuba diving in waters where sharks have been seen, which would terrify me. Most of us, it seems, make emotionally based judgements about risk that don't necessarily correspond to actual levels of risk. It's just human nature.
When it comes to COVID, my gut reaction is that everyone who is taking fewer precautions than me is reckless, and everyone who is taking more precautions than me is overly timid.
On the one side of that admittedly indefensible attitude is my own reluctance to die prematurely. I don't expect to live forever, but I really don't want my cause of death to be my own stupidity. I do NOT want to be remembered with a Darwin Award.
That said, I think the most dangerous thing I do on a regular basis – or used to do until our office shut down for the pandemic – is walk to and from work. To do this I have to cross several major streets: Bloor – College – Bathurst – Dundas – Queen – Spadina – Richmond — in a city (Toronto) where pedestrians get mowed down by cars at an appalling rate. So I try to stay alert, which so far has served me well in avoiding cars – and, where applicable, bears – as well as humans who look like they might come too close and spread their viruses in my direction.
Being out in the world, whatever its risks, to me seems preferable to sitting at home and suffering the risks of a sedentary life, which in my case would probably involve eating way too many Covered Bridge Sea Salt and Black Pepper potato chips (Best potato chips ever!). As Thoreau said, people sit as many risks as they run.
I'm going to go for a run now before it gets too hot.
Ulli Diemer
Eratosthenes: Measuring the Earth on the Solstice
June 20, 2020 - #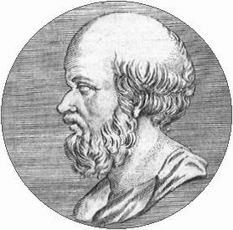 The Solstice falls at 5:44 EDT on June 20 this year.
It's a special day, and for nerds like me, it's also historic because it was on the Solstice in 240 BCE (give or take a couple of years, the record is a bit unclear) that Eratosthenes, a Greek geographer, mathematician, astronomer, poet, and librarian, first calculated the circumference of the earth.
Eratosthenes lived in Alexandria, where he served as the librarian of the great library of Alexandria. He learned from travelling merchants that in the town of Syene, far to the south of Alexandria, on midday on the day of the solstice, the sun shone directly down a deep well, reflecting off the water below, something that happened on no other day of the year.
Eratosthenes knew that the sun would have to be directly overhead for this to happen, and he also knew that this never happened in Alexandria. Using the shadow of a vertical stick, he measured the sun's angle in Alexandria on day of the Solstice, and found that it was about 7.2 degrees away from being vertical, about one-fiftieth of a circle (360 degrees). He reasoned that if he could measure the distance from Alexandria to Syene, he would then be able to calculate the earth's circumference.
Traders told him that it took 50 days for their camels to travel from Alexandria to Syene. Eratosthenes knew that travellers riding camels could cover about one hundred stadia (about 11-and-a-half miles) in one day, so he calculated that the distance from Alexandria to Syene was about 5,000 stadia, or about 570 miles. He multiplied this figure by 50, and arrived at an estimate of about 28,500 miles for the earth's circumference. That's about 15% off the current measurement of about 24,900 miles; not bad for 240 BCE.
Longing for freedom, and grieving loss: Reflections on watching swifts on a summer evening
June 25, 2020 - #
The chimney swifts lured me outside again this evening. I'd already been out for one walk, but my door was open, and hearing their calls pulled me out in search of them, as it so often does. They're active in the evenings in my neighbourhood, and going for a walk in the summer pretty much guarantees that you'll hear them, though seeing them is not always quite as easy.
The tricky thing about seeing swifts is that you hear them, look up to where the sound came from, and they aren't there. These are birds that can fly 100 km/hour, so if it takes you a half a second to look up, they can already be 100 metres away. They are called swifts for a reason.
Swifts are mysterious birds, enigmatic and paradoxical.
In a sense, they are supremely urban birds, at least during the summer, having adapted themselves to nesting in chimneys a long time ago, though once upon a time they nested in hollow trees. Centuries of logging pretty much eliminated that option, and now they live among us, though as old chimneys get capped or disappear, so do their options for nesting sites. Common swifts and Alpine swifts, species found in Europe, Africa, and the Mediterranean, have been nesting in human-built structures for thousands of years. A swift colony in the Western Wall in Jerusalem has been there for more than 2,000 years: the land has seen enormous changes, but every spring, without fail, the swifts arrive and claim their nests.
Yet unlike other urban birds, swifts have nothing to do with us. They don't interact with us or hang out in our vicinity in the way that we are used to other birds doing. They don't perch in trees or on wires, they don't land on the ground or at a birdbath. They can't: swifts are so uniquely evolved to a life in the air that they have shed features characteristic of most of the birds we know. Their feet only allow them to cling to vertical surfaces like bricks or trees. That is sufficient for their purposes, because they spend such a small part of their lives down in our terrestrial world.
It isn't quite true to say that swifts are all wing, but they come as close to it as it is possible to be. By way of comparison, the biggest wings of any bird belong to the Wandering Albatross, a bird much bigger than a swift, with a wingspan of about 10 feet. However, if an Albatross wanted to match the wing-to-body-weight ratio of a swift, it would have to have a wings that are 300 feet across.
In old Persia swifts were called "wind-eaters." The name reflected the mystery of these birds, which seemed to live in the air, never coming down to eat or rest.
We now know that their diet consists of aerial insects, invisible to us on the ground. The other mystery, of why, outside the nesting season, they never seem to come down to the earth, has been answered only recently, and the answer to that question has merely unveiled new mysteries.
Just a few years ago, it became possible to develop tiny sensors light enough to be attached to the wings of swifts (Common swifts and Alpine swifts) banded during the nesting season. The data from the sensors showed that, astonishingly, the old legends were true.
When they aren't nesting, these swifts really do live in the sky. After leaving their breeding sites in the early fall, Common swifts and Alpine swifts were found to spend upwards of 200 consecutive days in the air without ever coming down to earth. Not only do they eat, socialize, and mate in the air, they even sleep in the air. At night, they'll go up several thousand feet to catch a favourable wind current, and then, it seems, they sleep on the wing.
More recently, research on first-year swifts has expanded the picture. First-year birds don't mate, so there is no need for them to return to nesting sites in the spring. Young Common Swifts outfitted with sensors have been found to spend 300 days or more in the air without coming down to the earth. Occasionally one will come down for a night to escape a storm, but others were found to remain continuously aloft for 10 months. Swifts are estimated to fly at least 200,000 km a year, and since they can live more than 20 years, they will fly several million kilometres during their lifetimes.
It turns out that swifts aren't the only birds capable of sleeping while they are flying. Great Frigatebirds have been found to remain in the air, above the ocean, for a month or two at a time, without ever landing (unusually for seabirds, frigatebirds can't land on water).
How swifts and frigatebirds can sleep while flying remains a matter of speculation. One theory is that somehow half of their brain falls asleep while the other half remains awake. Whales and dolphins have evolved similar adaptations. They need to sleep, and yet they have be aware of their surroundings and of potential danger, and they need to wake up in order to come to the surface and breathe. They do it by shutting down only one-half of their brain at a time.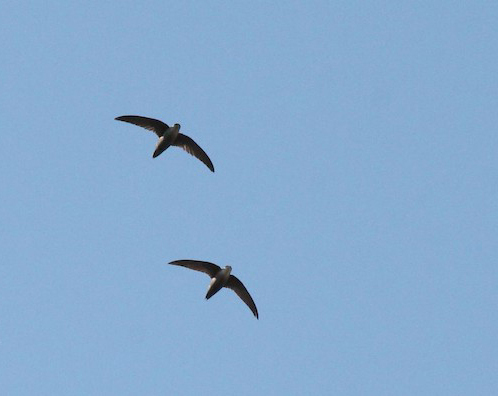 Remarkable as they are, what makes swifts so special to me is not their astonishing biological adaptations, but what they seem to represent.
Earthbound as I am, my options for going places further constrained by a pandemic, I long for their freedom to fly wherever they desire. Theirs appears as the ultimate freedom: soaring far above the earth, as long as they please, going where they please, yet never alone, because they are always with others of their kind, chattering wherever they go.
Most birds embody unattainable freedom to some extent. The robin that comes to my birdbath looks at me with its bright eyes as I look at it: two vertebrates, each of us standing on two legs, facing each other, and for a moment I feel a sense of what we share. Then, in an instant, and with no apparent effort, it takes to the air, and I am left standing on the ground, keenly aware of what it is able to do that I can never share.
Swifts have taken to the sky and liberated themselves from the surface of the earth more than any other bird, and that very fact is part of the reason for the emotional attachment I feel for them. I don't mind that it is unrequited love: I know they don't even know I exist, and that's fine.
There are other birds that have also come as close as possible to severing their ties with the land, in a different way. Ancient murrelets, seabirds that live in the north Pacific, also need to come ashore to lay their eggs, which they do in burrows on the forest floor on Haida Gwaii and a few other locations. As soon as the eggs hatch, the parents leave and return to the sea. From the shore, they call to their chicks, and the tiny day-old chicks rush along the forest floor on their wobbly little legs, to where their parents are calling from. Another mystery, another example of birds' ability to do things that we don't even understand, is that each chick is able to distinguish the calls of its own parents. Once reunited, they swim farther out into the ocean, where their parents will feed them. Ancient murrelets spend less time on land than any other bird. I have never seen one, but I am happy to be able to share the planet they live on.
I have been lucky enough to see sea turtles, and their newly hatched young, on the Nicoya Peninsula in Costa Rica. Sea turtles' sole tie to the land is also the need to lay their eggs. The young head straight for the water as soon as they hatch and remain there throughout their lives until eventually, guided by their own mysterious sense of direction, the surviving adult females swim through thousands of miles of ocean to return to the same beach they came from to lay their own eggs. Their vast world is also one that I can never be part of, and yet in some vicarious way, in my imagination, I claim a small share of their freedom.
I have felt the same way on the occasions I have encountered whales, including one humpback off Newfoundland which swam back and forth underneath and beside our boat, evidently curious about us and what we were doing. It was free to go where it wanted, and yet it took a few minutes to hang around and engage in some human-watching. We felt very privileged.
The natural world is very important to me, and a source of happiness, and for that reason it is also, in these times, a source of pain and grief. Chimney swifts are supremely adapted to a life in the air, and extremely independent, but their numbers, like those of all aerial insectivores, have been declining precipitously. The one thing they cannot adapt to is human-caused destruction of their food supply and nesting sites. Sea turtles have lived in the oceans for 100 million years, but now their survival is threatened by oil slicks, plastics, industrial fishing, beach 'development' and the warming of the oceans.
It is not just a few species that are at risk. Plankton, insects, trees, and everything that depends on them: the whole web of life from the smallest to the largest is showing signs of unraveling.
The calamities that are besetting our world have many faces: greed, short-sightedness, militarism, racism, sexism, endless growth – and they all have one name: Capitalism. The source of the problem, and the hope of a solution, lies with our own species: simultaneously the most intelligent, and the most stupid, of all the creatures living on this earth.
The natural environment I am most at home in is a forest. I have spent countless hours in forests, but I have never seen a wolf, though I have heard, and been thrilled by, their distant howls. Even though I never see them, it is important to me to know that they are somewhere out there in the forest, wild and free. I yearn for them to be there long after I am gone. Yet I am afraid that they, and countless other species, including many whose names I don't even know, may soon disappear from the earth. Knowing this, knowing that we are losing the battle – though it is not lost, and I keep fighting – is a source of profound grief.
Ulli Diemer
Nature Calendar July: Painted Turtles
July 1, 2020 - #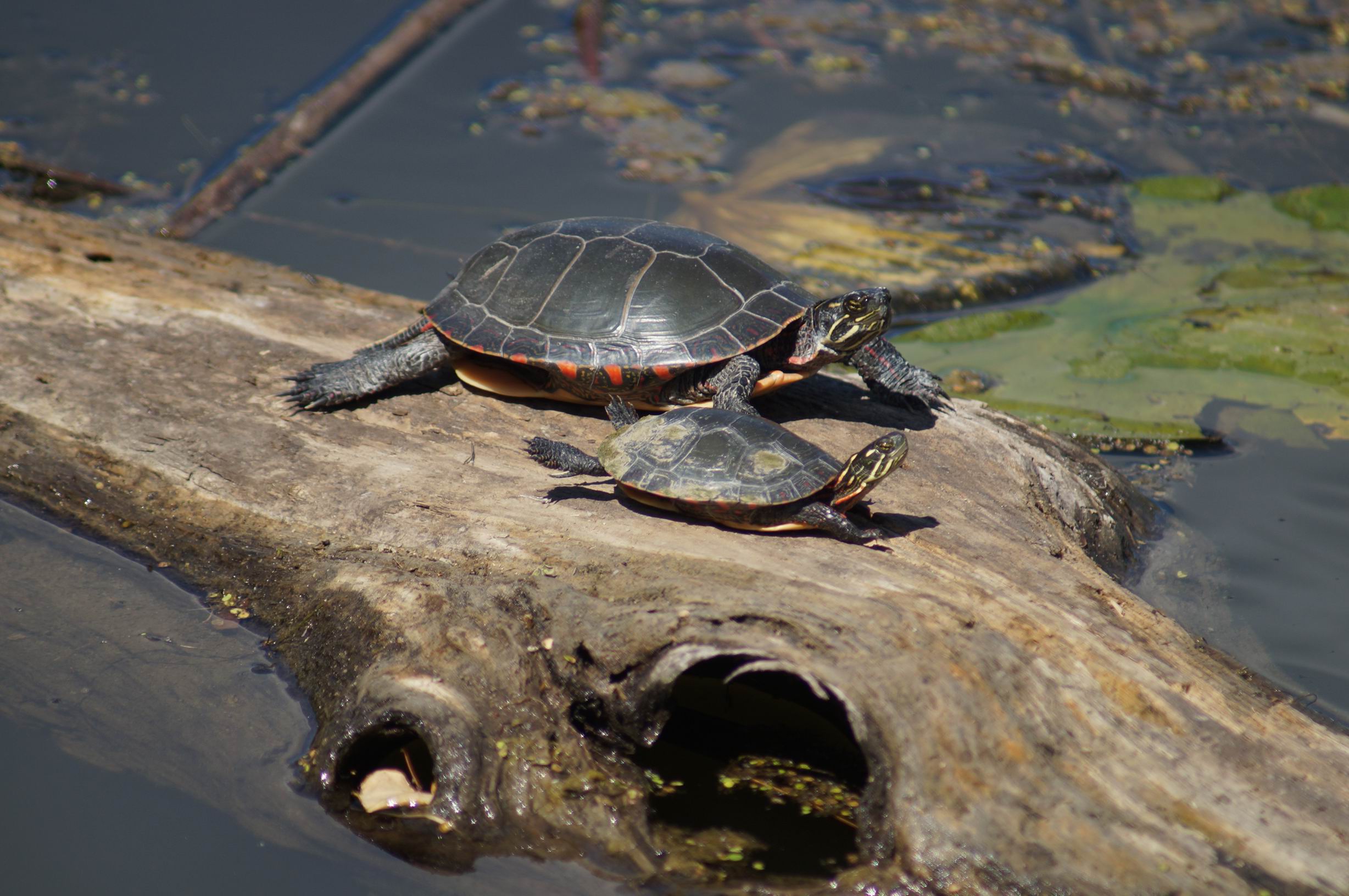 Miriam's Nature Calendar, July: Painted Turtles, Brickworks. Photo by Miriam Garfinkle.
An evening paddle
July 8, 2020 - #
Went canoeing on the Humber River with a friend yesterday evening. We paddled the river and explored the marshes. Saw egrets, great blue heron, grebes, wood ducks, mallards, Canada geese, mute swans, red-winged blackbirds, swallows. Cormorants, gulls, and terns were diving for fish. A highlight was a kingbird nest in a branch above the water, the young with their mouths wide open, the busy parents flying back and forth bringing them insects.
That's one of the wonderful things about being in a canoe: you can go places you can't approach in a car or even on foot, moving quietly or staying still in one spot. Life slows down, and you can breathe.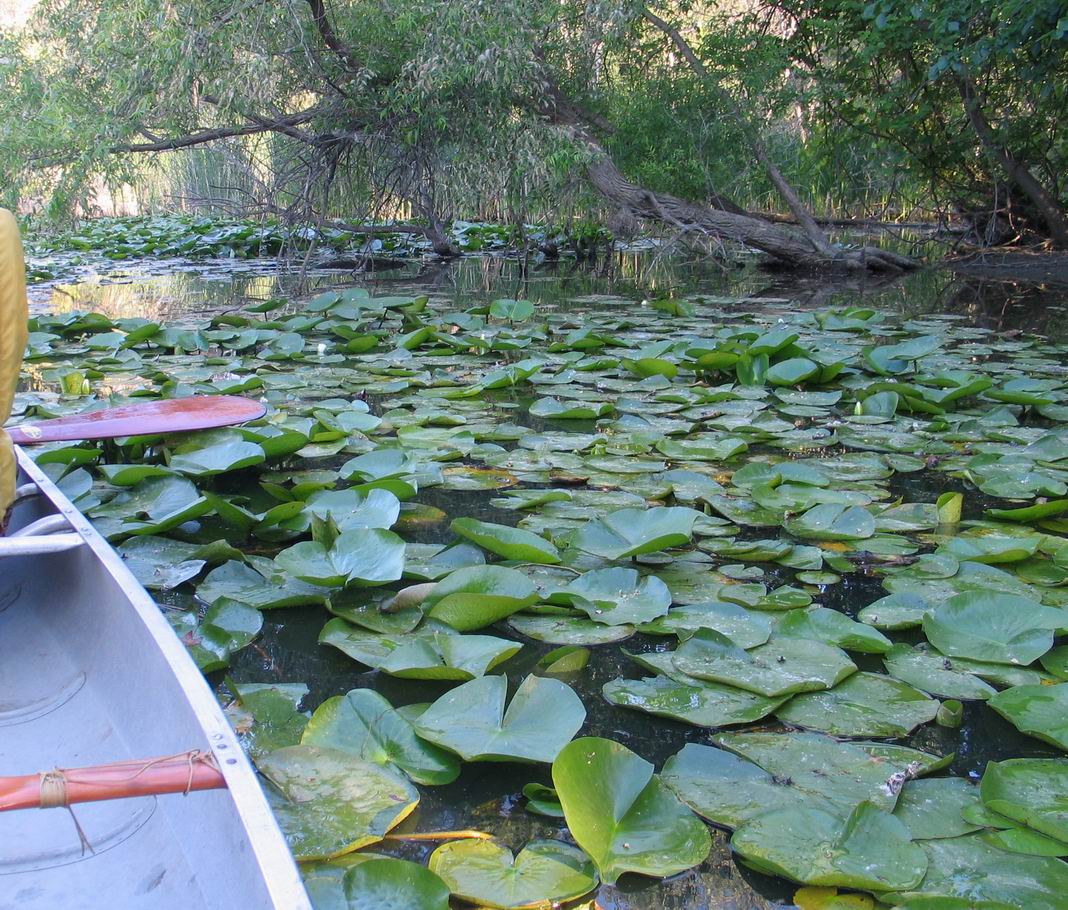 Heat Wave
July 9, 2020 - #
It's hot. It's really hot. It has been hot for days in Toronto, and the heat isn't going away.
I am sitting in my air-conditioned home, reading and writing. Ever since COVID arrived, I have been working from home, so when it is this hot, I mostly stay inside during the day, and only head out for walks early in the morning, and later in the evening. I am very aware of how lucky and privileged I am to have the luxury of living the way I do.
I just picked up Jane Jacobs' 2004 book Dark Age Ahead (a great book which I highly recommend) and re-read the chapter in which she talks about the 1995 heat wave in Chicago. More than one thousand people in excess of the usual number for that period were admitted to hospitals because of heatstroke and other related effects of the heat. Deaths in Chicago during that week were 739 in excess of a typical summer week. There were so many dead that a fleet of refrigerated trucks belonging to a local meat-packer were used to store the bodies, and even that proved not to be enough. Inevitably, those who died were predominantly poor and elderly.
The chapter in Jacobs' book in which she discusses these events is called "Science Abandoned." In the aftermath of these horrific events, as Jacobs relates, the U.S. Centers for Disease Control and Prevention (CDC) sent a large research team to Chicago to discover what went wrong and to identify ways of preventing future similar tragedies. The researchers paired each dead individual with someone who survived to see what differences could be identified.
Here is how Jane Jacobs sums up this massive research effort:
"This swift and Herculean effort by eighty researchers, their supervisors, and the high-powered designers of the study was worthless, because it turned up only what everybody already knew, including the meteorologists who had issued the early warnings [to use air conditioners, drink plenty of water, and seek cool places]. Those who died had run out of water, had no air-conditioning, did not leave their rooms to find cool refuge, and were not successfully checked up on. Indeed, the researchers' finding were worse than useless. Survivors differed in having successfully kept cool. The findings were misleading because they encouraged blaming the victims: after all, they hadn't looked after themselves."
Jacobs contrasts the CDC's approach with the approach taken by a single graduate student, Eric Klinenberg, working on his own, who noted that some districts of the city had considerably higher death rates than other districts, and asked why that was so. He looked at two adjacent districts, South Lawndale, where the death rate was fewer than 4 per 100,000, and adjacent North Lawndale, where the death rate was more than 10 times as high, 40 per 100,000. Klinenberg's findings were subsequently published in Heat Wave: A Social Autopsy of Disaster in Chicago.
South Lawndale, he found, was densely populated, with many stores and lots of street life. Old people were accustomed to walking outside, knew storekeepers, and had no hesitation about hanging around in their air-conditioned spaces, where they also had access to water.
North Lawndale was much less densely populated. Much of the industry that had been located there had closed, their former presence marked by empty lots. Large numbers of residents had then moved out of the area, and as people left, stores closed and were boarded up, making the area unattractive to new immigrants to move to, and unattractive for walking. The remaining residents, predominantly old, had little reason to go outside because there was nowhere to go, tended to be afraid to leave their apartments, didn't know their neighbours, and were often reluctant to answer the door if a stranger sent by the city came to check up on them.
And so many of them died, alone in their sweltering apartments, increasingly disoriented, and with no idea of what to do or who to call.
This is not just something that happened 25 years ago. It is the story of the present, and increasingly the future, as our planet heats up. Like COVID-19 and much else, extreme heat disproportionately affects the poor and the elderly. They are the ones who often don't have air conditioning, and often they live alone with no support networks. Toronto has opened some cooling centres, which is good, but you need Internet access to find out where they are, and hours and access are limited because of COVID-19 restrictions. Many older people are also afraid to leave their homes because of their fear of being exposed to the virus. It is very likely that some of them will die, not of the virus, but of the heat.
I wish I had some simple solutions to offer, but I don't.
Ulli Diemer
Butterfly
July 9, 2020 - #
Standing on the front walk with my neighbour, I'm trying to find words, but what is there to say? Her daughter died yesterday. In the face of her grief, I have nothing to offer except my presence and feeble words of sympathy.
It wasn't so long ago that we were standing on this same spot: I was the one who had lost my beloved, also to breast cancer, and my neighbour was trying to find words of comfort.
My neighbour knows, as do I, that life and death, love and grief, walk hand in hand. She is 92 years old, her husband died more than 20 years ago, and still, every Valentine's Day, she visits his grave.
Lives end, but life goes on. When she goes back inside, I see a Monarch butterfly flitting around the milkweed plants in the front yard. I hope she is looking for a spot to lay her eggs. A woman is walking by with her young daughter. They stop: the mother points to the butterfly and the milkweed and explains what is happening. The daughter is listening and watching intently.
I smile, despite my sadness. Life goes on.
Ulli Diemer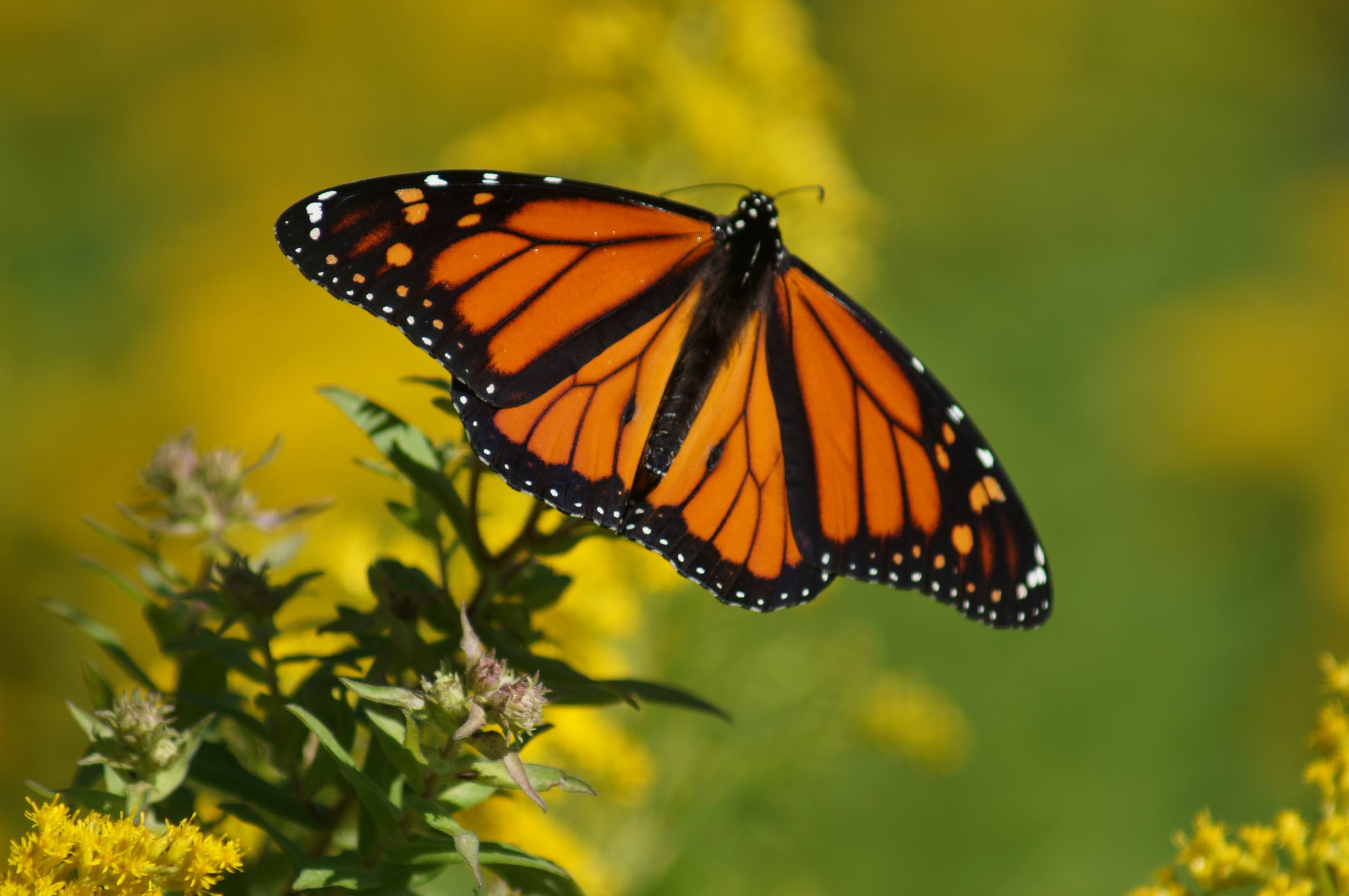 Monarch Butterfly. Photo by Miriam Garfinkle.
Nature Calendar August: Chipmunk
August 1, 2020 - #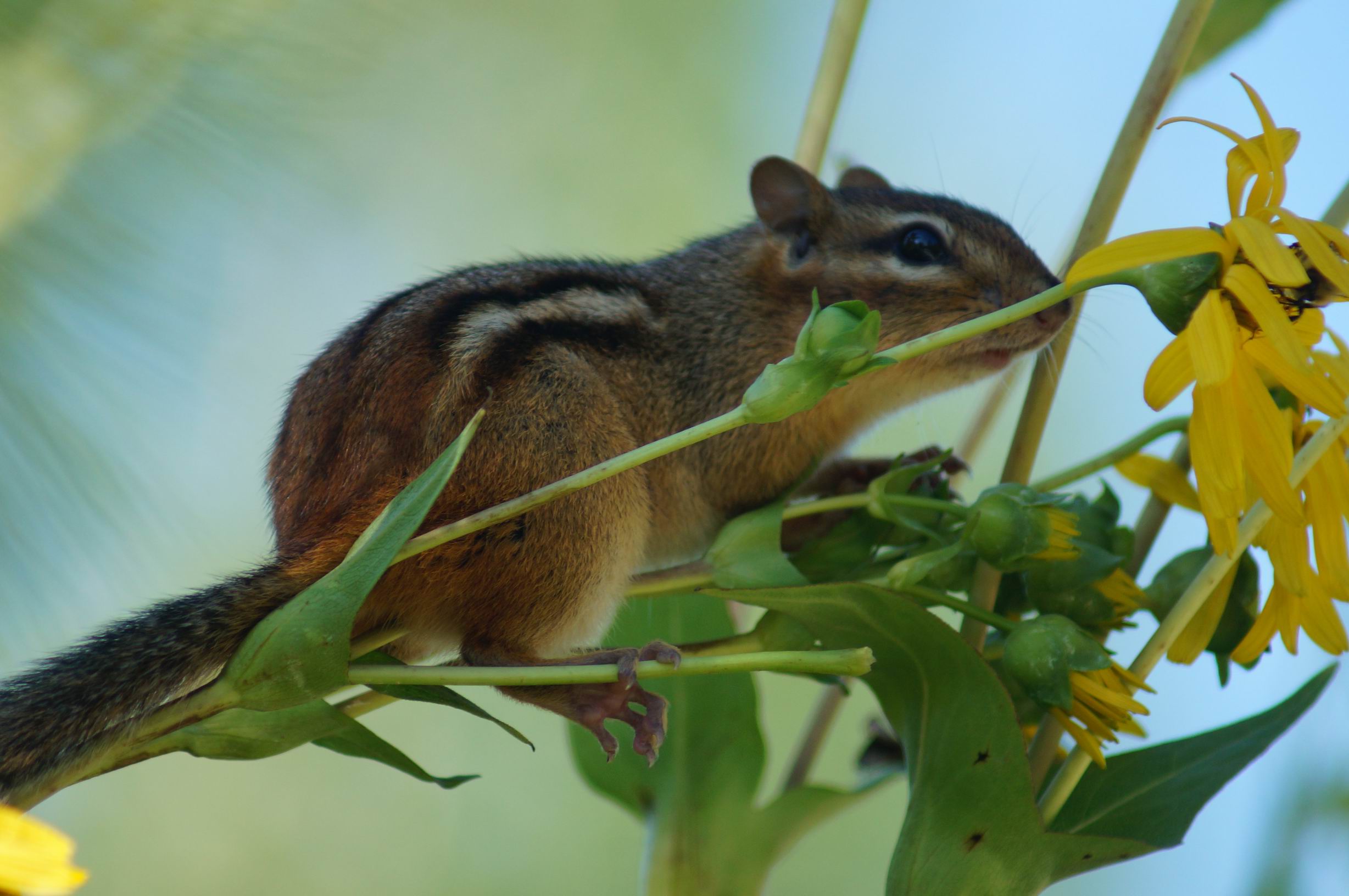 Miriam's Nature Calendar, August: Chipmunk, Brickworks. Photo by Miriam Garfinkle.
Nature Calendar September: Killarney/Shebahonaning
September 1, 2020 - #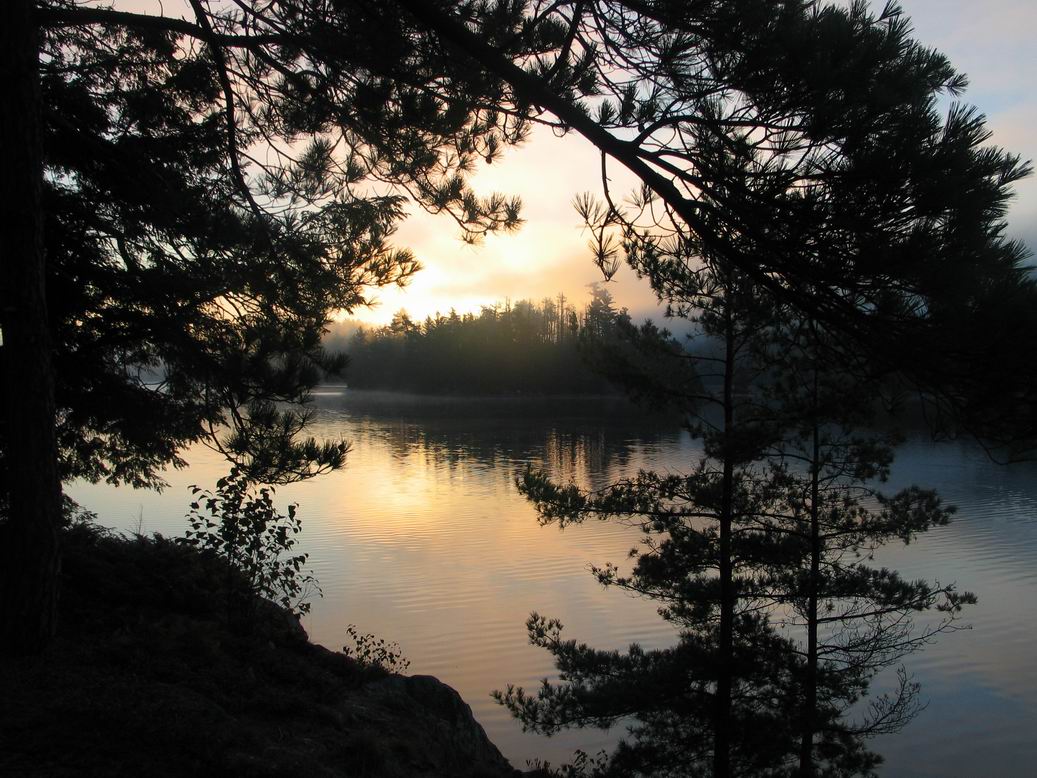 Miriam's Nature Calendar, September: Killarney/Shebahonaning. Photo by Miriam Garfinkle.
Nature Calendar October: Maples Leaves, Christie Pits
October 1, 2020 - #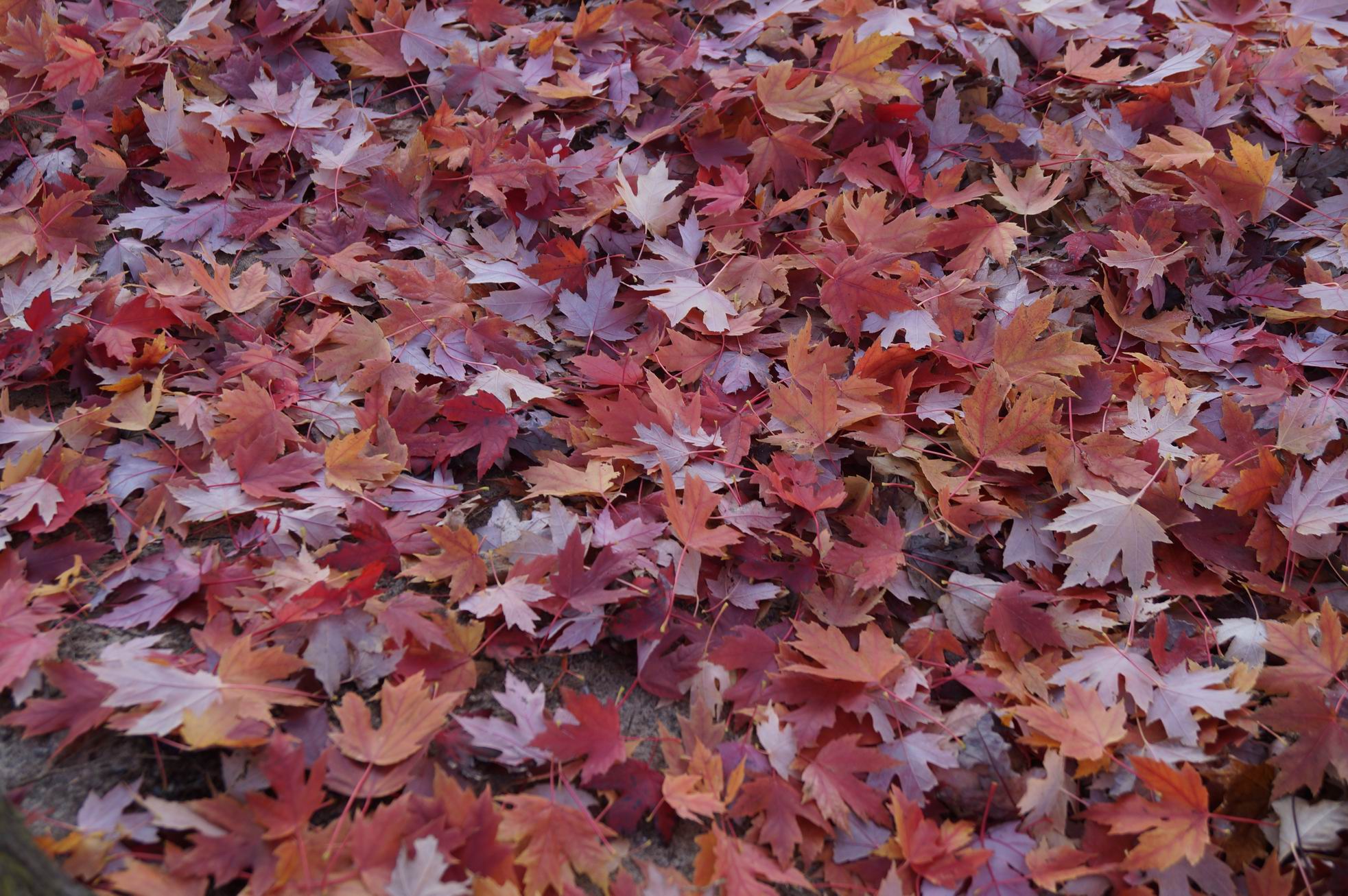 Miriam's Nature Calendar, October: Maples Leaves, Christie Pits. Photo by Miriam Garfinkle.
Nature Calendar November: Carrying Place, Prince Edward Country
November 1, 2020 - #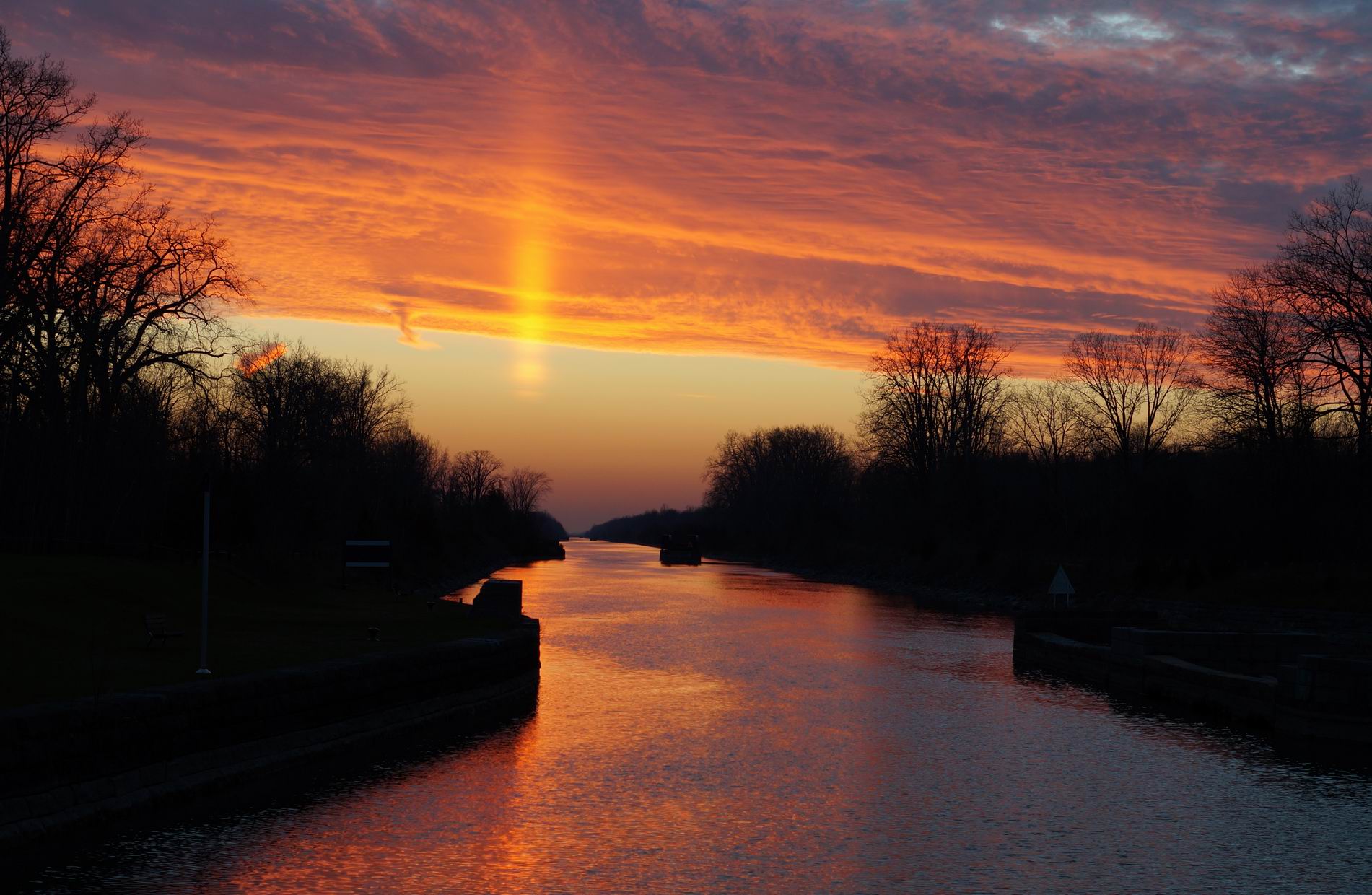 Miriam's Nature Calendar, November: Carrying Place, Prince Edward Country. Photo by Miriam Garfinkle.
November 11
November 11, 2020 - #
November 11. Remembrance Day. The day the Great War – now called the First World War – finally ended. The date has always been a significant one for me, first of all because it is my birthday, but also because the horrors of the war that ended on that day, and the even greater horrors that followed it, had a huge impact on my family, and therefore on me.
The guns fell silent on November 11, 1918, but reportedly many soldiers in the trenches feared that the armistice would prove to be temporary, and that fighting would shortly resume. In essence, they were right, even if there was a pause of a few years. The way the war was fought, and the way it ended, guaranteed that there would be another one, and that it would be even worse. Some historians argue that the First and Second World Wars were so closely linked that they were really one war, interrupted by a temporary armistice.
The First World War was an enormous crime perpetrated by Europe's ruling classes: capitalists, landowners, aristocrats, and politicians. They expected, and indeed hoped, that a war would break out sooner or later, and they expected that they would benefit from it. Their visions were of profits, glory, and the conquest of territory and overseas colonies. None of them believed that their side would lose, and the loss of human life meant nothing to them. In addition, as historian Jacques R. Pauwels writes, "war was expected to serve as an antidote to social revolution, causing workers to abandon socialism's focus on overthrowing the established order via international worker solidarity in favour of nationalism and militarism." In other words, one of the benefits of war, in the eyes of the ruling classes, was that workers would be slaughtering each other rather than fighting their real enemies.
The fighting ended at 11:00 am on November 11, 1918: the famous eleventh hour of the eleventh day of the eleventh month, mentioned in reverential tones by sombre speakers at countless Remembrance Day ceremonies.
Official remembrances are often about forgetting as much as they are about remembering, and this is no exception. Why did the fighting end at 11 am on November 11?
Because it had a suitably solemn ring to it. Because the generals were already visualizing future memorials when they would bask in glory remembering that historic moment, the eleventh hour of the eleventh day or the eleventh month.
What is never mentioned at the November 11 Remembrance Day observances is that Germany asked for an armistice, and an immediate end to the fighting, on November 8. Marshall Foch, the supreme Allied commander, refused to allow an immediate end to the fighting. He insisted that the killing continue while the terms of the armistice were being finalized. The armistice document was finally signed at 5:45 am on November 11. But Foch insisted that its implementation be delayed until 11:00 am. Because 11:00 am on November 11 sounded more portentous, more historically impressive, than 5:45 am.
In the meantime, the fighting went on, even though both sides knew that an armistice was about to take effect. For example, the commander of the Canadian forces near Mons, General Arthur Currie, ordered his troops to attack Mons and take it from the Germans on the morning of November 11, even though he knew that an armistice had been signed and would be coming into effect later that morning, and even though under the terms of the armistice, the Germans would be vacating the town within a day or two. Currie didn't want to walk into the town after the Germans had left: he wanted to take it from them by force. It was a matter of pride and military glory, he explained later: a final memorable feat of arms for the soldiers under his command.
Altogether, 2,738 men were killed in the last five-and-one-quarter glorious hours of that glorious war, the time between 5:45 am and 11 am. Another 8,206 were wounded, many of them seriously. One is tempted to say that these deaths and injuries were unnecessary, but in truth every death in that war was not only unnecessary, but a crime.
More than 100 years have gone by since then, and we sometimes deceive ourselves that the world has changed. In some ways it has, but not when it comes to the crimes of those in power. Today, as it has every day for the last five years, Saudi Arabia and its allies are attacking and blockading Yemen. The United States provides the support without which the Saudi military machine could not function. Canada participates in the crimes by providing military equipment. The slaughter in Yemen should stop. It could be stopped. But it continues, because there are profits, and military glory, to gain. The crimes continue.
Ulli Diemer
Keywords: First World War
Related Reading:
The Great Class War 1914-1918
Nature Calendar December: Cardinal
December 1, 2020 - #
Miriam's Nature Calendar, December: Cardinal, High Park. Photo by Miriam Garfinkle.
Nature Calendar 2021
December 2, 2020 - #
Again this year, I created a calendar featuring photos taken by my partner, Miriam Garfinkle, who died on September 15, 2018. Miriam was frequently out in nature, and she'd often have a camera with her. As I did last year, I gathered up some of the photos she took and compiled them in Miriam's Nature Calendar 2021. I printed about 120 copies for friends and family. The PDF version is available online.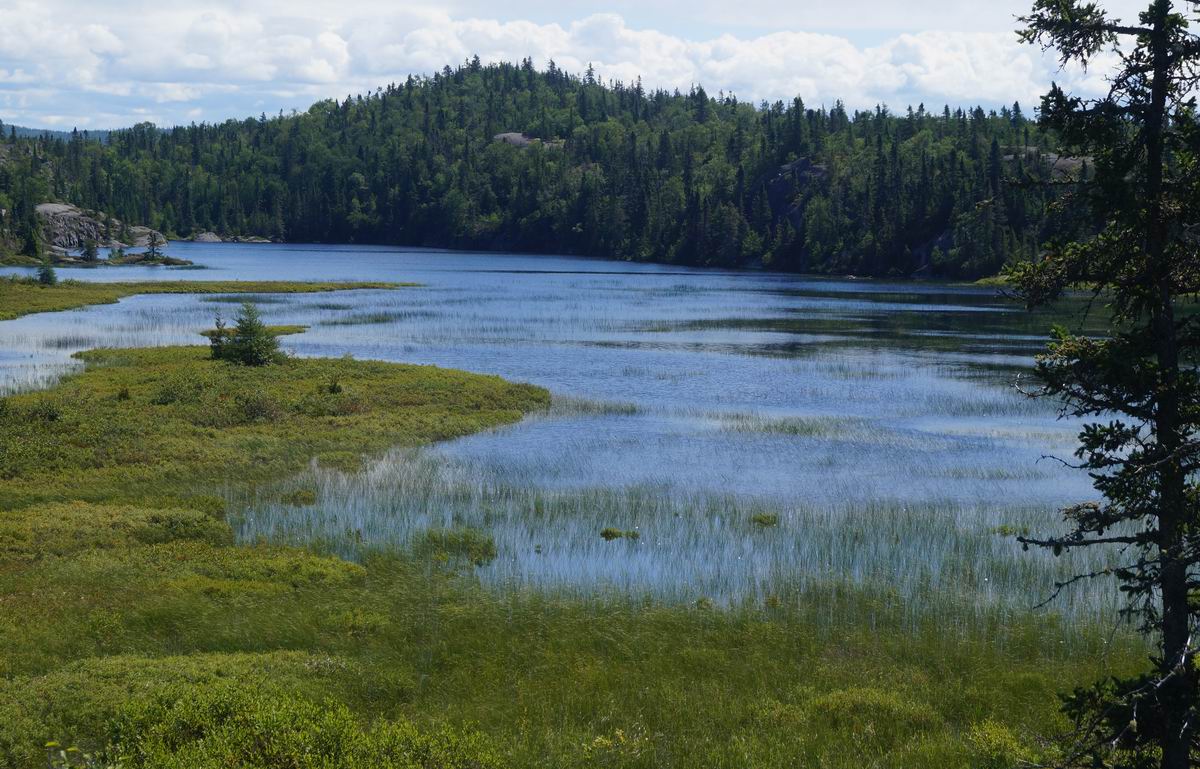 Adding up to Zero
December 6, 2020 - #
As someone who has subscribed to a daily newspaper for all of my adult life, I long ago learned that the real news is to be found in the business section. This is even more true now. The main 'news' section (down to a few skimpy pages as newspapers spiral downwards toward bankruptcy) is basically all-COVID, all-the-time, with a few random bits of Trump melodrama thrown in for variety.
It's from the business section that I just learned that Canada's biggest meat company is now proclaiming itself both "carbon neutral" and "carbon zero." I found that difficult to believe, but the newspaper assures me that the company is adding "a jazzy new label to its packaging:" "a seal that declares its products carbon zero," so it must be true. A corporation wouldn't put a slogan on its packaging that isn't true: I take that as an article of faith.
But, sceptic that I am, I still wondered: all those cows and pigs that feed their assembly lines, are they no longer producing the methane gas which we have been told makes a rather significant contribution to greenhouses gases in the atmosphere? And the trucks that haul their products across the country, they're no longer burning gasoline? And those huge meat processing plants, you know, the ones with all the COVID-19 outbreaks, they're no longer using fossil fuels?
The article in the newspaper didn't enlighten me on the answers to those questions, but it did inform me that this initiative is "in line with a sustainability effort that seems both durable and heartfelt." I do love objective news reporting, that's why I read the newspaper with such heartfelt and durable devotion.
I turned to the Internet, where I learned that while the company has made some praiseworthy efforts to reduce its energy usage, a key part of their strategy is "offsetting." Offsetting is done by investing in projects such "forest protection," tree planting, and biomass programs.
Offsetting does have its critics, it must be said. Words like "scam," "greenwashing" and "bullshit" (words I myself would shrink from using) show up rather regularly in the criticisms.
"Forest protection" involves paying someone, somewhere, to not cut down some trees that they say they were planning to cut down. Whether they were really intending to cut them down, we don't know. Whether they end up cutting them down a few years later, after they've pocketed the money, we don't know either.
And tree planting. Tree planting does sound so benign. Really really really green. Unfortunately, many of the trees that get planted are the wrong kinds of trees, in the wrong places. Often they are monoculture plantations, planted in straight rows, depleting the soil, with no ecological diversity, no wildlife. Nothing remotely like any forest that nature ever created. And typically after a few years, they get cut down, to use as "biomass," which really is a scam. In Portugal, where they have specialized in massive eucalyptus plantations, the giant forest fires they have every summer wipe out millions of trees (and not a few people), sending their carbon up into the atmosphere before they can even turn them into "biomass."
It probably sounds like I'm opposed to offsetting. Not at all. On the contrary, I'd like to see it used more widely.
For example, one issue that concerns me, because I do a lot of walking, is the number of pedestrians that get killed by cars every year. Toronto, the city I live in, instituted its "Vision Zero" plan a few years back, with the goal of reducing pedestrian fatalities and injuries. That hasn't worked out so well, not so far. I think this is where offsetting could really make a difference. Suppose we pay some other municipalities, like maybe Tobermory or White River or New Liskeard, to not kill any pedestrians? If we paid 20 towns to not kill five pedestrians each, we could kill 100 pedestrians in Toronto every year, and still achieve our "Vision Zero" goal.
We could also apply offsetting to other parts of the meat industry, it seems to me. The cruelty of practices like jamming chickens, pigs, and cattle into enclosures so tightly packed that they can't even move, bothers a lot of people. A good way to solve this would be for meat companies to announce that they will be paying to preserve some forest tracts up north somewhere, where moose can roam freely without being shut up in pens, and birds can fly to wherever their hearts desire. Thanks to the magic of offsetting, they could then declare the whole meat industry cruelty-zero. Win - Win.
Oh, by the way, if anyone reading this needs to buy some carbon offsets, feel free to send me money to not cut down the tree in my backyard. Cash, preferably.
Ulli Diemer
Keywords: Carbon Emission Credits – Carbon Offsets – Emissions Trading/Carbon Trading – Meat Industry
Related Reading:
The Forest Mafia: How Scammers Steal Millions Through Carbon Markets. When the product is invisible, the cons are endless.

The people who are preparing for war, and the lies they tell
December 22, 2020 - #
I don't like Donald Trump. If I was pressed to explain why, I suppose I'd say that part of the reason is that he's a loathsome racist misogynist lying war criminal. Also, I don't like people who POST THEIR OPINIONS ALL-CAPS.
I feel I should mention this before explaining why I have a degree of sympathy with Trump supporters who feel that their man is treated unfairly by the mainstream media purveyors of 'fake news.' I think they're quite right. The double standards, hypocrisy, and dishonesty of the media are absolutely breathtaking. That's true in general, and it's certainly true in relation to Donald Trump.
A recent example is the alleged hack of Solarwinds, an American software company. Solarwinds' own report on the alleged hack makes no claim that Russia was responsible, yet within hours the entire mainstream media were pointing the finger at Russia. In a flash, the coverage moved seamlessly from speculating that Russia – not merely Russian hackers, but the Russian state – was behind it, to asserting this as a proven fact, to demanding swift and hard retaliation.
And then President Trump, always the spoiler, chimed in with his own speculation that maybe it was China, not Russia, that was behind it. And anyway, he said, it's not such a big deal: the U.S. security apparatus is quite capable of handling this kind of thing.
The media were outraged. Shocked! Appalled! Every mainstream media outlet that I saw (and I look at more than is probably good for me) inserted the words "without evidence" in front of Trump's speculation about China. True enough. There is no evidence whatsoever that the Chinese state was behind it.
But – here's the thing – there is no evidence whatsoever that the Russian state was behind it, either. The only evidence of any kind is a report from Solarwinds that someone hacked them, along with an assertion that whoever it was had to be technically sophisticated to be able to pull it off.
Trump has a point: China also has a sophisticated cyber-espionage apparatus. So do a number of other states, as well as some other criminal organizations. (Criminal organizations can be divided into three categories: States, Corporations, and Other.)
One of the states capable of mounting this kind of hacking operation is Israel, which has been involved in a number of espionage operations and cyberattacks against other countries, including those which are nominally allies. When it suits them, the media run admiring reports about Israel's cyberwarfare capabilities, for example when describing Israel's cyberattacks against Iran. In this context, however, not a word of speculation about any other potential hackers. It's all Russia, Russia, Russia.
I have no idea who was responsible, assuming the alleged hack even happened. If I were going to join the media pack and speculate without evidence, I might speculate that the hackers may have been working for the security services that are far and away the most powerful and sophisticated in the world: those of the United States of America. Edward Snowden's revelations exposed the immense reach of the U.S. security agencies, as well as their willingness to lie, and break the law, in pursuit of their agendas. Launching an operation, and then blaming it on Russia, would be entirely in keeping with their way of operating.
Here are some things that I think are worth keeping in mind:
1) Every state that has the capability to do so is engaged in trying to spy on other rival states and explore weaknesses in their systems. That includes Russia, China, Israel, Saudi Arabia, India, Turkey, and, far ahead of everyone else, the United States of America. It also includes Canada, which, along with Britain, Australia, and New Zealand, is part of the "Five Eyes" intelligence consortium controlled by the U.S. Spying is normal, and only people as naive or dishonest as mainstream journalists could possibly be surprised or shocked to find that it is going on.
2) The security services, and the people who speak for them in public, and the governments they are nominally answerable to, have a long, long record of lying. They don't just occasionally lie, they lie all the time, day after day, year after year, decade after decade. Disinformation and progaganda are key parts of their work, and lying is the essence of propaganda. The people who run the state, and who run the security services, are professional liars. We should never forget that.
3) Every war and intervention that the U.S. has started in the last 75 years has been prepared and justified by lies. That includes the Korean War, the war against Vietnam (and Laos and Cambodia), the invasions of the Dominican Republic, Grenada, and Panama, the 1991 Gulf War, the invasions of Afghanistan and Iraq after September 11, 2001, and the war against Libya in 2011.
4) Significant elements of the American state apparatus are seeking confrontations, up to and including war, with Russia and China. They are willing to risk nuclear war, and in fact think that the U.S. would 'win' a nuclear war, especially if it launches a surprise attack.
5) When professionals liars make statements that are designed to increase the chances of confrontation and war, it's best not to believe a word they say, unless they present rock-solid evidence for what they are saying. If they do present rock-solid evidence, it's best to assume the evidence is fabricated.
6) When they tell you that the evidence is secret and can't be revealed, assume that, once again, they are lying.
Ulli Diemer
Keywords: Cyberespionage – Disinformation – Hackers – Malware – Media Propaganda – Spying – War Propaganda
Related Reading:
Documents Reveal Canada's Secret Hacking Tactics
Fake News (Connexions Other Voices, December 20, 2016)
Popular Security Software Came Under Relentless NSA and GCHQ Attacks
Researchers Find 'Astonishing' Malware Linked to NSA Spying
Secret, Invisible Evidence Of Russian Hacking Is Not Actually Evidence
Spies Hacked Computers Thanks to Sweeping Secret Warrants, Aggressively Stretching U.K. Law
Stuxnet Unbound
A World War has Begun: Break the Silence

Nature Calendar January: Trumpeter Swans
January 1, 2021 - #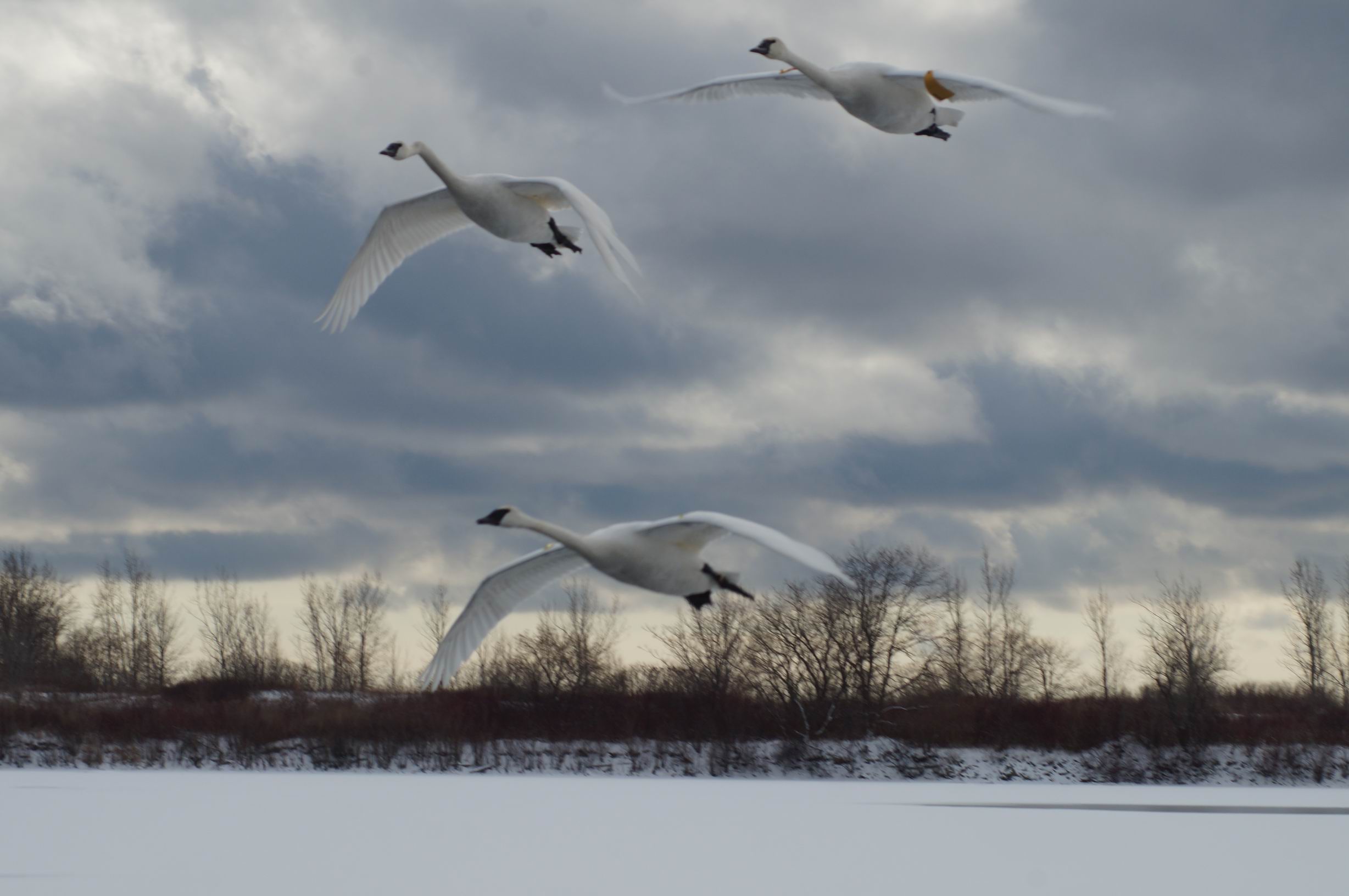 Miriam's Nature Calendar, January: Trumpeter Swans, Leslie Street Spit, Toronto.
Trumpeter swans are impressive, the biggest wild birds in North America. Miriam was always glad when we encountered them because each one we saw was a sign that the effort to bring them back from the edge of extinction is succeeding. Extirpated from most of their range, including Ontario, in the 1800s, Trumpeters are slowly re-establishing themselves. Photo by Miriam Garfinkle.
Nature Calendar February: Point Petre
February 1, 2021 - #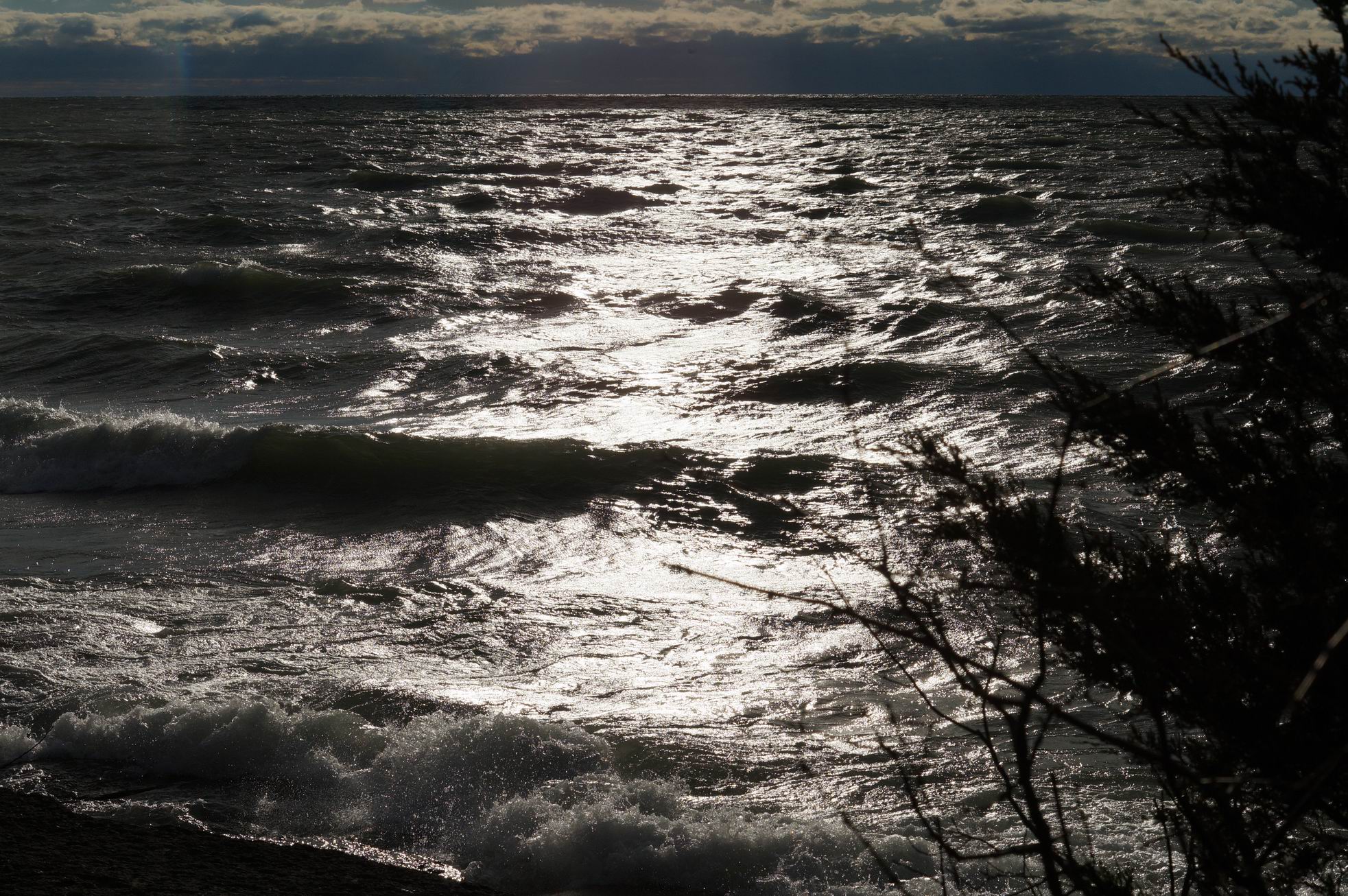 Miriam's Nature Calendar, February: Point Petre, Prince Edward County.
Each place has its own magic. The lake off Point Petre is usually sunny and inviting in summer. In the winter, the mood is very different. It was a place Miriam appreciated, no matter what side of its changing personality was on display. Photo by Miriam Garfinkle.
Beyond the Walls: The February 14, 2021 edition of Other Voices
Febrary 14, 2021 - #
The February 14 edition of Other Voices, the Connexions newsletter, which I edit, went out by email today. You can see it online here. The introduction to the issue appears below:
Here we are. It's the middle of February, and we're still in the midst lockdowns and alarms, missing our normal lives. We could probably all use some sunshine and some cheering up, and surely Other Voices is up to the challenge of providing that?
Absolutely. Sunshine and warmth? You'll find four items about Gaza and Palestine in this issue. Gaza? Yes, Gaza. Gaza has sunshine, as well as its share of beauty, humour, and giggling children playing amidst the rubble. As Zainab Wael Bahseer writes in Gaza City, an unusual beauty, by carrying on with eyes and ears open, "we teach life." Her article appears on We are not Numbers, the featured website in this issue, created for Palestinian youth to tell their stories to the world.
In Postcard from a Liberated Gaza Hadeel Assali joins other writers and activists in imagining a post-pandemic, post-occupation Gaza where people drink coffee by the sea and share stories.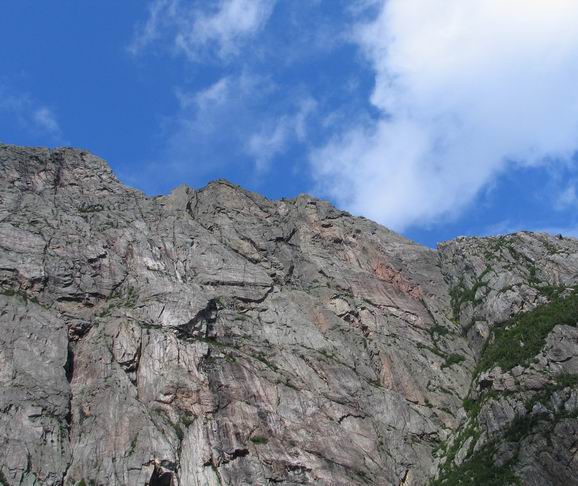 Sameer Qumsiyeh, meanwhile, sets out from Palestine, travels to places (not many) which will accept a Palestinian passport, copes with all the additional restrictions of a pandemic, and makes a film, Walled Citizen. His goal in making the film, Qumsiyeh says, was to create "a picture of how things can be if you can transcend walls and barriers."
From Palestine, we continue on to Kashmir, a territory blessed with apple trees, and oppressed by a military regime which, like its counterpart in occupied Palestine, has been destroying those trees by the thousands as part of a strategy of making it impossible for indigenous people to live. Largely cut off from the outside world, Kashmiris nevertheless also continue to live, and to teach life, in the land they are rooted in.
In India itself, people must try to find a way to keep living in the face of poverty and a pandemic made more difficult by a government that is worse than useless. Online classes, offline class divisions tells the stories of students in the Ambujwadi slum in north Mumbai who are trying to manage online learning using borrowed and shared cell phones while continuing to work to help their families survive. Serving customers who come to your vegetable cart while simultaneously continuing to pay attention to what the teacher is saying is part of a normal day for these young people.
John Pilger takes us behind the walls of Belmarsh prison, where Julian Assange continues to be imprisoned even after a court rejected an American extradition request. Watching the trial, Pilger says, was like watching a Stalinist show trial. Although, Pilger points out, at least in a Stalinist show trial, the prisoners were able to stand and face the court directly. Assange was imprisoned behind a thick wall of glass, and could only communicate with his lawyers by crawling on his knees to a slit in the glass to pass out a note, on yellow sticky notepaper, which would then be passed along the length of the courtroom to where his lawyers were sitting. Pilger reminds us that Assange's "crime" is to have "performed an epic public service: revealing that which we have a right to know: the lies of our governments and the crimes they commit in our name."
Leonard Peltier remains locked up in the American prison where he has been held for more than 40 years, convicted of a crime he didn't commit. The International Leonard Peltier Defense Committee continues to work for his release. A film about his life: Warrior: The Life of Leonard Peltier is the featured film in this issue of Other Voices.
The featured book is Viktor Frankl's "Yes to Life: In Spite of Everything," written in 1946 not long after he was released from Auschwitz. "As long as we have breath, as long as we are still conscious," says Frankel, "we are each responsible for answering life's questions."
Life asks us to laugh, love, live, and struggle.
Ulli Diemer
The February 14, 2021 edition of Other Voices is online here.
Notwithstanding Clause
Febrary 27, 2021 - #
Rick Salutin, writing in the February 26 Toronto Star, commented on what he calls the Canadian tendency to try to have it both ways: "Canada is a master practitioner of this kind of gesture, particularly when it involves human rights. I call as witness our Charter of Rights and Freedoms. Ambiguity and hypocrisy are built into its core, by way of the notwithstanding clause. Canadians are guaranteed these rights – except if some government, somewhere, for any reason or non, decides we don't have them after all." He cited as an example Doug Ford's unilateral interference in the rules of Toronto's 2018 municipal election, right in the middle of the election, and Ford's statement that if anyone tried to stop him, he'd invoke the notwithstanding clause.
I sent Rick an email expressing a different point of view. I said:
I think you are mistaken in thinking that the notwithstanding clause signifies hypocrisy at the core of the Charter of Rights and Freedoms. I would argue that, on the contrary, the notwithstanding clause is a vital safeguard.
Even though you say "definitions are overrated," you seem to assume that "human rights" are objective realities about which there can be no dispute. But "human rights" are hotly disputed, which is why they give rise to legislation, legal challenges, and court rulings.
The Charter of Rights and Freedoms laid the basis for decades of judicial activism, with courts asserting the 'right' to make sweeping decisions on matters which previously were seen as the purview of Parliament and the provincial legislatures. Courts now routinely overrule laws passed by Parliament.
But courts are not neutral arbiters of objective fact. They are, as commentators from Karl Marx to Harry Glasbeek have explained, class-based institutions presided over by individuals with clear class biases. They often make rulings which are outrageous.
The notwithstanding clause makes it possible for legislatures to overrule the courts. There are times when this is necessary, and a good thing. There are also times, Doug Ford's outrageous actions around the 2018 municipal election for example, when it can be abused. But given a choice between allowing courts to make unchallengeable rulings, and allowing legislatures to overrule the courts on rare occasions, I think the power to overrule via the notwithstanding clause is preferable. At least we can vote for who forms the government, albeit through an electoral system where government routinely take office with 40% of the vote. We can't vote to overrule the courts when they make bad decisions, so the notwithstanding clause is at least a meager protection against judicial tyranny.
To bring this down to the nitty-gritty of current events: the courts have recently been faced with legal actions brought by doctors seeking to overturn the Canada Health Act and provincial medicare systems on the grounds that a universal publicly administered single-payer medicare systems infringes on the human rights of wealthy individuals who assert the right to buy their way to the front of the queue, and on the human rights of doctors who want the freedom to make as much money as they can by giving preferential treatment to the well-off. Should the Supreme Court rule against medicare, which it might, given that its membership consists of well-off members of the ruling class who would be quite able to afford the best private health insurance, then I would hope that the government would invoke the notwithstanding clause. And I, and millions of others, would say, thank God for the notwithstanding clause.
Nature Calendar March: Red-winged Blackbird
March 1, 2021 - #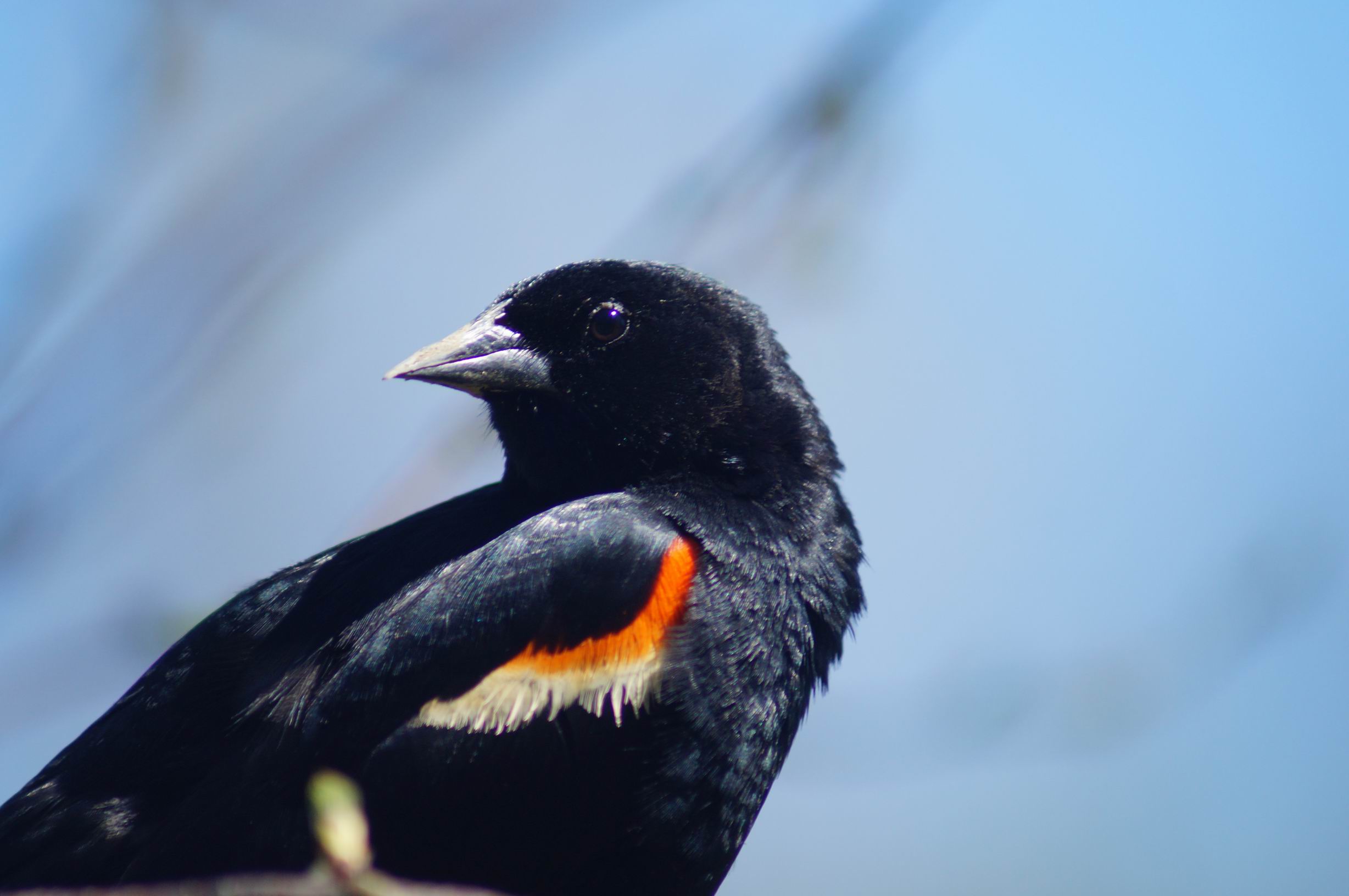 Miriam's Nature Calendar, March: Red-winged Blackbird, Brickworks, Spring 2013.
Hearing and seeing the first red-winged blackbird of the season is always exciting because it is a sign that spring is going to arrive, even if it hasn't actually arrived yet. The earliest we ever heard a redwing was on February 21 in 2016, in Rattray Marsh. However, it was a warm day in May when Miriam photographed this vigilant male. Photo by Miriam Garfinkle.
Private ownership of long-term care homes means overcrowding and more deaths
March 17, 2021 - #
In an op-ed in the Toronto Star on March 16, Walter Wodchis and Bob Bell offer arguments in defence of privately owned long-term care facilities that are peculiar, to say the least.
The fact that the death rate in privately owned nursing homes has been much higher can't be blamed on the private ownership of those facilities, they tell us. It's simply due to the unfortunate fact that privately owned homes cram more people into each room, substantially increasing the risk of infection. These privately owned homes are in urgent need of upgrading and replacement, according to Drs. Wodchis and Bell, and, since the owners have failed to modernize them, despite their substantial profits, they urge that the province pick up the tab for doing so, while leaving the people who have mismanaged these facilities in charge.
The bottom line, which they fail to acknowledge, is that private ownership is associated with overcrowding, failure to invest in modernization, and more deaths. This certainly seems like an argument in favour of ending private ownership of long-term care facilities.
Nature Calendar April: Tree Swallow
April 1, 2021 - #
Miriam's Nature Calendar, April: Tree Swallow, Colonel Sam Smith Park, Spring 2013.
An extraordinary variety of species have made their homes in Colonel Sam Smith Park, a modest-sized park on Toronto's waterfront. Over the years, Miriam photographed ducks, grebes, snowy owls, mink, butterflies, and much else. Tree swallows nest there in the spring, dazzling us humans with their speed and beauty. Photo by Miriam Garfinkle.
How I got vaccinated
April 5, 2021 - #
Having heard horror stories about the difficulties of booking a vaccine appointment online I decided to try the phone number, 1-888-999-6488. I called last Thursday. First off, there was a four-minute recorded announcement about COVID and about what to do if you feel sick (spoiler alert: call Telehealth, or 911 if you are really sick).
Then, within five seconds, a human came on the line, who asked me where I live and how old I am. I aced both questions.
She then offered me an appointment for Monday morning at Toronto Western. She asked me if the location and time were convenient for me. I said yes and yes.
Monday morning, I set off. I had forgotten to bring something to read, which I usually do when I have an appointment, but serendipitously, someone on Palmerston Avenue had left a box of books for people to take. I spotted "A Reading Diary: A Year of Favourite Books" by Alberto Manguel, and took it. It turned out to be a perfect choice.
The wait at the hospital was short. I was led in, asked the usual questions, and got jabbed. Then off to the waiting area to sit for a while in case I had a reaction. My only reactions were to Alberto Manguel's prose, and those reactions were, as always, positive.
And then home, for coffee and chocolate, which I felt I'd earned.
After I posted this, a reader asked "Why did you rush to take a rush-job vaccine with many unknowns?" I replied:
I have no more concerns about this vaccine (I received Pfizer) that I do about tetanus, hepatitis, and influenza vaccines (not to mention polio, measles, etc.) all of which I have willingly taken. Nothing in life is 100% risk free, but all in all, I think the riskiest thing I did yesterday was crossing several busy streets in downtown Toronto in order to get to the site where I got the vaccine.
Mighty Moe: book review
April 12, 2021 - #
Mighty Moe tells the story of Maureen Wilton, a youthful long-distance runner from Toronto who set a women's world record in the marathon in 1967, when she was 13. Wilton didn't pursue an athletic career: a few years later, she stopped running and turned her life in a different direction: work, marriage, children. As the years passed, her accomplishments faded from memory until John Chipman tracked her down for a 2010 CBC radio documentary "Did My Mom Ever Run?" which gave Maureen, now Maureen Mancuso, another moment in the spotlight.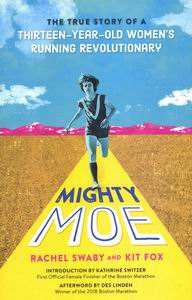 Authors Rachel Swaby and Kit Fox thought Maureen's story was a story that should be known more widely. They told it first in a 2017 podcast for Runners World, and then in this book, which broadens the story to include the other young women who were Maureen's teammates on the North York Track Club, as well as their coach, Sy Mah. The book is primarily aimed at readers aged 10 to 16, but readers of all ages will find it an enjoyable read.
Reading this book transported me back to my own days in the track and field world of North York (then a suburb of Toronto).
Read the rest of the review here


The intelligence of ravens and the foolishness of (some) humans
April 13, 2021 - #
There is something special about ravens. I am always pleased when I encounter them on my wanderings, partly because they make me feel, as Dorothy might say, "Ulli, we're not in Toronto anymore!"
I am far from alone in feeling that there is something special about them. Ravens feature in the mythology and folklore of many cultures, from North American indigenous peoples to ancient Greek and Celtic legends. They are seen as creators, as destroyers, as tricksters, as harbingers. They can be all those things, because they are complex, adaptable, and highly intelligent.
Knowing my fondness for birds, several people drew my attention to a recent study of the intelligence of ravens, reported in Scientific American, which concluded that "Young Ravens Rival Adult Chimps in a Big Test of General Intelligence."
I've frequently taken pleasure in hearing about and observing how smart ravens and their Corvid relatives are. But this kind of study bothers me.
The first thing that troubles me is the idea that it's OK to lock up animals in cages and make them perform tricks to test their intelligence or observe their behaviour. Ravens are wild birds meant to live in the wild. If they choose to interact with humans, as they sometimes do, that's one thing. Caging them against their will so that a few academics can advance their careers by publishing yet another paper, is another thing entirely.
Another thing that bothers me is that studies of this kind continue to propagate the idea that intelligence is a single quantity, a thing that can be measured and quantified. This idea has a long and ignoble history. In the 1800s, cutting edge science in this field consisted of measuring skulls, and later, measuring actual brains. The bigger the skull, so the theory went, the more intelligent the owner of the skull must have been. The measuring was done by white males, and – wouldn't you know it – it turned out that white males had the biggest skulls, and therefore were at the top of the intelligence ladder, while people who weren't white - and of course women - had smaller skulls and therefore weren't as bright. Brain measurements produced similar conclusions (thanks, in part, to outright falsification and cheating, as Stephen Jay Gould documented in The Mismeasure of Man). It apparently did not occur to the brain quantifiers to extend their conclusions about intelligence to elephants, whose brains weigh around 5 kg, or to sperm whales with their 7.8 kg brains, vs. 1.5 kg for the average adult human.
In the twentieth century, measuring intelligence became the domain of psychologists and psychometrists, who developed the Intelligence Quotient (IQ), which assigns a numeric value to human intelligence. The early decades of IQ testing are also a history of racism and misogyny. Gradually the field has cleaned up its act, and overtly racist and anti-female ideas have been driven to the squalid fringes of the field, though systemic racism remains an inevitable part of the enterprise.
What also persists, no matter how often it is debunked, is the idea the intelligence can be quantified and measured, and that people or animals can be ranked in intelligence according to how they perform on tests designed by humans.
There is of course such a thing as intelligence. We can recognize and appreciate intelligence, in humans and in other animals. Some of us – I include myself – even find intelligence erotic (more in humans than in birds, to be sure).
But it is a serious error to think of intelligence as a single entity, or a cluster of individual entities, which can be measured, quantified, and ranked.
When it comes to other complex multi-faceted qualities, such as literature and writing, we are less included to make this mistake. We might think that William Shakespeare is a better writer than Edward Bulwer-Lytton, or that The Picture of Dorian Gray is a better book than Fifty Shades of Grey, but few of us would attempt to measure and quantify the difference between them. We haven't developed standardized tests for good writing, and we haven't developed a GWQ (Good Writing Quotient). Most of us would recognize this as absurd. (If someone has in fact done this, please don't tell me: I don't think I could bear to know.)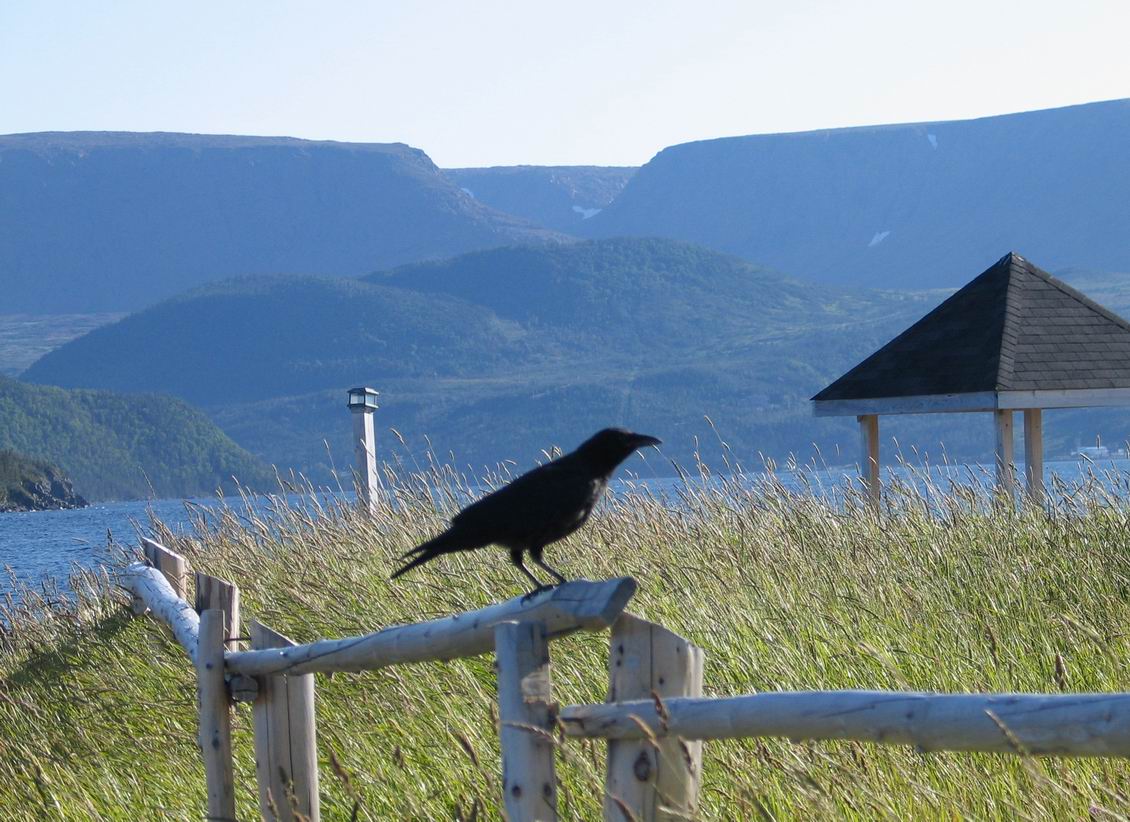 Raven, Noris Point, Newfoundland, 2015. Photo by Ulli Diemer.
Studies like the one reported in Scientific American which professes to compare the intelligence of ravens and chimpanzees, all proceed from the assumption that intelligence is a single quality, a thing, which can be tested for and measured.
But this fundamentally misconstrues the nature of intelligence. There are many different kinds of intelligence, and many different aspects to each kind. Reading the weather and the land, an ability which enabled indigenous peoples to make life-and-death decisions and survive in challenging and fast-changing environments, is a form of intelligence. Reading a piece of music, and understanding not merely what the notes say, but what the essence of that piece of music is and how it should be played, is a very different form of intelligence. Having a sense of where in a scientific puzzle the solution might lie is different yet. Different again is the emotional intelligence required to intuit how to respond to another person in distress. One could come up with many other examples; the point is that intelligence is not a single quality, but a whole complex of different qualities which may be present in different forms and degrees in different people. It is a fundamental fallacy to think these qualities can be reified into one entity called "intelligence." It is a further fallacy to think that that this imaginary entity can be measured.
And it is yet another fallacy to imagine that our idea of what constitutes intelligence can be meaningfully measured in non-human animals like ravens by making them perform stupid tricks like identifying under which cup a treat is hidden. Intelligence is species-specific. Ravens have demonstrated their intelligence surviving and thriving in a harsh environment for literally millions of years. Their lives have their own demands, and they have performed splendidly in rising to those demands.
They should be left alone to do what they are meant to do, not imprisoned in cages to do tricks designed by humans.
And we humans need to develop the intelligence to recognize what can't be measured, and when to leave well enough alone.
Related Reading:
Longing for freedom, and grieving loss: Reflections on watching swifts on a summer evening
An evening paddle
Strange Sounds Up in the Trees



White-throated Sparrow
April 29, 2021 - #
I've been hearing a white throated sparrow out back for the last couple of days. They have been stopping over in the backyard (in downtown Toronto), for a few days every spring for as long as I can remember, certainly more than a decade. It seems a bit mysterious: can they live that long? Do they migrate with their young and tell them: "Remember this place: it's a good place to stop?"
They seem to be arriving earlier. Last year, they were here on May 3. In 2016, it was May 10. I hope that's OK; they need to be synchronized with their food sources: insects, seeds, berries.
I've also learned that some of them have developed a new variation of their song. It was first heard in B.C. in 1999 (I guess cultural innovation often starts on the west coast), and started to be heard in Ontario five years ago. I'm not good enough to be able to tell if this one is singing the old song or the new variation.
I just know that I'm pleased when I hear them: a brief but precious visit.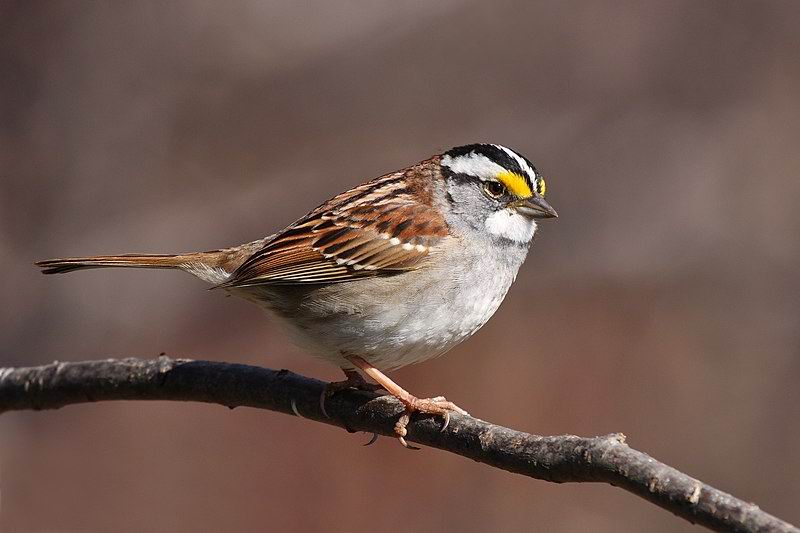 Deadlines
April 30, 2021 - #
I miss deadlines.
Connexions – the project I work on, which encompasses both a physical archive and an office, as well as the Connexions.org website – shut down in March 2020 because of the pandemic, and clearly we're still some way from being able to re-open. I wander over to visit the archive space every week or two, just to make sure everything is still OK and run my fingers lovingly over the materials on the shelves, but of course there is no one else there.
I miss the human contact of working with other people, of course – I really miss it! – but I realize that I also miss the deadlines that working with other people imposes. Working with other people – even in an all-volunteer project like Connexions – imposes deadlines. You agree to do something, you set a completion date, and then you work to meet that deadline because you made a commitment. Now that we have to work remotely, we are working much more independently on longer-term projects with few real deadlines.
And that's a problem for me, because I've always depended on deadlines to motivate me. In high school and university, I mostly wrote my essays the night before they were due. That usually worked out pretty well, so I had no reason to change my ways. After that, I moved into journalism, where the typical pattern is that an editor gives you an assignment in the morning, and you have to hand it in, finished, by the end of the afternoon. That also worked well for me.
Eventually I became the editor of a community newspaper (Seven News), where the bi-weekly publication date imposed a non-negotiable deadline. Those were the days when newspapers were laid out on blue-lined layout sheets, each article and ad a separate sheet which was cut to the required dimensions, waxed on the back with a hand waxer, and then positioned on the layout sheet. The artwork had to be at the printer at 8:00 am on Friday morning; typically we would finish the layout around 4:00 am and then drive the artwork over to the printer to drop into their extra-large mail slot so it would be there when they arrived.
I got a rush from hopping in the car at 4:00 am and zooming through the empty streets over to the printer. I can't imagine that finishing the job 24 or even 48 hours early would provide a similar rush.
After my years at Seven News, I continued to work in publishing, and therefore always had hard deadlines to motivate me. Of course, as an editor and publisher, I knew that many writers were like me, and I acquired an essential skill: lying to writers about when the deadline is. NEVER tell a writer what the real deadline is: I think that is an iron-clad rule.
But now, here I am: I am both the writer and the person imposing the deadline. One can and does lie to oneself about all sorts of things, of course, but you really can't lie to yourself about a deadline or lack of one. Sure, I can write dates on a calendar, but there are no consequences if I fail to meet the self-imposed deadline. There is no one to be angry or disappointed.
What's worse is that the projects I'm working on now are large book-length projects which don't lend themselves to short-term deadlines. So even when I make good progress, nothing gets completed. Earlier in the week, I sat down and wrote 15,000 words over three days. It felt satisfying, in a way, but there isn't the satisfaction that comes from actually finishing something.
These days, I find myself drifting from one project to another, never quite finishing any of them, and always feeling that there is something else I should be doing instead. On very rare occasions, that something else is even housework, but that is rare. I saw a fridge magnet once which said "No one ever said on their deathbed 'I wish I had spent more time doing housework,'" and I have adopted that piece of wisdom as a guide to life. In the past, deadlines were useful for getting housework done, because when you're planning to have people over, you clean the house. So all those brunches and dinners provided highly useful deadlines. Now, visitors only visit outdoors, and all I have to do is sweep up the leaves and blossoms.
The other thing that is useful for avoiding deadlines is digressions, and I'm really good at that. This rumination on deadlines is a digression from what I'm really supposed to be doing, which is writing an article that is supposed to be finished by tonight. It will appear on my diemer.ca website, which is called Radical Digressions, tomorrow. If I manage to get it done by the deadline.
Nature Calendar May: Swallowtail Butterfly
May 1, 2021 - #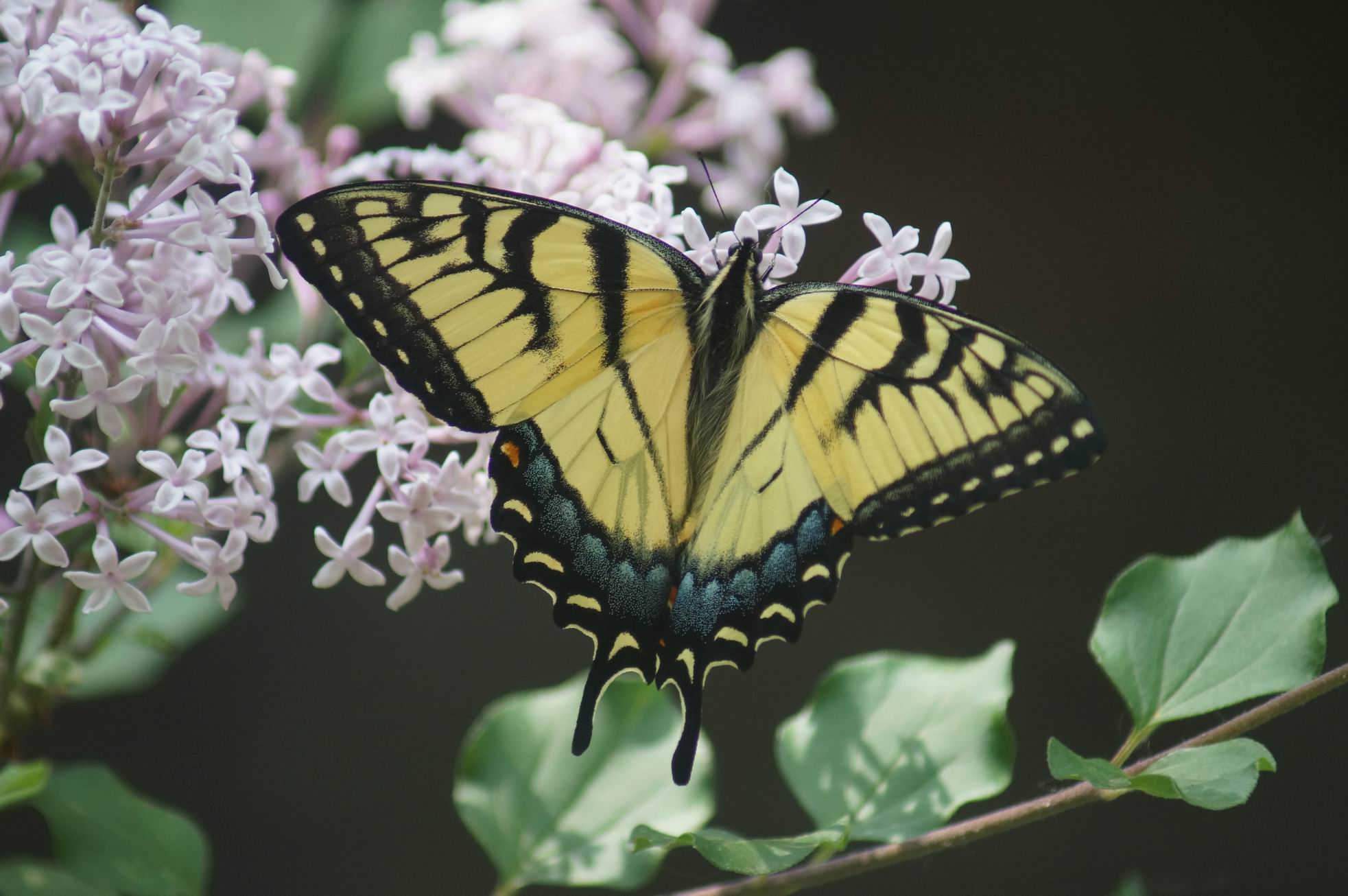 Miriam's Nature Calendar, May: Tree Swallow, Craigleith Gardens, May 2015.
Miriam rarely had an agenda when she was out in nature. She knew that the best moments, in nature and in life, are those that simply happen. We don't find them; they find us. So it was on this walk, when we suddenly came upon a group of Swallowtail butterflies feeding on a cluster of flowering shrubs. Photo by Miriam Garfinkle.


Situation Normal – May 1, 2021 News from the real world and beyond
May 1, 2021 - #
Wishful thinking as a climate plan # Canada's federal government has announced new targets for cutting greenhouse gas emissions. The new target is to reduce emissions by 40% to 45% below 2005 levels by 2030. That's an increase from the previous target of 30% set by the Harper government. Even so, the targets are inadequate, and all the more so since they don't count emissions from shipping, air travel, and the military.
What the new plan also doesn't include is any plausible strategy for achieving these targets. We'll continue the present approach of trusting that 'market mechanisms' coupled with subsidies for 'innovative technology' (and pipelines) will somehow get us there.
That's the approach that has resulted in a 1 per cent drop in emissions since 2005. One per cent in 15 years. If we continue at the current rate, it will take us roughly 675 years to achieve those targets. The new climate plan isn't a plan: it's a fantasy.
Greening the energy sector An article in the business section describes what it calls the "greening of the energy sector." One strategy for doing this, it seems, is that some companies are selling oil assets to other companies which don't care so much about pretending to be green. So the company that sells off oil assets can position itself as 'green' by showing that it has reduced its activities in the oil and gas sector. Of course, the oil and gas is still being extracted and burned, by someone else.
Some people may be fooled by this, but the planet is not fooled.
Paid sick days # After more than a year of refusing the act, Ontario's Conservative government is finally proposing a wholly inadequate sick leave plan. The Ford government deserves all the criticism it has been getting, but there is another side to the issue: the refusal of businesses to act on this on their own.
I used to own a small business. We provided paid sick days, not because the law required us to do so, but because it was the right thing to do. We also recognized that having workers come to work sick and possibly make other employees sick was not in our interest.
If a small company like ours could act on its own to provide paid sick days, then corporations many times bigger than ours, could do it too. The fact that they don't shows that they value profits over their workers' health.
Vatican approves vaccines ... but some Catholics disagree The Vatican has said it is permissible for Catholics to received vaccines that may incorporate, as many of them do, cell lines from fetuses that were aborted decades ago. The Vatican said "It is morally acceptable to receive Covid-19 vaccines that have used cell lines from aborted fetuses in their research and production process" and that "the use of such vaccines does not constitute formal cooperation with the abortion from which the cells used in production of the vaccines derive." Both Pope Francis and former Pope Benedikt have received the vaccines.
However, some conservative Catholics are objecting. They maintain that anything that derives in some way from the "evil" of abortion, no matter how remote, must be rejected by Catholics of good conscience. One has to ask: how is it possible for these 'people of good conscience' to participate in a church with a history that includes the sexual abuse of children and burning people at the stake?
The myth of Indigenous vaccine hesitancy There have been claims that Indigenous people are reluctant to be vaccinated because of the traumatic legacy of residential schools, and the racism that has historically denied them equal access to health care. Those are the proposed explanations, but it turns out there is nothing to explain, because, as reported in the Toronto Star, Indigenous people get vaccinated at basically the same rate as non-Indigenous people. A Health Canada survey found that 97 per cent of reserve residents, and 94 per cent of Inuit, regard it as important to get their children vaccinated. This is a lower rate of 'vaccine hesitancy' than exists in the non-Native population.
Veldon Coburn, an assistance professor at the University of Ottawa's Institute of Indigenous Research and Studies, observed that children in Indigenous communities get vaccinated routinely. "We get needles all the time," he said. "It is not a traumatic experience."
Coburn suggests that there's a "cultural zeitgeist" that makes some people think Indigenous people are "very delicate" and need others to care for them. "It's sort of a self-flagellation from certain segments of the populations," he said. "They sort of invented an injury that didn't exist, and they want to be the crutch."
Protection money in the 21st century # The domain name registrar I deal with (Webnames) offers "Domain Privacy." If you purchase the "Domain Privacy" option from them, they will hide your personal information (name, email, address, phone number) in the public WHOIS directory. Doing this, they say, will give you protection from unwanted spam and telemarketing, domain phishing, and identity theft.
And if you don't pay them? Then they will publish your personal information, without your consent, and make you vulnerable to spam, telemarketing, domain phishing, and identify theft. It's not just Webnames; many of the domain name registrars do the same. Apparently it's legal under Canada's privacy laws.
A moment on Queen Street #
A man is standing in front of a store he wants to enter. However, a sign on the door says "No Entry without a Mask." He doesn't have a mask. What to do?
Another man walks out of the store at that moment. He's wearing a mask. "Hey," says the first man, "Can I borrow your mask for a minute?"
No luck. The other man doesn't want to share.
Nature Calendar June: Cooper's Hawk
June 1, 2021 - #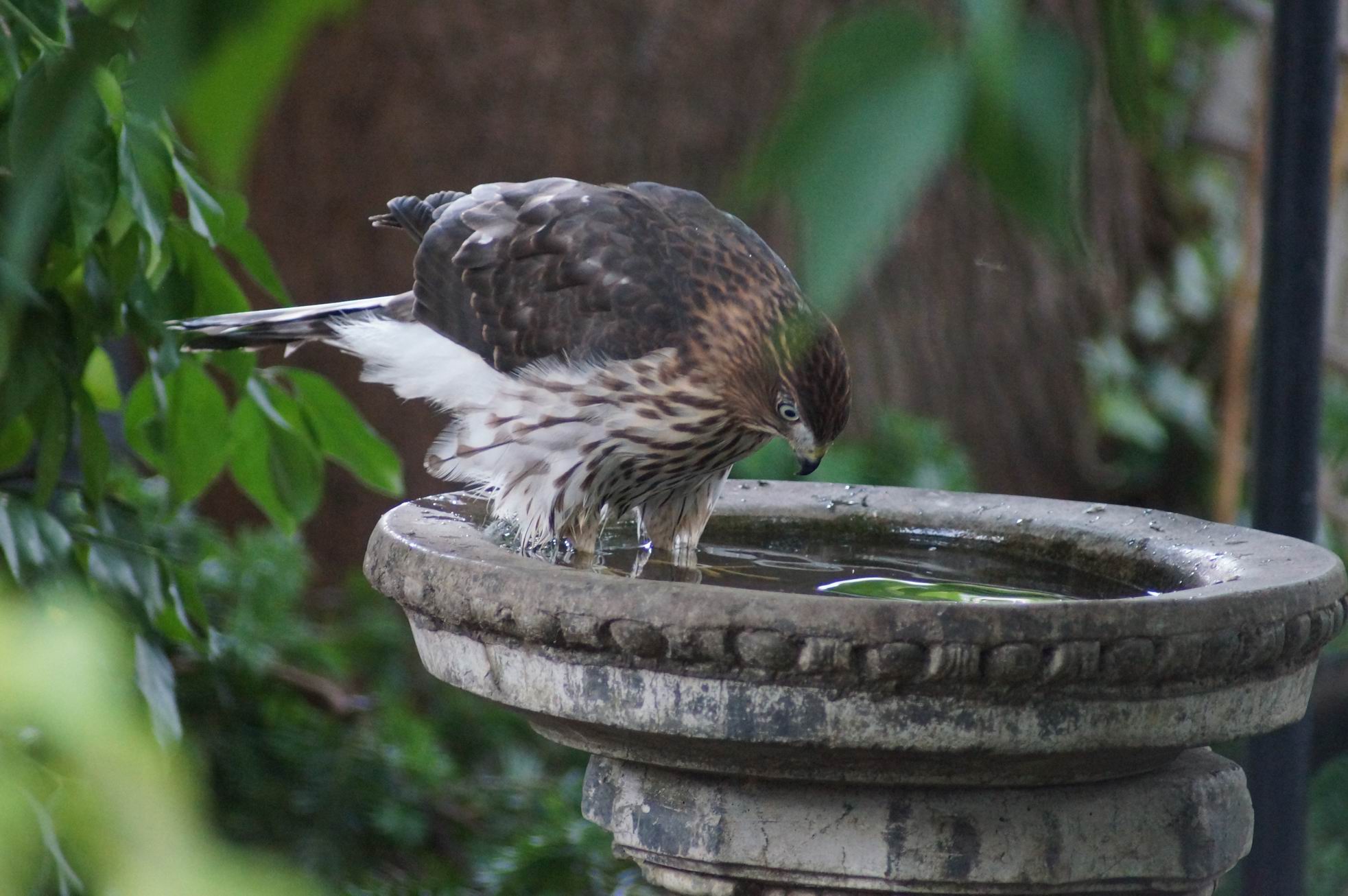 Miriam's Nature Calendar, June: Cooper's Hawk, Backyard, Summer 2016.
Sometimes you don't even have to go anywhere to see something exciting. Miriam looked out the back door and saw a Cooper's hawk in our birdbath. It hung around for a full hour, giving Miriam ample opportunity to get out her camera, as well as to phone me at work to describe what she was seeing.
Nature Calendar July: Northern Gannets
July 1, 2021 - #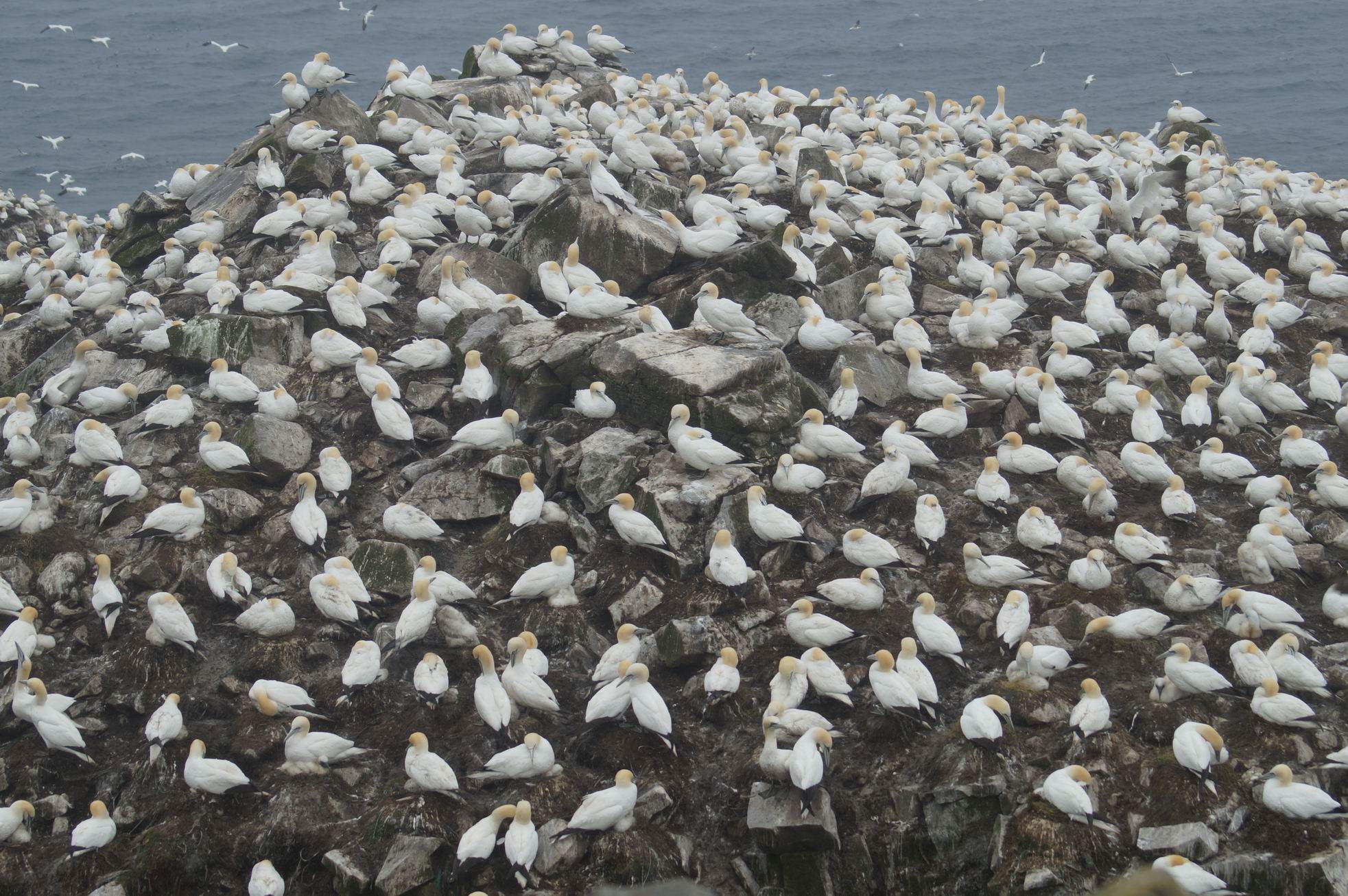 Miriam's Nature Calendar, July: Northern Gannets, Cape St. Mary's, Newfoundland, July 2015.
Cape St. Mary's on the southern end of the Avalon Peninsula in Newfoundland is an extraordinary seabird colony. Living virtually on top of each other are northern gannets, black-legged kittiwakes, common murres, razorbills, gulls, and cormorants. Photo by Miriam Garfinkle.
Garage Mural on Perly Family Lane, Toronto
July 17, 2021 - #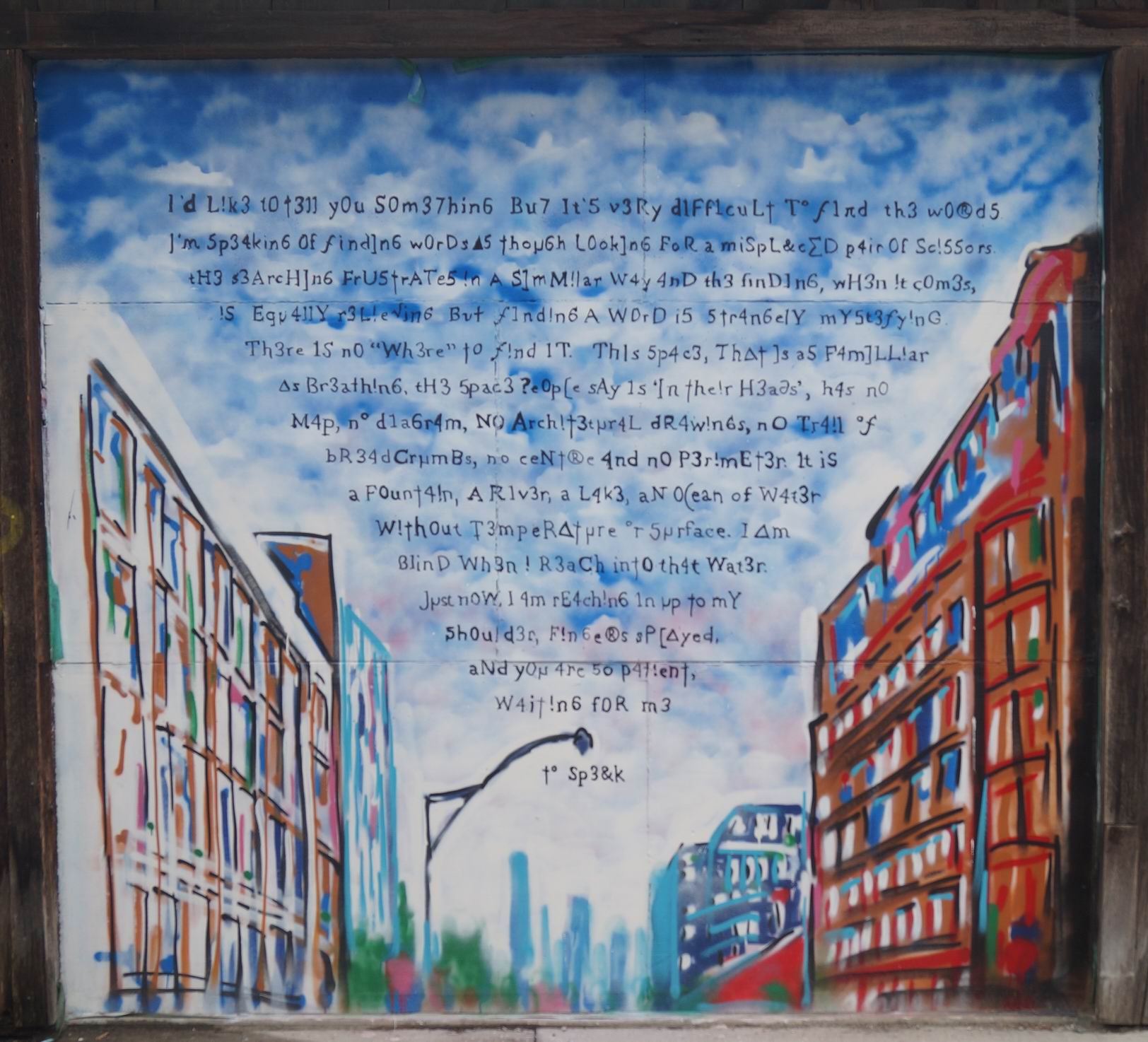 Garage Mural, Toronto.
Spotted this mural just down the laneway from my place.
Nature Calendar August: Pukaskwa, Bimose Kinoomagewnan
August 1, 2021 - #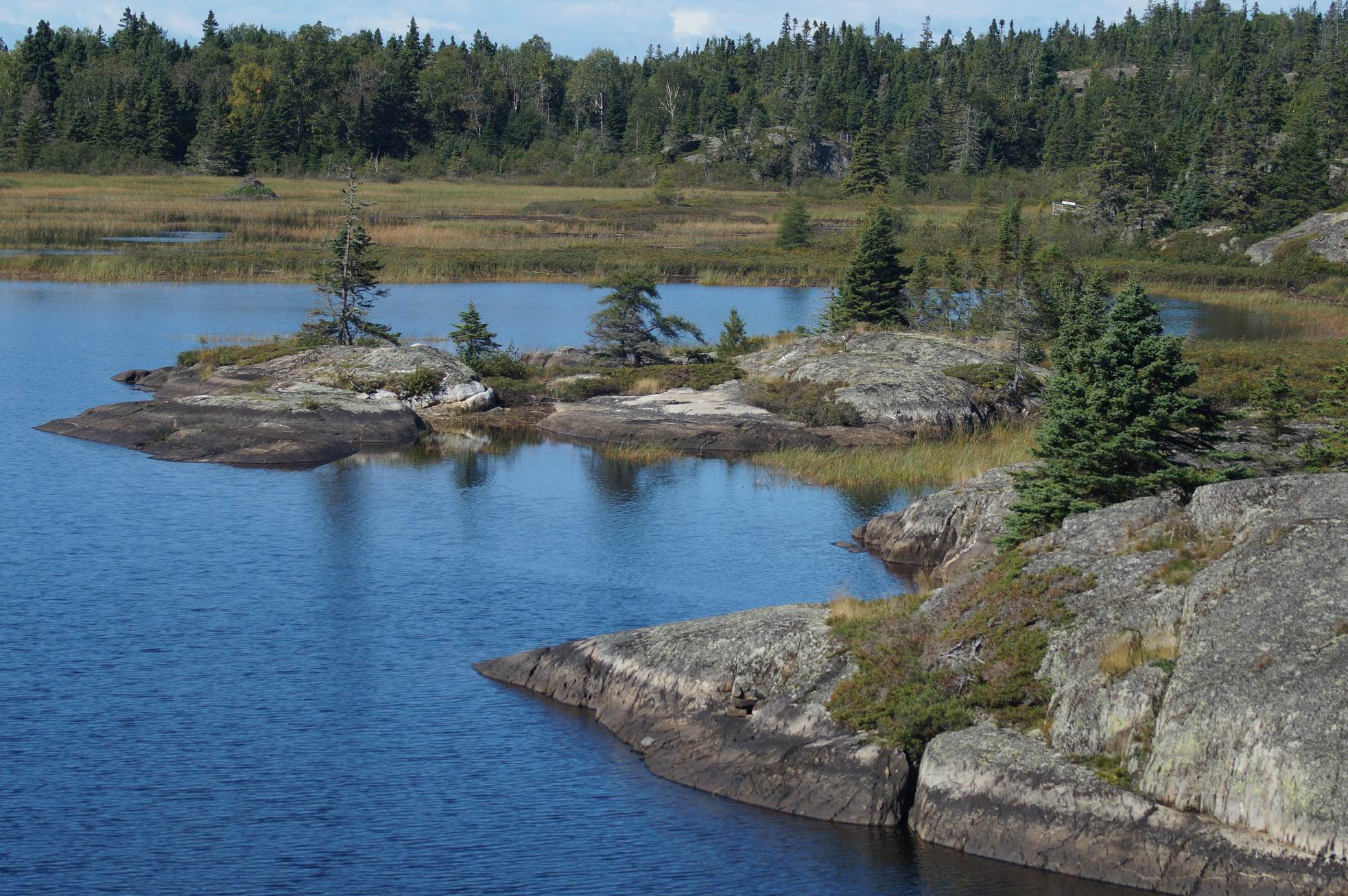 Miriam's Nature Calendar, August: Bimose Kinoomagewnan, Pukaskwa National Park, September 2016.
In Pukaskwa, the granite of the Canadian shield underlies both the natural environment and the human history. We spent much time walking on the ancient rocks overlooking Lake Superior, and we repeatedly returned to one special place, Bimose Kinoomagewnan: the walk of teachings, created by the Anishnabe people whose ancestral land this is. Photo by Miriam Garfinkle.
Afghanistan and the "experts"
August 19, 2021 - #
I'm on holiday. I'm not even supposed to be looking at the news, let alone commenting on it.
But, here in North Sydney, waiting for the ferry to Newfoundland, with not much to do except wait, I succumb to temptation, connect to the wifi, and have a quick peek at the CBC website.
The top story proclaims that "Experts say the US withdrawal from Afghanistan didn't have to lead to chaos." One of the "experts" quoted, "a senior fellow with the Brookings Institute who specializes in U.S. defence strategy and the use of military force" says that "events in Afghanistan could have played out very differently" had the pullout been effected "on a more gradual and protracted basis." Another "expert," a retired major-general, agrees with him.
Yes, "more gradual and protracted." You read that correctly. Twenty years after the U.S. invasion of Afghanistan, twenty years of bloodshed, twenty years of bombing civilians, twenty years of installing and propping up a series of corrupt governments, twenty years of trying to create an Afghan army capable of standing up to the Taliban, and the problem, according to the "experts" promoted by the CBC, is that the U.S. didn"t stay long enough. If only the U.S. had stayed another year or two, or another five or six years, or maybe another ten or twenty years, all would have worked out so much better.
A pity the CBC never manages to find different experts to interview, like the people in the anti-war movement who opposed this war when it started twenty years ago. (Full disclosure, as journalists like to say: I was one of them.) What the anti-war movement pointed out in 2001 was that invading Afghanistan was a bad idea that was likely to end badly. It also happens to be illegal under international law – though no 'expert' quoted by the mainstream media ever mentions this – to invade another country. It is in fact a war crime, and the leaders of the U.S. and its client states who ordered the invasion and occupation of Afghanistan are in fact war criminals.
The "experts" promoted by the mainstream corporate and state-owned media, like the CBC, know nothing of this. Their advice, whatever the place, whatever the pretext, is always the same: invade, occupy, and install a corrupt puppet government. It has worked so well in Iraq, in Libya, in Syria, in Afghanistan: why wouldn't you keep doing it over and over again?
And the "experts" are never wrong. When each intervention turns into yet another predictable disaster – predicted by others, of course, not by the "experts" – the "experts" never acknowledge their mistakes, and the media never holds them to account. They continue to get fawning coverage to explain, once again, that it was not the invasion and occupation that was the mistake, but ending the occupation too soon.
Watching The News
August 27, 2021 - #
Travel presents you with new and broadening experiences. My road trip to the East Coast has done that for me: staying with family in Newfoundland for a few days, I have been watching television news, mostly CBC, for several evenings in a row. Go hiking during the day, then watch the news in the evening, that has more or less been my routine.
Watching 'The National' on CBC, as well as some local news programs, is proving to be an interesting experience. I haven't lived in a house with TV for more than 15 years, and hadn't watched TV news for many more years before that, so I come to this experience as a more-or-less naive outsider. I do follow 'the news,' by subscribing, out of habit, to a (lousy) daily newspaper (The Toronto Star), and prowling a rather large selection of websites, mostly alternative and left, but also including sites such as Al Jazeera, CBC.ca, and RT. But television news is a whole new experience.
On The National, "the flagship nightly newscast of CBC News," there are only three topics these days – Afghanistan, COVID, and the federal election – so it may be that I am getting a limited idea of what "The News" is normally like. But in any case I'm noticing the packaging more than the content.
Front and centre in every "newscast," I have learned, are a number of actors who play the roles of "anchors." They are supported by a number of other talking heads who, we are asked to believe, are "analysts," and "experts". These people spend a lot of their time chatting and asking each other questions with obvious and pre-determined answers. The anchors seem quite interchangeable. I presume they all went to the same acting school – er, broadcast journalism classes – where they learned how they are supposed to look and sound.
They usually have a stack of a few sheets of paper in front of them. They never look at the paper, which likely doesn't actually have anything written on it anyway, but at the end of a segment, they pick up those sheets of paper and straighten them in a decisive way to indicate they are done. I have come to enjoy that little gimmick.
What has changed is that there has been a great move to 'diversity.' I'm in favour of diversity, of course, but I find it odd that all the diverse anchors and journalists and analysts talk the same and have the same opinions. Still, it's progress: instead of a propaganda system where it is exclusively white men who mislead us and tell us what to think, we now have diverse professional narrative managers misleading us and telling us what to think.
Progress in diversity isn't limited to the media. For example, in the bad old days in Afghanistan, when a drone hovered overhead and then dropped a bomb on your wedding party, it was overwhelmingly likely that it was a white man dropping that bomb on you. Now, it could well be that the bomb that kills your family is being sent by a woman, or a person of colour. If that isn't progress, what is? But I digress.
As someone who hadn't watched television news for a long time, it strikes me that narrative control has become more total. The media have always been about narrative control, of course, but there was a time when newspapers, formerly the dominant providers of news, used to at least pay lip service to covering 'both sides' of an issue. The pretense of balance was of course largely an illusion. For one thing, there are more than two sides to every important issue, so reducing it to only two sides sweeps aside many of the complexities. And the 'two sides' that were presented were often in fact variations of the same mainstream view, while anything that was outside the mainstream was deemed not to exist.
Nonetheless, those days seem like a golden age today, when even the pretense of two sides has been dropped in favour of imposing a narrative that may not be deviated from.
As far as I can make out, there is now always an understood narrative for each important story. All coverage must adhere to this predetermined framing. Even the pretense of presenting 'both sides' has been dropped.
This certainly applies to COVID-19. There is a great deal of discussion and debate, including among scientists and health professionals in different countries, about the value of measures such as lockdowns, generalized masking, and vaccine passports. Those scientific debates and discussions simply don't get covered in the official news, like the CBC's newscasts, because the media's narrative managers have decided the public should not be exposed to any perspectives except those which they deem acceptable. The public can't be trusted to think for themselves.
Whereas those who considered themselves liberal or left used to share John Milton's opinion that the surest guarantee of the truth of our views is to expose them to criticism, now the shared attitude of both the neo-liberal opinion managers and the neo-liberal left (which is to say, most of the left these days) is that dissenting opinions should be suppressed.
So more and more people turn to other sources of information because they can see that the mainstream media are not honest and can't be trusted. Of course, many of those alternative information sources are even worse than the mainstream media, but on the other hand, some of them are much better. (See https://www.connexions.org/CxLibrary/Docs/CxAlternativeMediaList.htm) for some of my personal media recommendations.)
The pre-determined framing for coverage of what is currently happening in Afghanistan is – of course – based on the unquestioned and unquestionable assumption that "we" are the good guys. "We" means the United States of America and its so-called allies (vassals might be a more accurate word) who together constitute the American free world team.
Within that unquestioned narrative there is some room for discussion: For example, are "we" doing enough to demand that the Taliban "respect human rights?" How "we" might back up that demand, given that "we" just lost the war and are fleeing Afghanistan as fast as "we" can, is never stated. Nor is the fact that countries that have been bombing and occupying another country for 20 years have lost the moral standing to lecture anyone about human rights, not even the undeniably nasty Taliban.
The fact that the American invasion of Afghanistan ended in a decisive defeat is not something that can be openly mentioned in polite society, such as on a newscast. Nor can the reasons that the U.S was unable to win the hearts and minds of most Afghans be honestly discussed, because that would involve mentioning two basic facts:
1) People don't like it when you invade their country.
2) People don't like it when you drop bombs on them.
Those are my thoughts based on a few days of watching television news. And now, it's time for The National. Stay tuned.
Nature Calendar September: Milk Snake, Bruce Peninsula
September 1, 2021 - #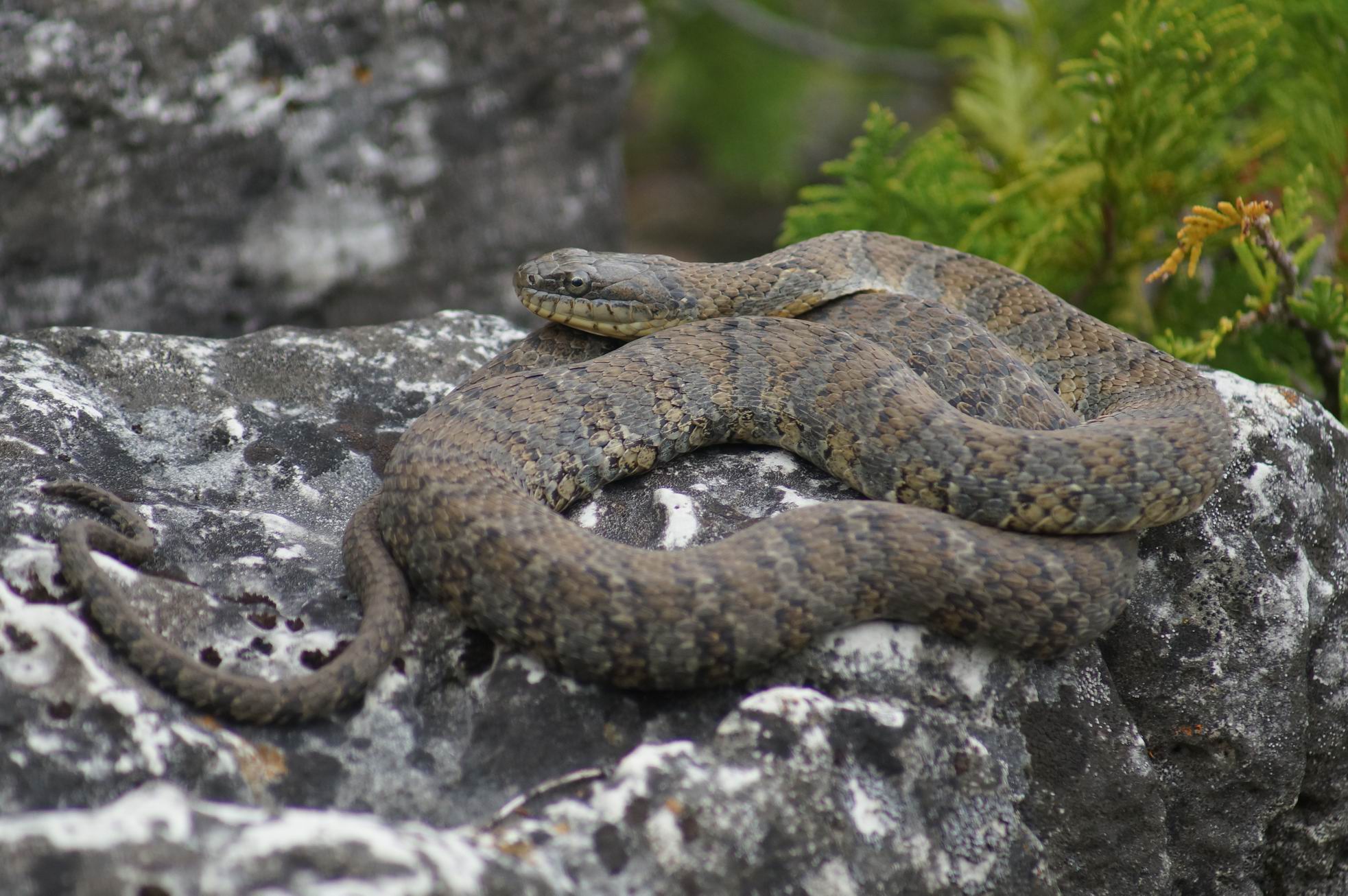 Miriam's Nature Calendar, September: Milk Snake, Bruce Peninsula, September 2014.
We were hiking on the Bruce Trail when we came upon this Milk Snake sunning itself on a rock. We admired it from a few feet away, and Miriam photographed it. We suspected that it had recently eaten. Photo by Miriam Garfinkle.
Nature Calendar October: Grouse
October 1, 2021 - #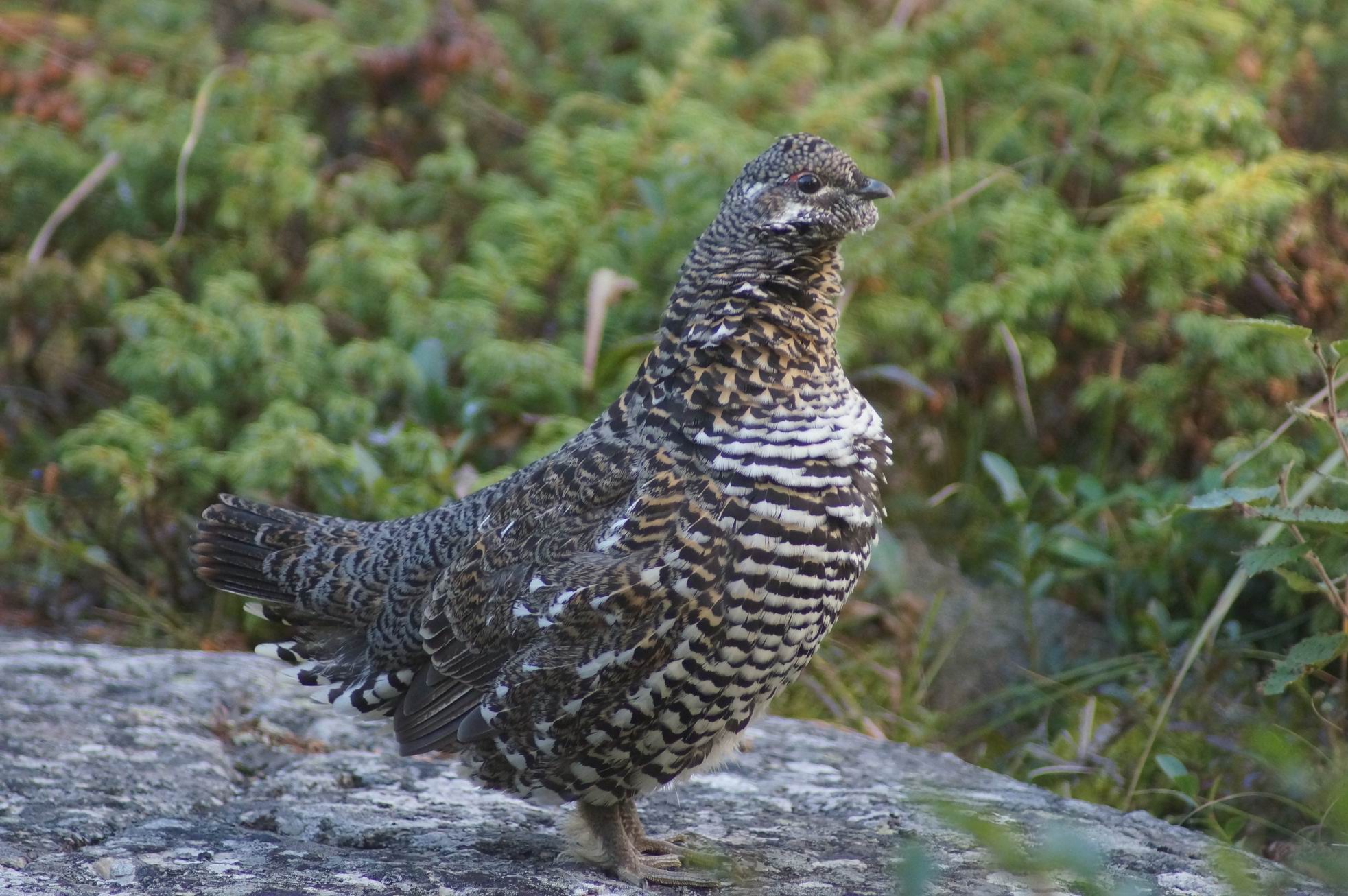 Miriam's Nature Calendar, October: Grouse, Pukaskwa National Park, 2016.
"You can't see me!" Sometimes it's easy to get a photo of a grouse, because their strategy for avoiding detection is to stand completely still. This grouse in Pukaskwa obligingly stayed put while Miriam took several photos. Photo by Miriam Garfinkle.
The bright side
October 12, 2021 - #
One of the wonderful things about living in the free world is that our media are free and independent. They are quite free of outside influence or control. In countries which are not part of the free world, BAD countries like China and Russia – the dark side, one might call them – the media typically adhere to the 'party line': the officially-approved narrative about important issues. That's not the way it works with our free media, which are staffed by unbiased professionals who think for themselves, look at all sides of an issue, and report and frame the issues in light of their own conclusions which they have independently arrived at.
One can see this, for example, in the wide diversity of coverage of China. Even though the U.S. government and its allies see China through a dark lens, the media, because they are quite independent, continue to offer nuanced perspectives on China which look at all sides, not just the dark side. Because every journalist and every editor thinks for him- or herself, there is no party line, just a gratifying mulitiplicity of different perspectives. This is the glory of our free press!
Moon of Alabama – www.moonofalabama.org – compiled this list of recent articles about China in the free-world media which illustrates how lucky we are to have free and independent media.
The Dark Side of China Aid
New York Times
The dark side of China's Las Vegas
BBC
Torture in secret prisons: The dark side of China's anti-corruption crackdown
CNN
For Canadians, Two Michaels' Ordeal Exposed "Dark Side of China"
Voice of America
The dark side of China's national renewal
Financial Times
Smile for the camera: the dark side of China's emotion-recognition tech
Guardian
The Dark Side of China's Rise
Foreign Policy
China's $28 Trillion Problem: The dark side of Asia's debt
Business Insider
'Dark side' of the US-China trade war
Asia Times
The dark side of powerful China – its repression – can benefit US
The Hill
The Dark Side of China's Economy: The World's Wastebasket
HuffPost
The Dark Side Of China's New "Post-Reform" Era
Forbes
China: The Dark Side of Growth
Yale Global
Is there a dark side to China's high-speed rail network?
SCMP
Toxic '996' work culture, China's dark side of labour exploitation
Sify
The dark side of marital leadership: Evidence from China
Science Direct
Dark side of China's organised crime crackdown revealed in private lender case
SCMP
Dealing with China's Turn to the Dark Side
Quadrant
Inkstone Explains: The dark side of China's food delivery boom
Inkstone
The Dark Side of China's Idol Economies
Jing
Coronavirus crisis reveals the dark side of China's success
Nikkei Asia
The Dark Side of China's Deep Ties With South Africa
China Uncensored
The Dark Side of China: The Evolution of a Global Cyber Power
Intsights
The Dark Side of Labor in China
U Denver
The dark side of China's pet boom
China Dialogue
The Dark Side to China's Smart Cities
OZY
The dark side of China's latest rebound
Asia Times
The dark side of China's Social Credit System
UnHerd
The Dark Side of China's Solar Boom
Sixth Tone
The Dark Side of the Chinese Dream
The Nation
Dark Side of One Child Policy of China
HubPages
A Dark Side of Chinese Activism on American Campuses
Reddit
The Dark Side of China's Tech Boom
The Diplomat
Renewal, race, and the dark side of the Chinese dream
Today
Female infanticide: the dark side of China's obsession with luck
SCMP
The Potential Dark Side of China's Art and Antiquities Boom
The Diplomat
The dark side of China's foreign fishing boom
Mongabay
The dark side of China's Kung Fu schools
DW
China, the dark side
Independent
The dark side of Chinese adoption
Marketplace
In China, dark side of adoption exposed
Boston.com
The Dark Side of China's Rise
Carnegie Endowment
Light and Darkness: Other Voices, October 13, 2021
October 13, 2021 - #
The October 13 edition of Other Voices, the Connexions newsletter, which I edit, went out by email today. You can see it online here. The introduction to the issue appears below:
The featured book is this issue of Other Voices is Diana Johnstone's memoir Circle in the Darkness. The title is inspired by Albert Einstein's observation that "as our circle of knowledge expands, so does the circumference of darkness surrounding it."
As Einstein, and Johnstone, remind us, the more we learn, the more we realize how little we know. Each question we answer opens the door to more questions, because there are always more questions than answers. We are called upon to attempt to answer at least a few of the questions that seem important to us, but we do well to keep in mind that our answers are tentative and incomplete, always subject to revision in the light of further investigation. It can be difficult to remain critical, and self-critical, but self-righteousness and absolute certainty, no matter how emotionally satisfying they may be, only do harm, to ourselves, and to those we interact with.
This issue of Other Voices offers some fragments of knowledge and insight, and it also raises questions.
David Rovics observes that, in his view, people on the left and on the right have a lot in common, such as opposition to the elites that are destroying the lives of so many around the world. Why, he asks, do they respond to the same problems in such different ways? Why do they direct so much of their anger against each other, rather than against those who rule?
Cedric Johnson raises a similar concern: blackwashing, that is, the corporate embrace of anti-racist rhetoric, which works to present those who produce and benefit from gross inequalities of wealth and power as allies. If we fall for this, says Johnson, we will inevitably be fighting each other for crumbs, while the rich and powerful get richer and more powerful.
Amory B. Lovins offers a fact-filled critique of the idea that "clean" nuclear power can be a climate "solution." He shows that nuclear power is much less efficient than solar and wind power, and that investing in it inevitably comes at the expense of more investment in better solutions. In any case, the best solution, by far, as he points out, is using less energy, not producing more. He also makes the important point that new nuclear plants would not come into service until the late 2030s - far too late to make the changes that we have to make now.
In "The Day the World Ended," Caitlin Johnstone asks us to think about the unthinkable: nuclear war.
In the aftermath, she writes, there will be "No one left to recognize the mistake, to grow as a result of that recognition, and to rise above it. No one left to realize how staggeringly insane it was to flirt with the end of the world for the sake of power, how arrogant it was to think that we could remain in perfect control of all those weapons for decades on end without something going wrong amid our reckless games of nuclear chicken."
So do it now: "Pursue a life of excellence and live each moment like it could be your last, because of course it could. And above all make sure you do everything in your power to raise awareness and oppose the insanity of the situation we now find ourselves in."
And on that cheerful note, Happy Thanksgiving!
Ulli Diemer
The October 13, 2021 edition of Other Voices is online here.
Covered Bridge Potato Chips
October 22, 2021 - #
I don't normally promote products or stores, but today I'm making an exception.
The best potato chips in the world – this is a fact, not merely an opinion – are Covered Bridge Sea Salt and Pepper Potato Chips. We first discovered them on a trip to New Brunswick when we stopped in Hartland, a little town on the beautiful Saint John River which boasts the world's longest covered bridge. The chips are made just down the road from that covered bridge, hence the name.
The only problem is that it's difficult to find them in Ontario. Pretty much impossible, at least as far as I've been able to discover. But last month, on a five-week road trip through the Atlantic provinces, of course I went to Hartland. I was staying in Florenceville, just a few kilometers down the road. Florenceville promotes itself as "the French Fry Capital of the World." As well it might: more French fries are produced here than any other place on earth. Florenceville is also home to the Potato World Museum. But my heart is in Hartland (hmmn, there should be a song about that), because of those potato chips. (The covered bridge is impressive too.)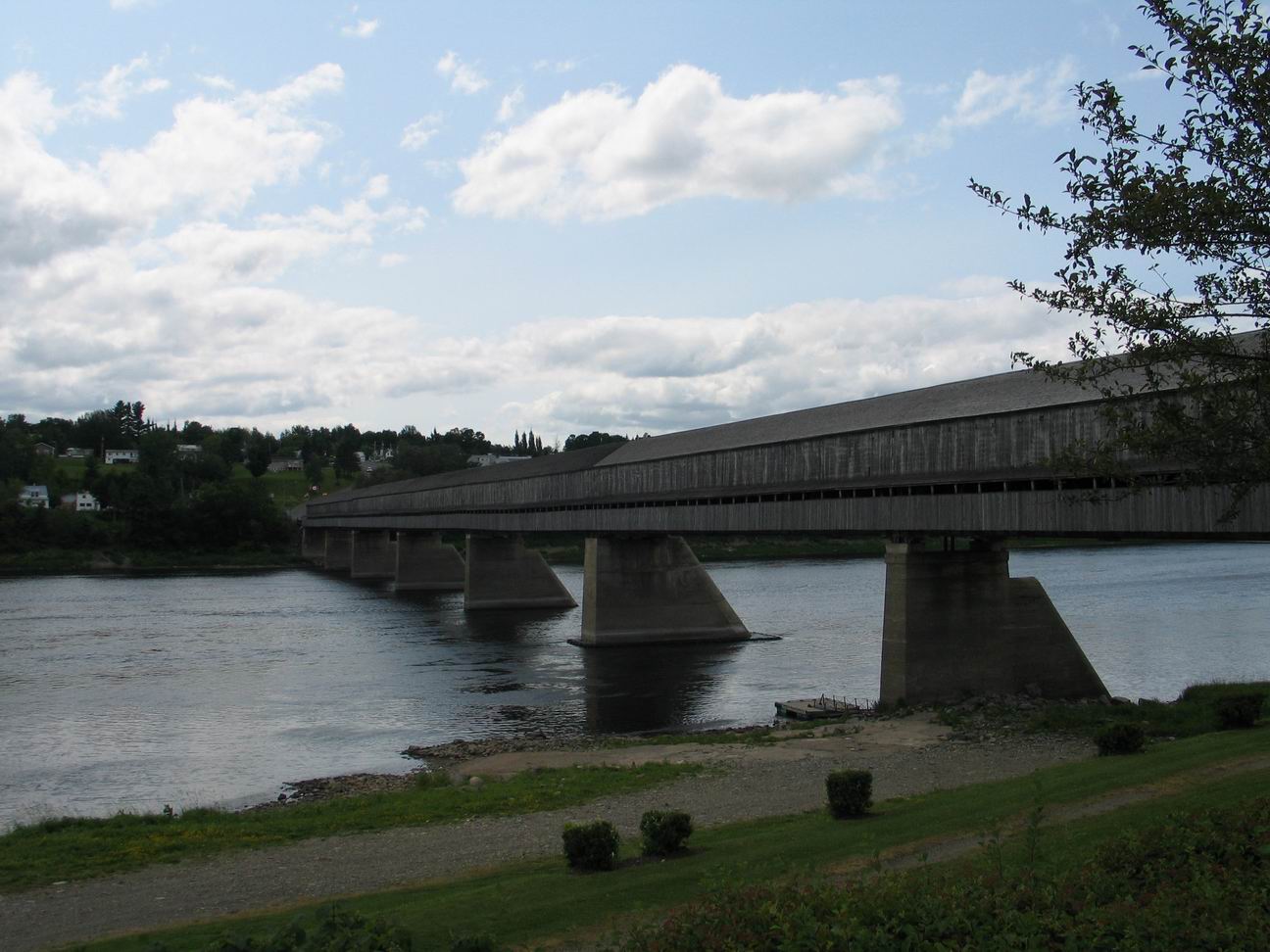 I walked into the Freshmart in Hartland with eager anticipation. I was going to stock up on Sea Salt and Pepper chips. And right there was a big display of Covered Bridge potato chips. They make about 20 flavours, and they were all there.
Except for one: no Sea Salt and Pepper. None. Out of stock!
As you can imagine, I was glum when I walked out of that store. The sky, which had been sunny, now seemed dark and gloomy. And so I returned to Toronto with no Sea Salt and Black Pepper Chips. A sad way to end a road trip.
Then, a couple of days ago, I got a phone call from Bob at Karma Food Coop urging me to come shop there again. When the pandemic started, I started buying all my groceries from Fiesta Farms on Christie. The phone call motivated me to head over to Karma again. It's just a couple of blocks from where I live: a short walk.
This morning I did. I got a friendly welcome: "Hi Ulli, good to see you again." I picked up the items I needed, and then - and then, heading toward the cash, I saw - yes, I really did - I saw Covered Bridge Sea Salt and Pepper Potato Chips. Not an illusion: it was actually them. Thanks to Karma, I now have what Hartland denied me: a bag of those special chips.
And that's why I'm promoting Karma today. If you are within reach of Karma, and aren't already a member, I recommend you join (739 Palmerston Avenue, 416-534-1470, karmacoop.org). Great selection of food, great people, and great potato chips. Actually, never mind about the chips: leave them for me.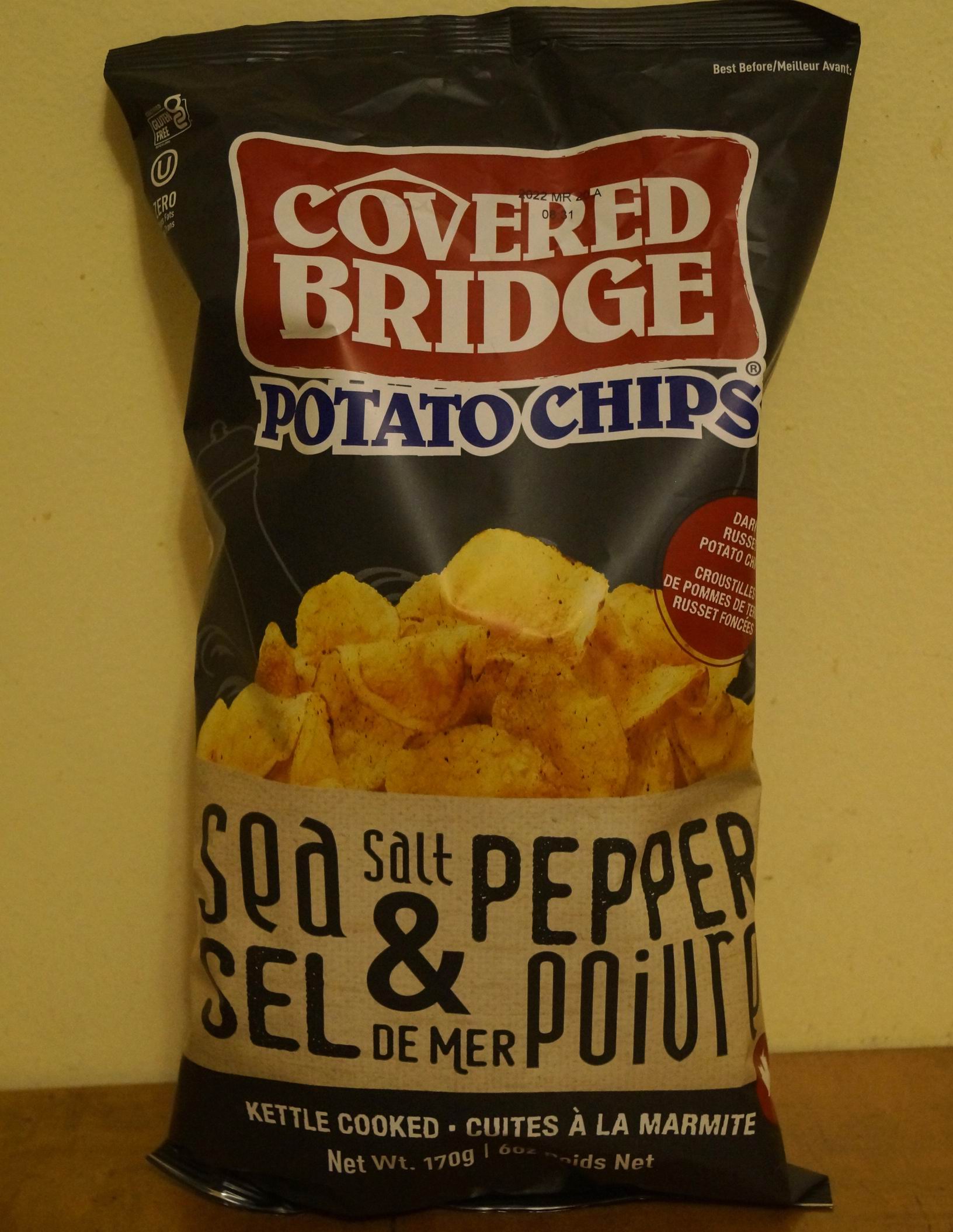 Red tape bad, more red tape better
October 24, 2021 - #
Ontario's Progressive Conservative government, which bestowed the slogan "Open for Business" on the province after it took office, has been living up to its name by "cutting red tape" in order to make life easier for businesses. Ministerial Zoning Orders, which allow developers to build what they want, where they want, without being bothered by tiresome requirements like environmental assessments or public meetings, are a good example of what the Ford government means by cutting red tape.
Back in the days when Ontario was last blessed with a Progressive Conservative government, the one headed by the odious Mike Harris, I wrote a couple of articles about what cutting red tape means on the ground. One of the articles focused on the Walkerton water disaster (Contamination), the other (Abandoning the Public Interest) looked at a number of countries to see what happens when governments cut environmental and health regulations to make life easier for corporations. (Spoiler alert: people die.)
On the other hand, the project I work with, Connexions (www.connexions.org) is incorporated as a non-profit, so in our extremely modest way we are also potential beneficiaries of the government's initiatives to cut red tape. We learned more about how one of them affects us just this past week.
The Connexions Archive moved into a new space on the University of Toronto campus a little while ago. Naturally this requires making some address changes. I asked one of our volunteers, N, to update our address of record with Service Ontario. Doing so promised to be very simple: our package of corporate documents actually contains a change-of-address form. All you have to do is fill it out and send it in. N checked the Service Ontario website just to be sure that is still how it is done. No: it turns out that the procedure has changed. Red tape, so an upbeat Government of Ontario news release informs us, is being eliminated even here.
What, you may ask, could be simpler than filling out a change-of-address form and sending it in? Ah, now you can – indeed, you must – file a request to change your address via Service Ontario's website.
And then? Then they send you an authorization code which you have to submit before your change is accepted. The authorization code gets send to you in an envelope which in due course Canada Post will deliver – to your old address.
"But," said N, when she managed to eventually speak to a human, "we aren't at our old address any more. That is why we are submitting a change of address." "We have to send the authorization to your address of record," was the implacable reply.
Fortunately, our old address is nearby, not in another city, the building is still standing, and we left on good terms, so I am making arrangements to head over and pick up the authorization code when it gets delivered. I'll use to opportunity to drop by The Roastery, which I miss now that we're no longer at 401 Richmond. I'll probably have a coffee, and reflect on how much less red tape there is under a Tory government.
Nature Calendar November: Kakabeka Falls
November 1, 2021 - #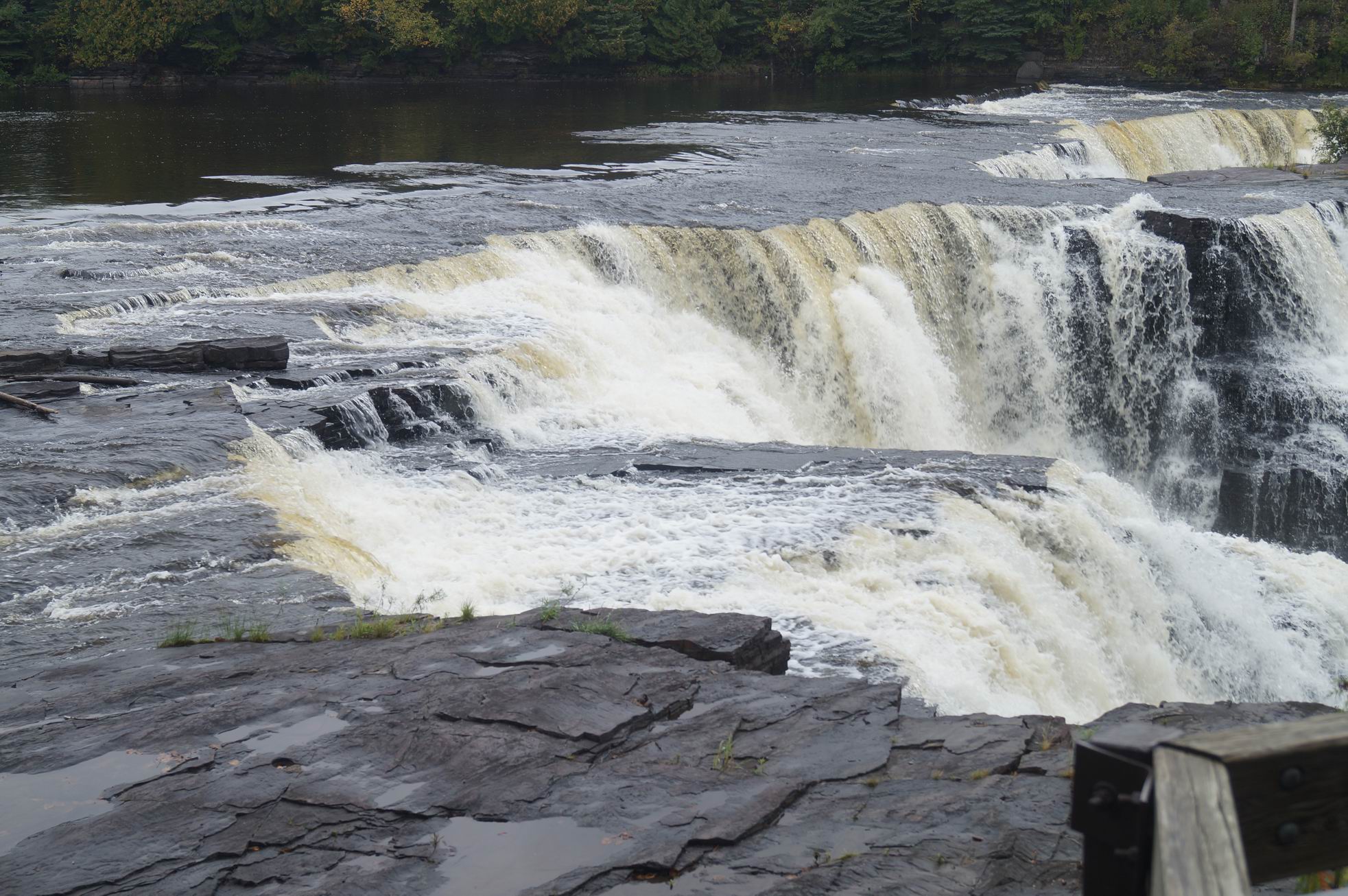 Miriam's Nature Calendar, November: Kakabeka Falls, 2016.
One of the best things about Kakabeka Falls, the second-highest waterfall in Ontario, is that it has escaped the commercialization of Niagara. We stood at the edge of a forest, watching the Kaministiquia River plunge over the rocks. Miriam took photos, and then we had a picnic. Photo by Miriam Garfinkle.
Following the Science: Other Voices, November 13, 2021
November 13, 2021 - #
The November 13 edition of Other Voices, the Connexions newsletter, which I edit, went out by email today. You can see it online here.
"Following the science" has been the mantra of public officials from the very beginning of the pandemic. Their acknowledgement of the importance of science has been a refreshing change from the usual attitude of so many political leaders, who all too often regard science, and scientists, as an annoyance or a threat. But what does "following the science" actually mean? When we as a society are faced with difficult policy choices, can science tell us what choices we should make?
Articles in this issue of the newsletter look at science and society in the context of climate change and the COVID-19 pandemic.
Also in this issue is information about political prisoners currently held in jail by the United States and its partners in committing human rights abuses. Articles shine the spotlight on the cases of Steven Donziger, Craig Murray, Daniel Hale, Leonard Peltier, and Julian Assange.
The featured film in this issue is John Pilger's The Coming War on China, and the featured book is Big Farms Make Big Flu: Dispatches on Infectious Disease, Agribusiness, and the Nature of Science by Rob Wallace.
The November 13, 2021 issue of Other Voices is online at www.connexions.org/Media/CXNL-2021-11-13.htm
I wrote an introduction to this issue, also titled "Following the Science?" You can read it here
.
Nature Calendar December: Chickadee
December 1, 2021 - #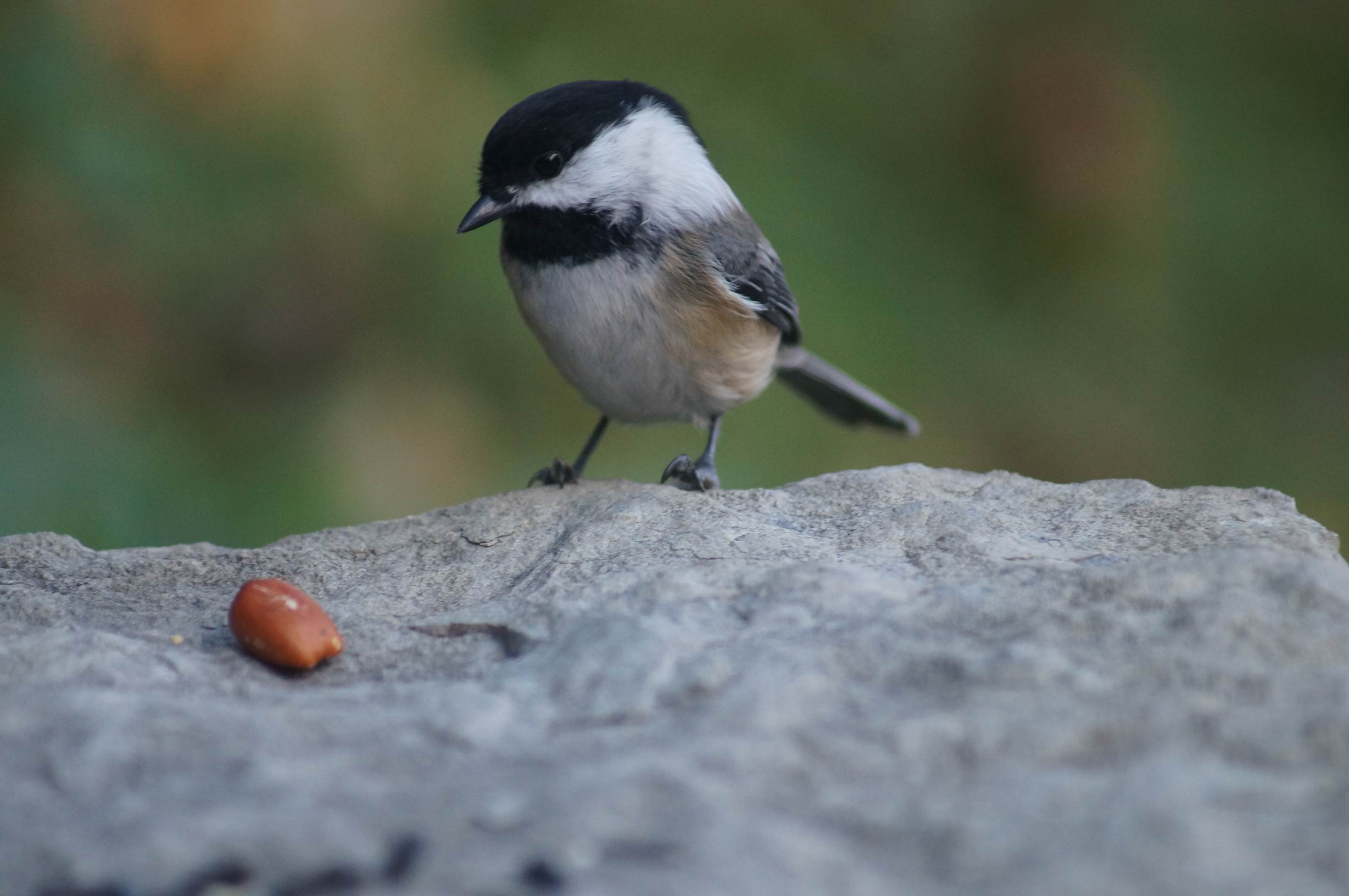 Miriam's Nature Calendar, December: Chickadee.
Miriam's love of nature encompassed an infinite variety of places and creatures. But chickadees had a special place in her heart. She loved them. Much as she had a passion for swifts and many other birds, chickadees were the birds she could most relate to. Their curiosity, friendliness, and tenacity matched her own way of being in the world. They were soulmates. Photo by Miriam Garfinkle.
Anti-Vaxxer Protest
December 4, 2021 - #
I went in to the Connexions office this morning to meet one of our volunteers. I stayed until around 1:00, then headed homeward, walking as usual. My route takes me across Queen's Park North. I heard an amplified voice as I approached ("Freedom! Freedom!" the voice was saying, repeatedly), and noticed that there was a small crowd gathered at the foot of the statue of the horse, the horse that has a guy (Edward, I think his name is) sitting on top of him (photo below).
Right, an anti-vaxxer protest, though I'm not sure that "anti-vaxxer" really captures the full range of views represented by the people there, judging by the signs and banners on display. It was a fairly small crowd, maybe 100 people. There was a Trump banner, a number of Australian flags, and a few signs more notable for their passion than the subtlety of their messaging. I don't wanted to be blocked by the community-standards police, so I'll just say that a certain F-word appeared on several signs, followed in one case by "COVID" and on another by "Trudeau." Several signs referred to "human experimentation." That would be one way of describing my whole life, but these signs were strictly about vaccines, not the long and winding road most of us travel as we make our way through life.
I stayed for a while to watch and listen. One of my mottos in life is 'try to understand things,' and I wanted to understand what motivates people to come out on a Saturday afternoon to participate in a protest like this. The scene was certainly not unfamiliar to me. I've gathered with other people on more occasions than I can count to protest against injustices that we were – we are! – passionate about. I too have stood with signs – for all I remember, quite possibly even at the foot of this particular statue of the horse – while passersby hurried past, not wanting to get involved. I can identify with the passion, the conviction that something is seriously wrong, and the belief that I am called upon to act even if I am part of a small minority.
Standing on the edge of this protest, I had a sense that their passion, and my passion for very different causes, might stem from sources that ultimately are not so different. It is just that their anger has veered in a direction that is so wrong that, in my view, it almost amounts to madness. I wondered if I could understand how these people got to be where they are if there was a possibility of having a conversation away from the polarizing atmosphere we find ourselves in. "Nihil humanum a me alienum puto," the Roman poet Terence said. "Nothing human is alien to me."
But I don't know how to connect with someone who has been caught up in conspiracy theories. How do you begin to talk to someone who believes that thousands of scientists and health professionals and government officials all over the world are conspiring to pretend that an imaginary virus is real so that they can poison millions of people with vaccines?
I thought about that as I stood there watching the protest, came to no conclusion, and then my attention drifted elsewhere. Two red-tailed hawks were soaring overhead. I've seen them often around Queen's Park. They're beautiful. They ride the wind without ever flapping their wings, and somehow the wind takes them to where they want to be. The protest became background noise, and in my mind I soared with the hawks.
Eventually they drifted out of sight, carried by the wind. And I went home.
Nature Calendar 2022
December 6, 2021 - #
Again this year, I created a calendar featuring photos taken by my partner, Miriam Garfinkle, who died on September 15, 2018. Miriam was frequently out in nature, and she'd often have a camera with her. As I have done for the last three years, I gathered up some of the photos she took and compiled them in Miriam's Nature Calendar 2022. I printed about 100 copies for friends and family. The PDF version is available online. PDF versions of previous years are here: 2021, 2020, and 2019.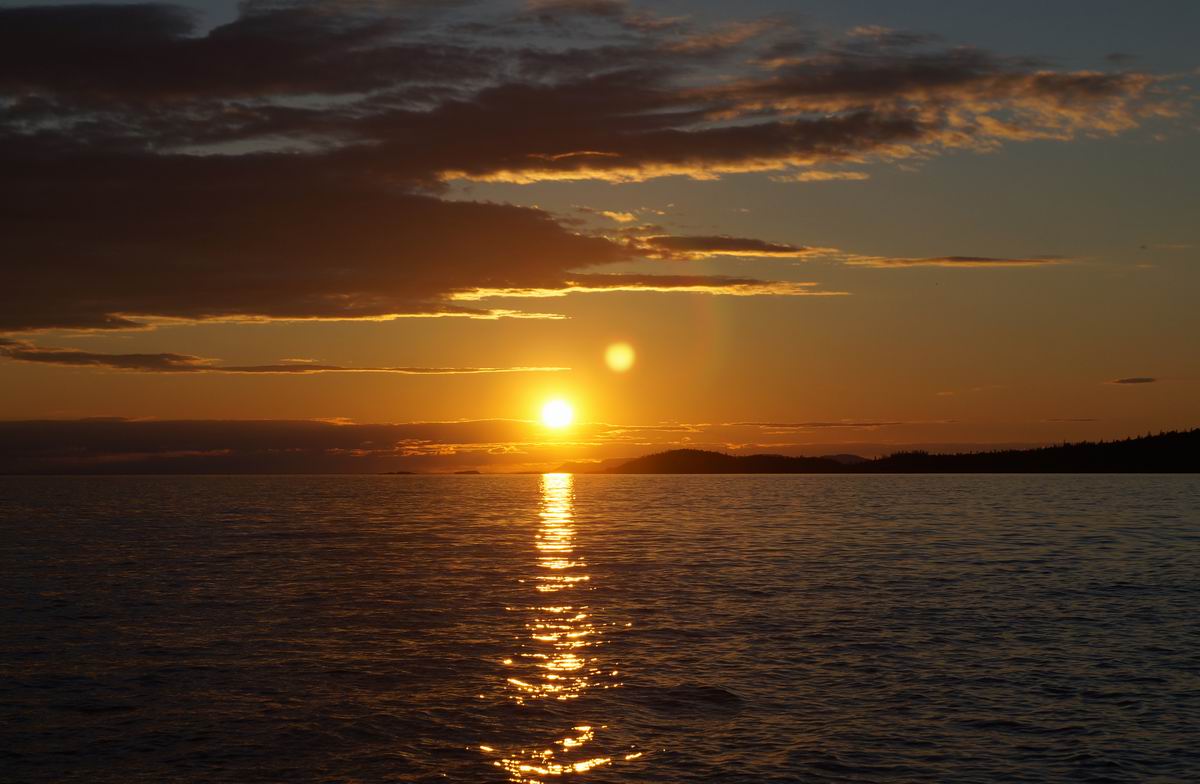 Things are getting better and better and bettxrxr and bxzyxxx
December 18, 2021 - #
For the past few days, every time I log in to Facebook, it pops up a message that I am logging in from an unknown device and have to go through a security check (they send me a code via email which I have to submit to be let in). As it happens, these days I always use the same computer, sitting on top of the same desk, with the same mac address, same network card, same IP address, and same browser.
On the other hand, when I was travelling in the Atlantic provinces in the summer, and infrequently logging in, with a different computer, using the WiFi network at whatever campground or B&B I happened to be in, Facebook was happy to let me in without a security check.
Such are the glories of Artificial Intelligence. This is the corporation governments are now pressuring to use the prowess of their Artificial Intelligence to censor what users are allowed to say.
Certainly Facebook isn't alone in its ability to screw up seemingly simple things. I have been updating a number of business and personal accounts recently, for example by updating contact information, or switching some payments from one credit card to another. Simple changes, which usually involve going online or calling a 1-800 number.
From these experiences, I have learned a few things about the companies I have been calling:
1) They are experiencing a higher volume of calls than usual.
2) They have been experiencing a higher-than-usual volume of calls for years.
3) They won't be hiring any more staff to handle the usual, higher-than-usual, volume of calls.
4) They have changed their options to serve me better.
5) The new improved options don't allow me to do what I need to do any better than the old unimproved options did. They may in fact be worse.
6) In addition to a website and an 800-number, some of them also have an app (an "award-winning app" in the case of one company I called today: the recording mentioned the "award-winning app" three times before it allowed me to choose an option, whereupon I was cut off).
7) The award-winning app doesn't allow me to do what I need to do either.
(It also doesn't tell me who bestowed the award on their app, or what the criteria were. I certainly know that the customers weren't invited to vote on the award.)
8) Sometimes you will be offered an online chat option. To use it, you will first have to choose from a list of topics.
9) None of the choices will apply to your problem.
10) The overworked and underpaid people who answer the phones, if you manage to get through to one (they are often your only hope when the websites and award-winning apps don't let you do what you need to do) are well aware of how glitchy the systems are. On two occasions this week, the person I was dealing with hurriedly gave me a phone number (different from the main 1-800 number) to call back on "just in case you get cut off during the call."
11) It's not going to get better. Ever.
12) We need to overthrow capitalism.
Previous: Notebook 8
I am therefore I blog.