Ulli's Newfoundland Tips
These are some personal tips, written for friends, primarily intended for someone making a road trip from Central Canada to the island of Newfoundland, specifically to Western Newfoundland. Anything east of Deer Lake is not covered here. It is not meant to be comprehensive travel guide, just a selection of personal favourites and highlights, mixed with some personal reminiscences. All photos by Ulli Diemer, except the Piping Plover, which is by Miriam Garfinkle.
GENERAL ADVICE
Leave time to stop, explore, change plans, and be surprised. Breathe.
If you are going to spend more than 2 or 3 days in national parks (Gros Morne, Terra Nova, Cape Bretons Highlands, Kejimkujik, Fundy, Kouchibouguac) it's cheaper to buy an annual pass.
Keep in mind: there are places where your cell phone won't work.
Watch out for moose on highway, especially after dark. Avoid driving after dark if possible. There are 600-700 moose collisions in a typical year in Newfoundland. Moose die, people die.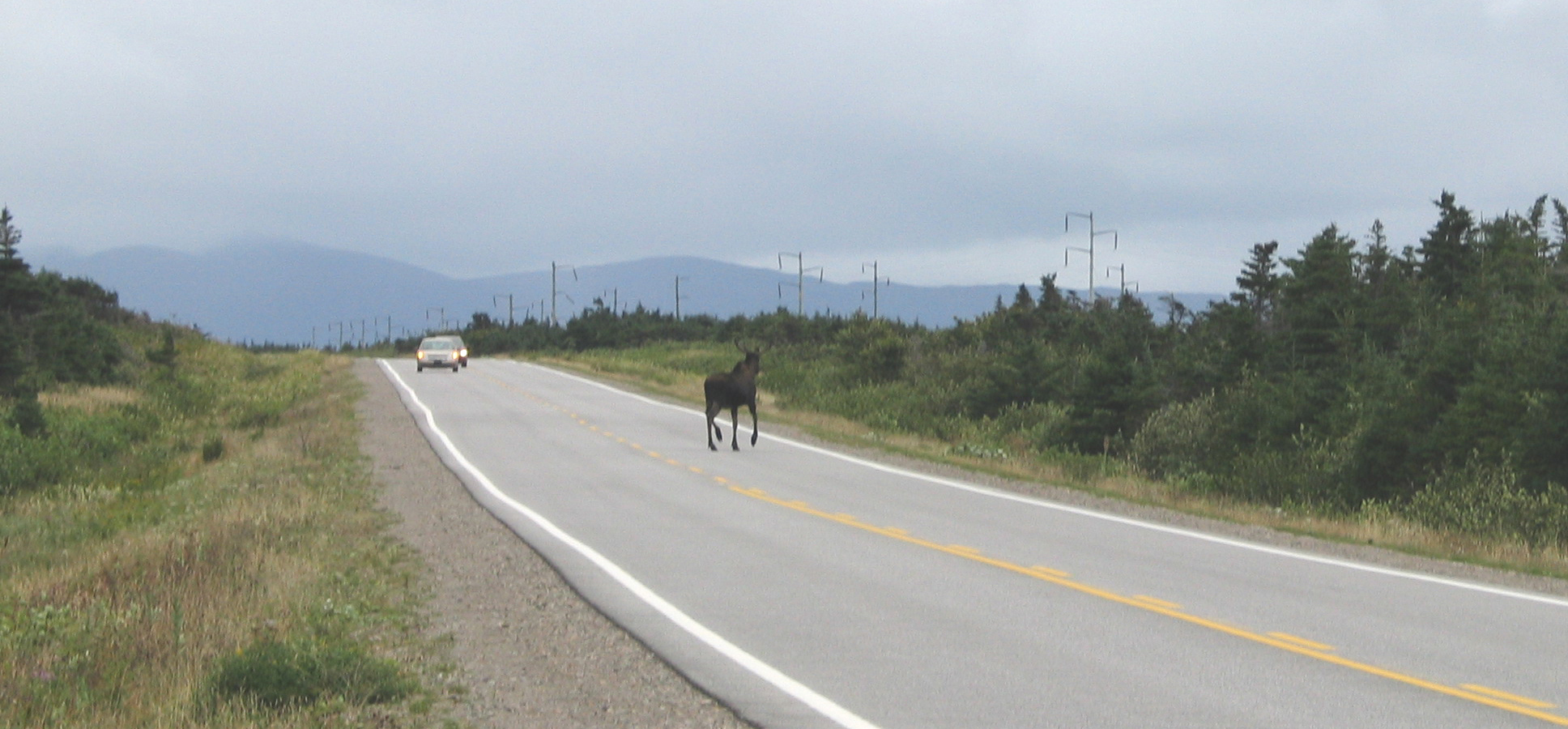 Moose on highway, September 2007.
ON THE WAY THERE (OR BACK)
Republique Provincial Park (New Brunswick just a couple of km from the Quebec border) is a handy place to camp for the night. Sites are open but OK for one night. Try for a spot on the island; it's not private, but there aren't any RVs and you'll be right beside the Madawaska River. Phone: 506-735-2525 - www.nbparks.ca/en/parks/republique-provincial-park-2020167
Saint John River (Wolastoq to the Maliseet). The river is magnificent. Stop, look, admire.
Hartland – Has world's longest covered bridge (crossing the Saint John River) and world's best potato chips (Covered Bridge Potato Chips, named after the bridge). You could walk across the Covered Bridge eating Covered Bridge Potato Chips. How cool is that?
Fundy National Park. If you go that way, it's a good place to camp and hike. Dickson Falls, a stream and series of waterfalls in the forest, is particularly nice. You can walk (or drive) from the park into Alma (at the bottom of the escarpment). Alma Lobster Shop has excellent lobster rolls.
Cape Breton Highlands National Park. Amazing, but you may not have time to explore it on a short trip.
North Sydney
If you are leaving on the morning ferry to Port-aux-Basques (check-in 10:15; departs 12:15), you will probably want accommodation in North Sydney the night before. We always stay at Clansman Motel (1-800-565-2668). Has outdoor swimming pool and restaurant. If you have time on the evening before your departure, maybe drive to Sydney (25 km) and stroll along waterfront.
Ferry from North Sydney to Port aux Basques
Reservations: 1-800-341-7981. Usual departure times from North Sydney are 12:15 and 23:15; plus sometimes extra crossing at 17:45. Check-in 2 hours before departure time. You can't go to your car during the crossing, so organize everything you will want with you, including anti-nausea measures if applicable. There is comfortable inside seating (chairs you can sleep in), but do spend time outside on the deck. (Ocean! Wind! Gulls! Maybe Whales!) They have some food on the ferry, e.g. sandwiches, pizza, yogurt, muffins, coffee. Maybe the dining room (closed for Covid) will be open again.
WESTERN NEWFOUNDLAND
Port aux Basques
If you took the morning ferry, you will arrive early evening. It can easily take an hour from arrival to actually getting off the ship (so maybe 19:30 when you get off, depending where your car was placed on the ferry). Note: there is a Visitor Information on the highway just after you leave Port aux Basques where you can get maps, brochures, and stuff.

I think it makes sense to stay somewhere nearby rather than embark on a long drive (220 km) to Corner Brook when you arrive. You'll be hungry and tired, and if you drive that evening you won't have much time to see anything on the way – and there is so much to see!

J.T. Cheeseman Provincial Park is only about 10 km from Port aux Basques. If you stay there, try to get a campsite near the waterfall. The park has a beach where you can walk or sit by the ocean.
East from Port aux Basques
The TransCanada goes north from Port aux Basques, but there is also a highway (#470) going east along the south coast which is worth exploring if you have time (maybe on the way back, the day before you take the ferry back to Cape Breton Island). The highway now goes as far as Rose Blanche. Isle aux Morts (so called for the many dead bodies that washed up there from shipwrecks) is a small community with easy walking trails across the barrens and near the ocean. One of the trails has a memorial to Hairyman, a Newfoundland dog credited with having saved almost 200 lives from ships that were shipwrecked near Isle aux Morts.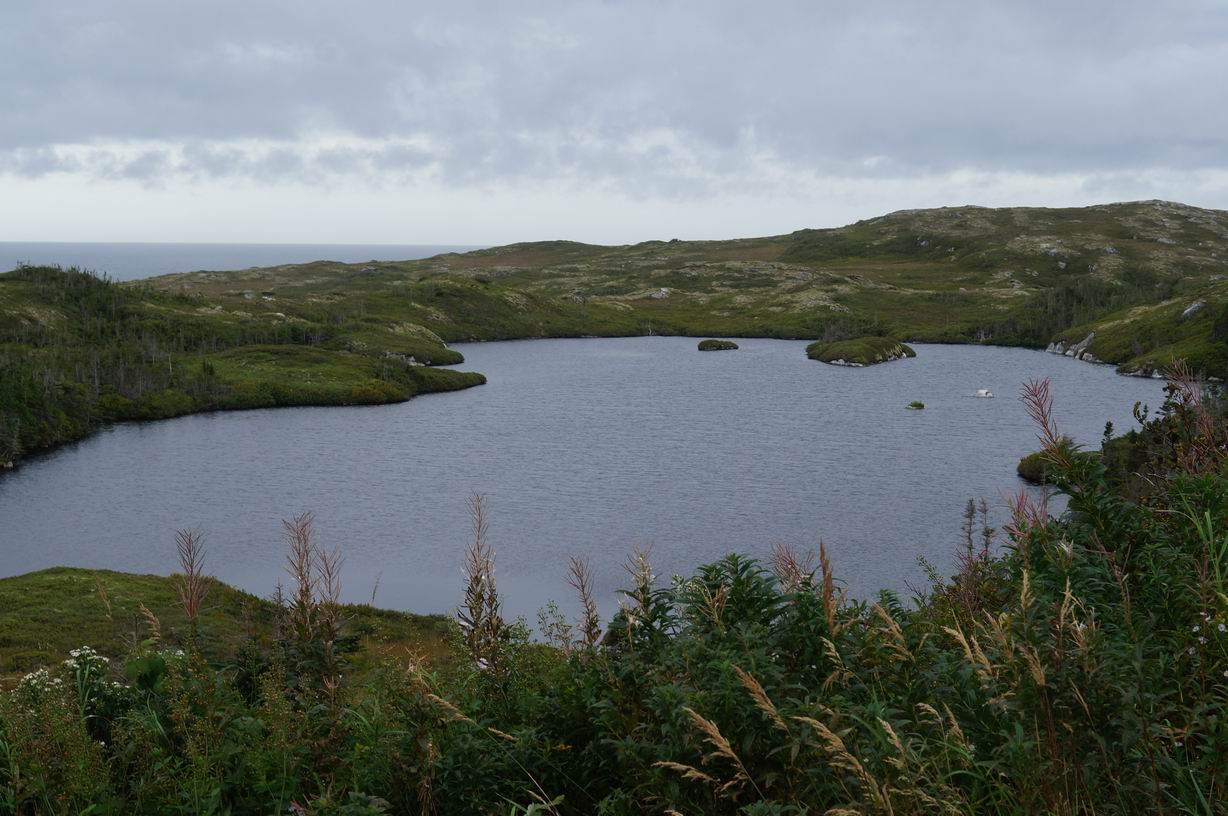 View from trail near Isle aux Morts.
NORTH FROM PORT AUX BASQUES
Anguille and Long Range Mountains
As you drive north, the Anguille Mountains will be on your left and the Long Range Mountains will be on your right. There are places where you can stop and admire the scenery, or, if you have time and energy, go hiking into the mountains. In years past, one would often see snow on some of the mountains even in midsummer, but with climate change that's less likely.
Wreckhouse winds
Driving north from Port aux Basques you will pass through an area called Wreckhouse. The name comes from the powerful winds which sometimes occur here. The winds, which can exceed 200 km per hour, would sometimes blow trains off the track. There are no trains now, so the winds have to content themselves with occasionally blowing transport trucks and cars off the highway. It should be fine when you pass through, but watch for the wind condition signs on the highway which warn drivers to stop if it's too dangerous to continue driving.
Codroy Valley
The Codroy Valley is about 40 km north of Port aux Basques. There are three exits from the highway; best option is probably exiting at Doyles onto #406. There is a lot to explore in the Valley; in fact, you could spend days. You may think you don't have time for the Codroy Valley, but if you don't go into the Valley, there will always be an empty place inside you where your memories of the Codroy Valley were meant to be. That would be sad.

Codroy Valley Provincial Park (day use only; no camping, no dogs), on the ocean, at the estuary of the Grand Codroy River, is a nesting site for endangered piping plovers. When Miriam and I were here in 2015, we saw adult and baby piping plovers on the beach. The babies especially are devastatingly cute: they are so small and they run so fast! No dogs allowed!

Elsewhere, there is the Wetland Trail (opposite Wetlands Interpretation Centre) which takes you to several spots where you can get a good view of the Grand Codroy River.

The drive to the Cap Anguille lighthouse is worth doing (bad road, go slow). On the way, you can visit the community of Codroy itself (population 50). Miriam talked to some fishermen there, and we couldn't understand a word they were saying, even though they were speaking English.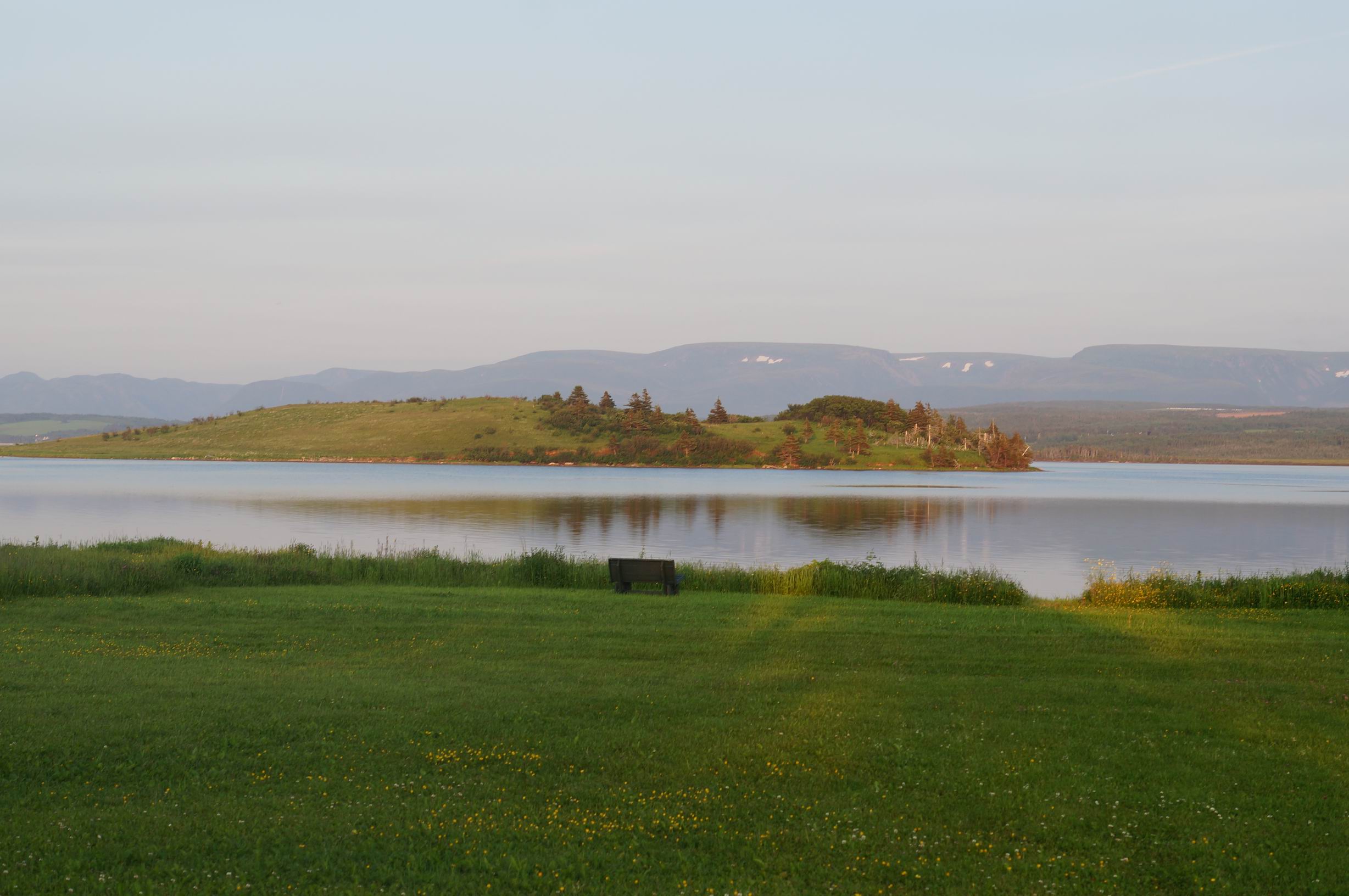 Codroy River and Long Range Mountains; still some snow patches in July 2015.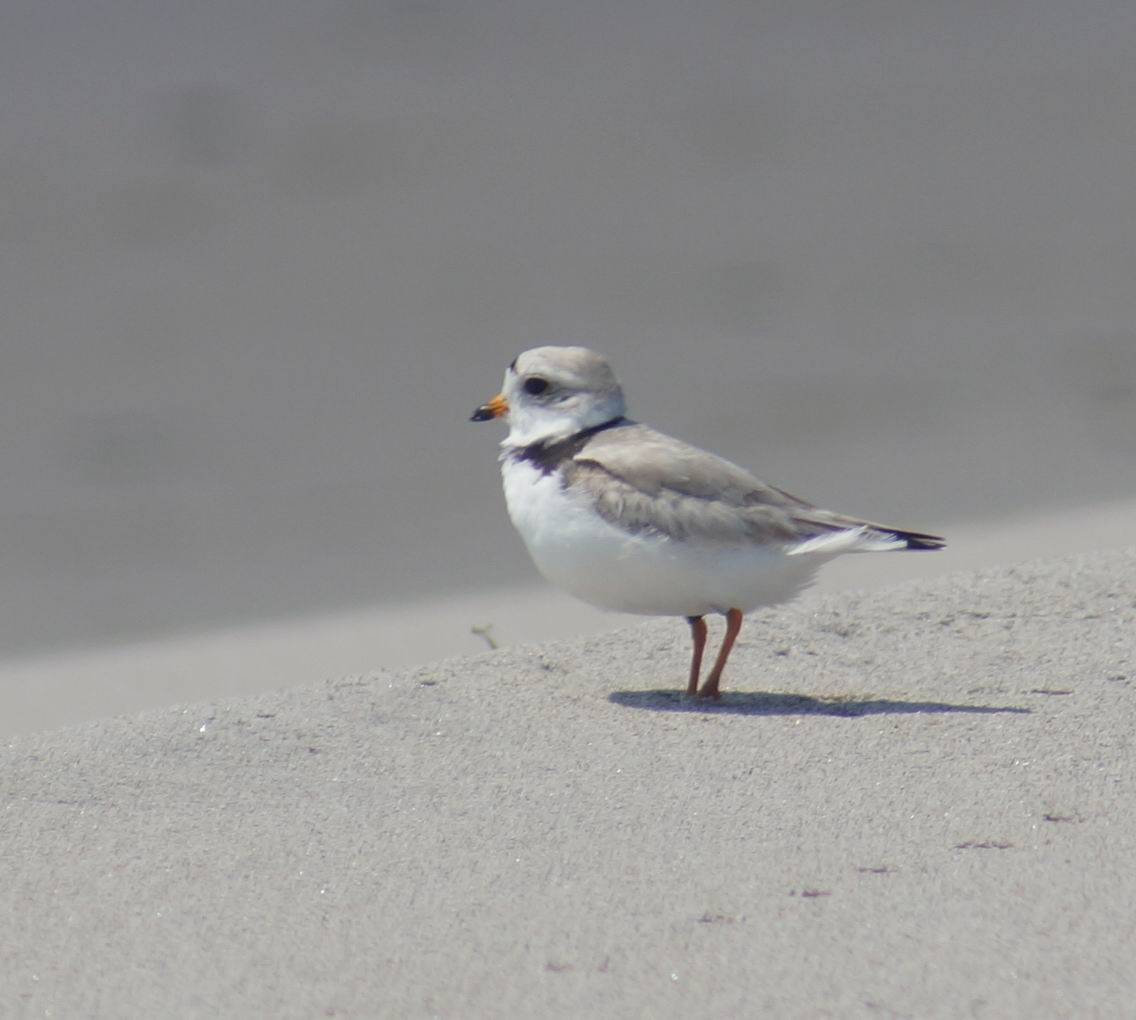 Piping Plover, Codroy Valley Provincial Park, 2015.
Stephenville and the Port au Port Peninsula
Going to the Port au Port Peninsula would be a time-consuming (but interesting) side trip. I haven't been further in than Stephenville in years, so no advice.
Corner Brook
Corner Brook killed its never-thriving but walkable downtown by building shopping malls on the highway that you can only get to by car. Now, to quote Gertrude Stein, "there is no there there."

The best thing about Corner Brook is the lookout on Crow Hill above the town (called 'Captain James Cook Historic Site'). From the lookout, you have a panoramic view of the mouth of the Humber River and the Bay of Islands.

If you take #450 out of Corner Brook for 60 km, you will get to Blow Me Down Provincial Park. (I've camped there, and yes it can be quite windy) and Lark Harbour. Worth doing.
Steady Brook (8 km northeast of Corner Brook along the TransCanada)
I spent summers here when I was in high school and my father and Roberte lived in Steady Brook. At that time, the next-door neighbour had a cow which grazed in the yard. Now it's basically a small bedroom community (400 people) for Corner Brook, so no cows, just the occasional moose along the river. It's on the Humber River (rubber raft rides available) and has a wetland with birdwatching opportunities. Steady Brook Falls are on other side of the highway above the resort.
Pasadena (26 km northeast of Corner Brook)
Aside from the Diemer home, there isn't much to see here. There is a sandy beach on Deer Lake if you want to hang out by the water or swim.
Deer Lake (45 km northeast of Corner Brook)
Deer Lake has a small airport. When Miriam and I went to Newfoundland in 2005 and 2007, we flew to Deer Lake (via Halifax) and rented a car. That's an option if you don't have time to drive to Newfoundland and back.

If you are heading north toward Gros Morne and perhaps further up the Northern Peninsula, you exit the TransCanada at Deer Lake and head north on Highway 430.

The Insectarium on #430 just outside Deer Lake is worth a visit, maybe on the way back.
Wiltondale – intersection of 430 and 431 (30 km north of Deer Lake)
Wiltondale is at the park entrance. After registering, you have a choice: either continue north on 430 into the main part of the National Park, or west(ish) on 431 towards the Tablelands and Trout River. Which should you do? Both, of course. The decision is where to go first.
GROS MORNE NATIONAL PARK
There are many sights and trails in the park; only a few are mentioned here.
Highway 431 – Tablelands – Trout River
Just before the exit to Woody Point (home of Woody Point writers' festival), the highway veers to the left. Shortly after the turnoff is the Discovery Centre, well worth a visit. Interesting exhibits, coffee, gift shop. Hiking trails behind Discovery Centre include the Lookout Trail, which leads you to a panoramic view of much of the park. Keep an eye out for bears.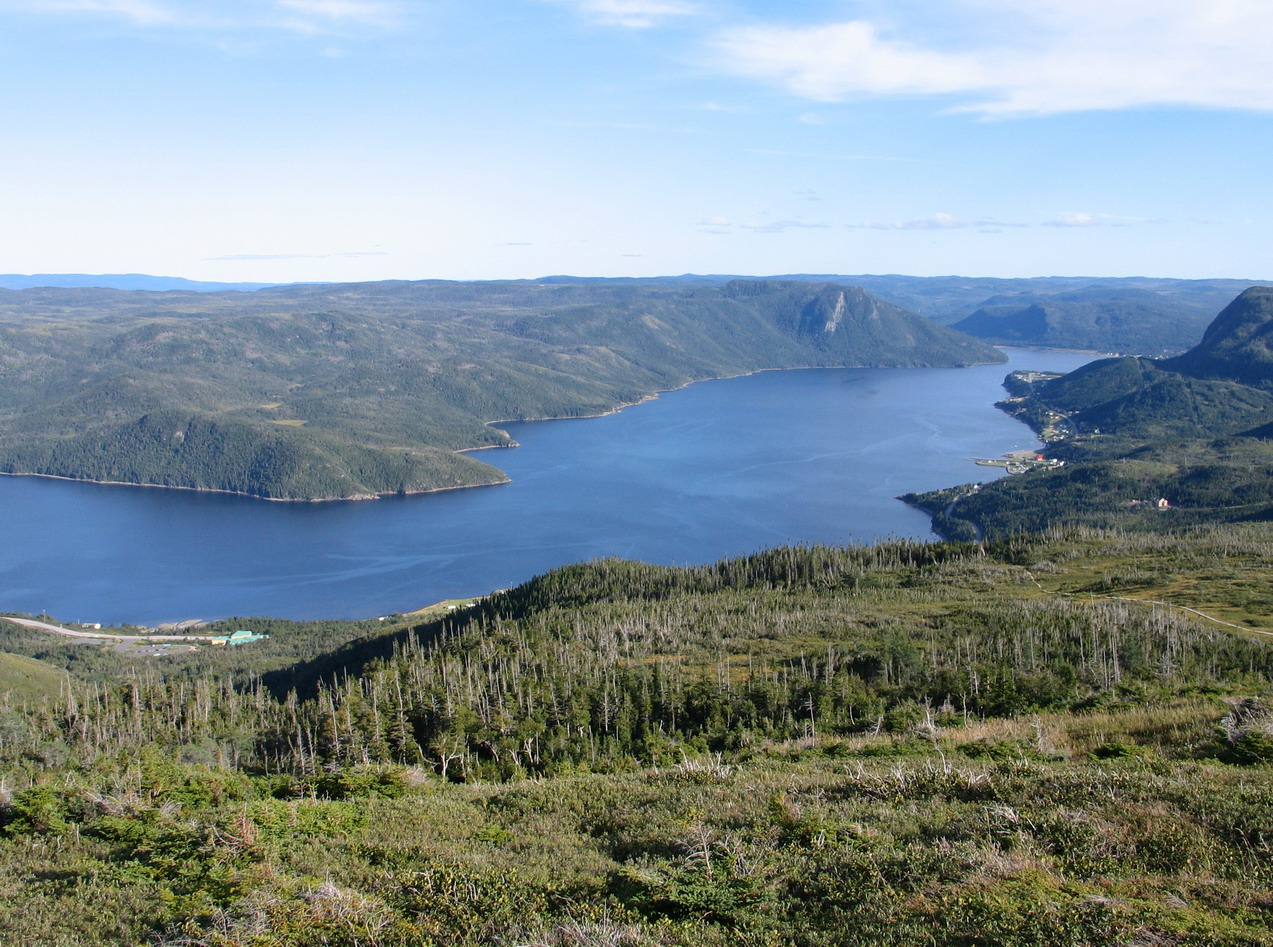 View from Lookout Trail.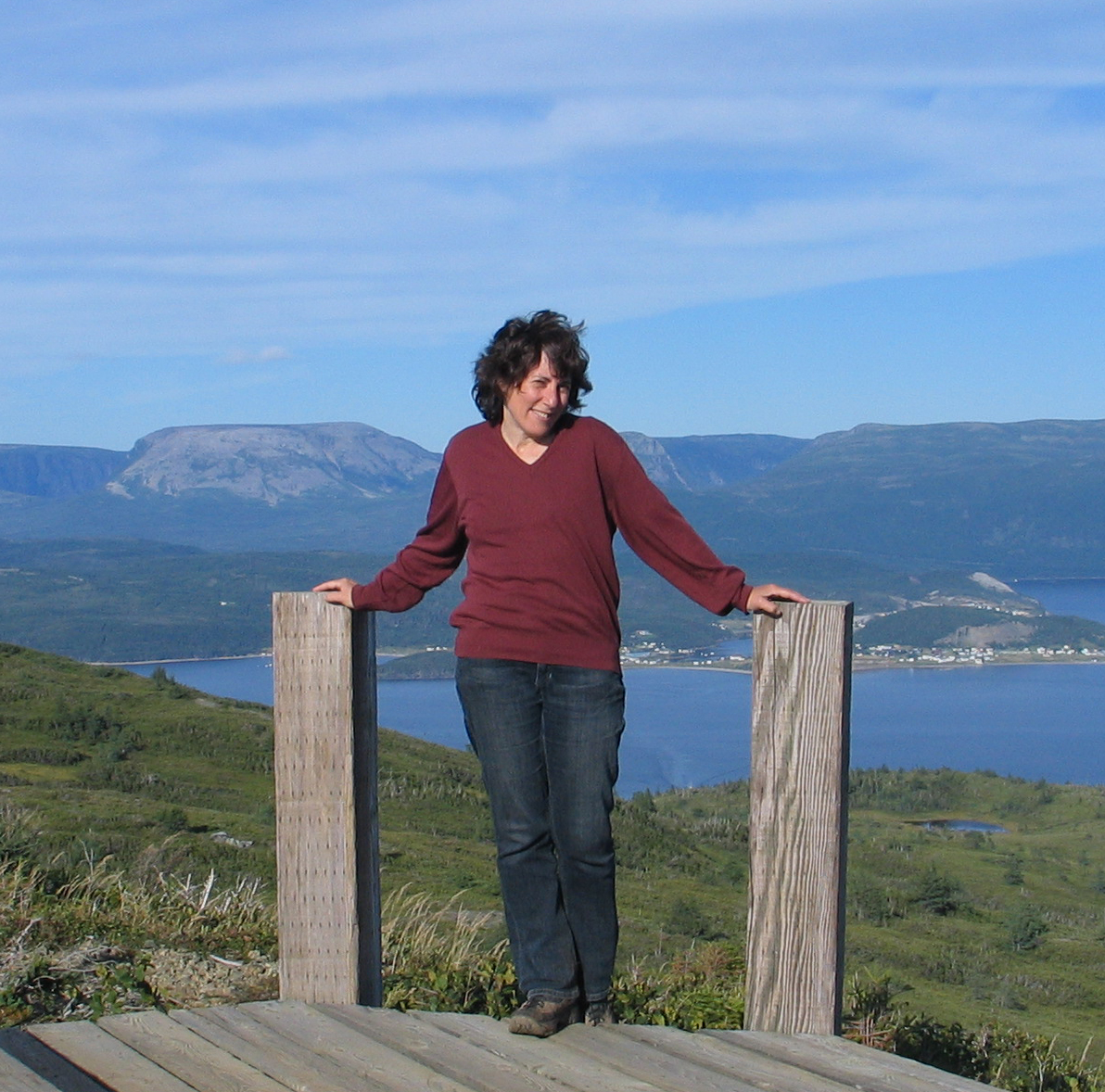 View from Lookout Trail.
As you drive along 431 toward Trout River, you will see two different landscapes. On the right the mountains and valley are lush and green; on the left they are barren and orange. The highway traverses an ancient valley dividing two different geological formations. You'll come to a parking lot from which you can walk into the Tablelands. The actual path eventually ends, but you can walk on and on.
The Tablelands are an extraordinary place. The rocks are from the earth's mantle, peridotite rocks rarely seen on the earth's surface. They are poor in nutrients, and full of toxic metals that plants can't tolerate, so it's a barren landscape. But life is endlessly persistent, and here and there plants appear in crevices where soil has blown in from outside. And of course there are tiny plants, like serpentine sandwort and shrubby cinquefoil, miniature miracles which have figured out how to live with toxic rocks and with winters that bring brutal cold and hurricane-force winds.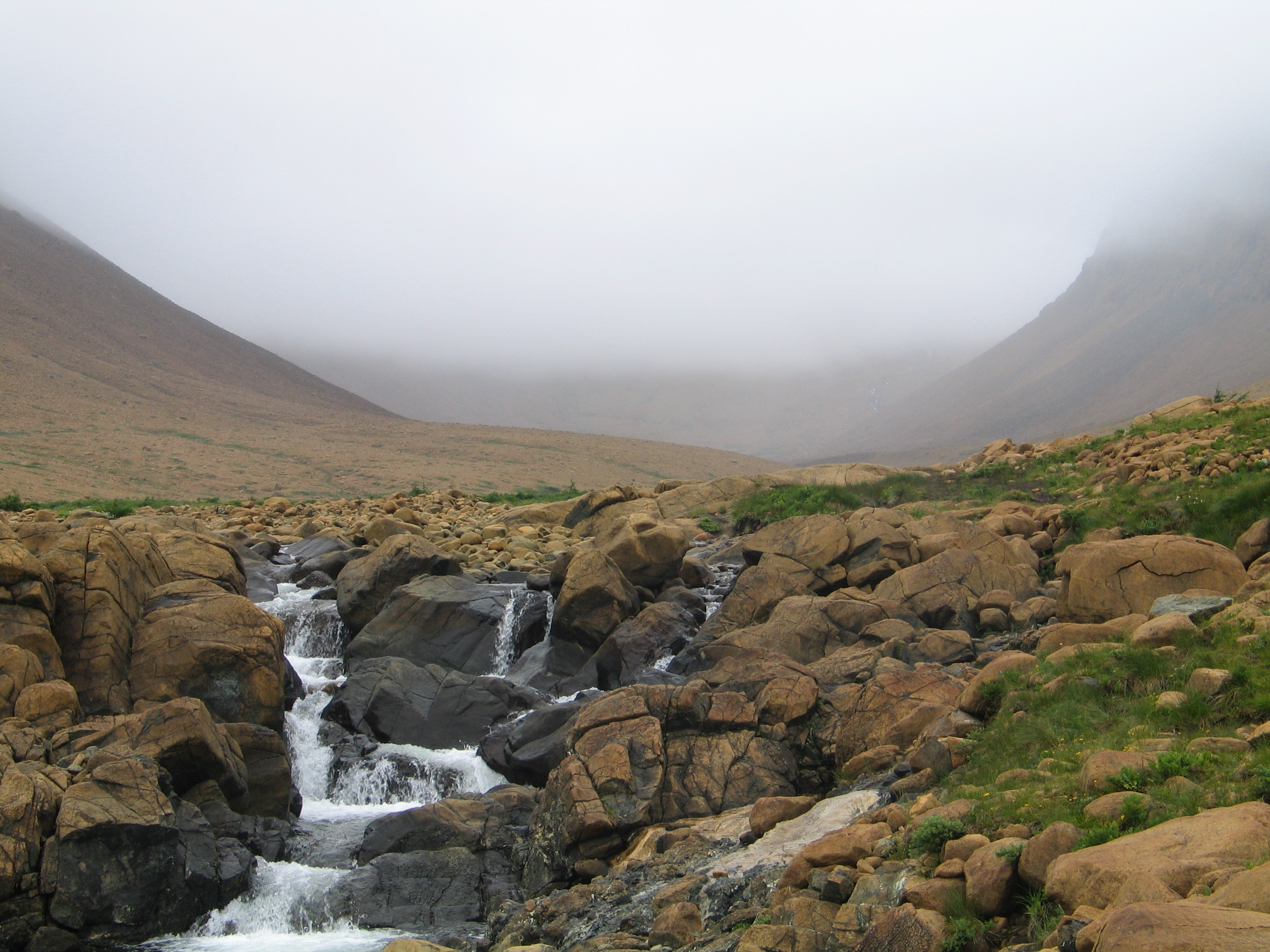 The Tablelands.
Further along 431 is the parking lot for the Green Gardens Trail. This trail takes you across serpentine barrens, then through a forest of small trees, and eventually to the coast, where you can see green meadows, cliffs, and sea stacks. The trail is 9 kilometres return, and takes 4 to 6 hours. It is labelled 'difficult.' Definitely worth it if you have the time.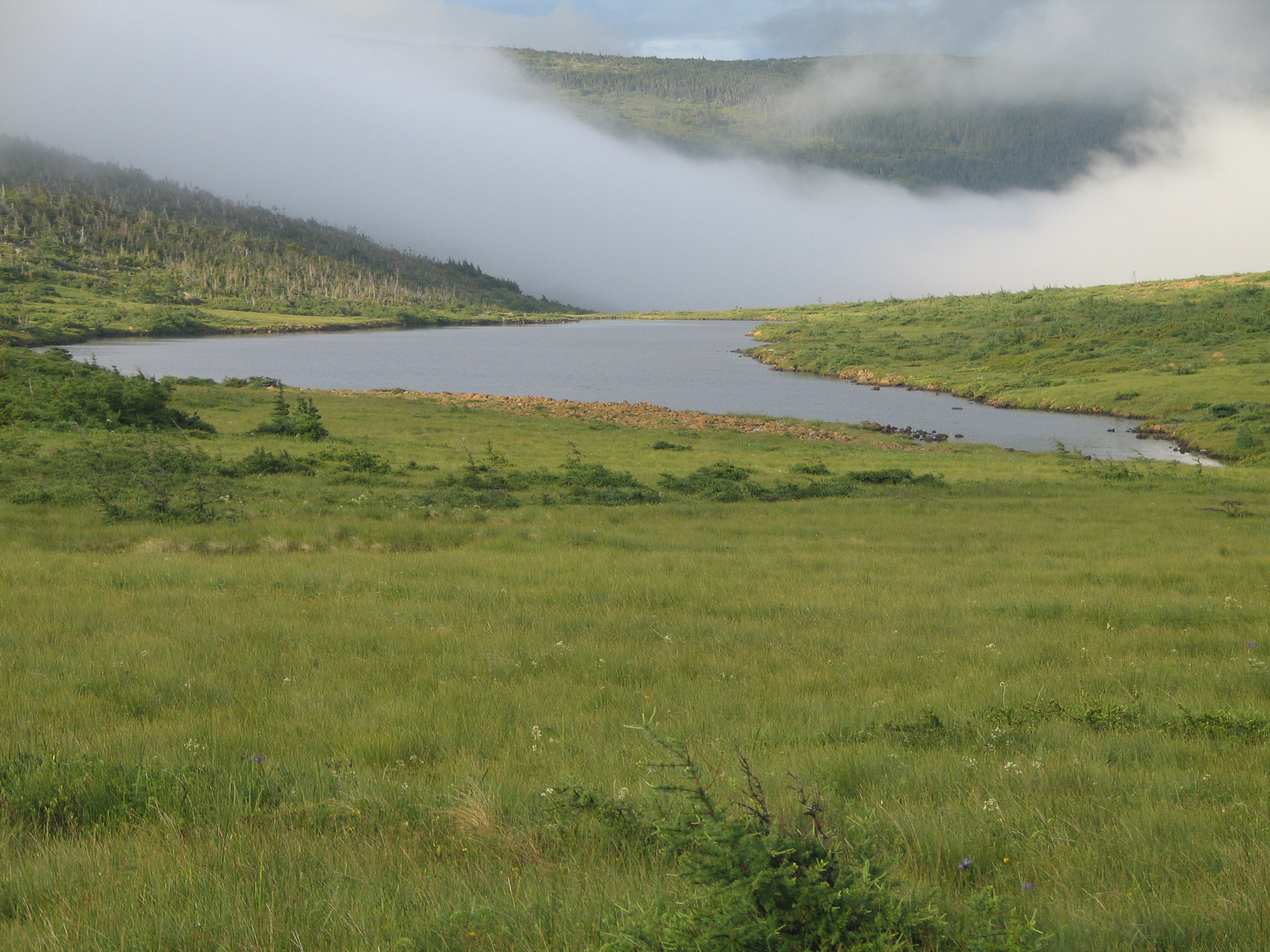 Near start of Green Gardens Trail.
Highway 431 ends at the fishing village of Trout River. Go for a walk on the boardwalk along the waterfront. Maybe buy some knitted goods (colourful socks!) On a hill at the far end of town is the Trout River campground, one of the smaller campgrounds operated by the National Park. It's a good base for exploring the southern part of the National Park. You won't see many RVs here, thank goodness, because there are no hookups for them.
Trout River waterfront.
Trout River Pond is actually an inland fjord, narrow and very long. The Trout River Pond Trail goes along the pond (7 km one way, 14 km return, but of course you don't have to go the whole way.) You can also go on a boat tour (Zodiac) of Trout River Pond.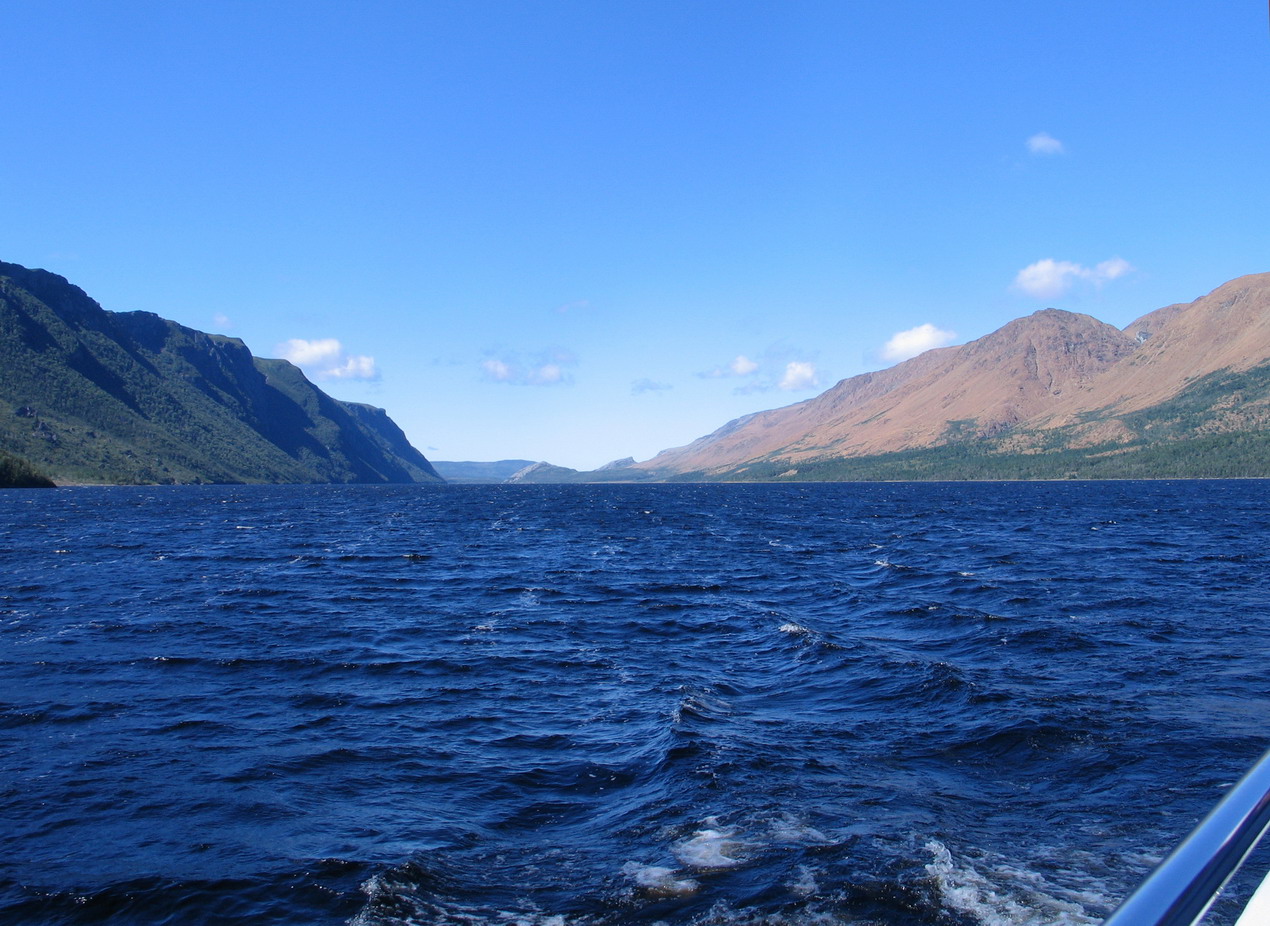 Trout River Pond. Tablelands on the right.
Highway 430
Gros Morne Mountain
This is the highest mountain in the park. You can hike to the top (16 km loop); the hike is labelled strenuous (true). The first part of the hike takes you up to a flat open area with information signs. This spot is the decision point. You are warned not to go on if the weather is threatening. One of the most dangerous conditions is fog or clouds moving in. The top of the mountain is a large rock-strewn plateau, and it is easy to get disoriented and lost. I know whereof I speak: I got lost on the summit of Gros Morne once, even though visibility was good. My dog Rosie eventually found the path again. Good old Rosie! It is also easy to fall off a cliff if it is foggy. High winds and lightning are also reasons for not proceeding to the top. To get to the top, assuming you are going to continue, you scramble up a gully filled with scree. This is the most strenuous part.

The view from the top is awesome. You can see forever. You will be glad you came.

On one of my climbs up Gros Morne I noticed yellowish rocks way down below in a meadow. Then I noticed some of them were moving. "Rocks don't move," I thought. Quick, grab binoculars. Caribou!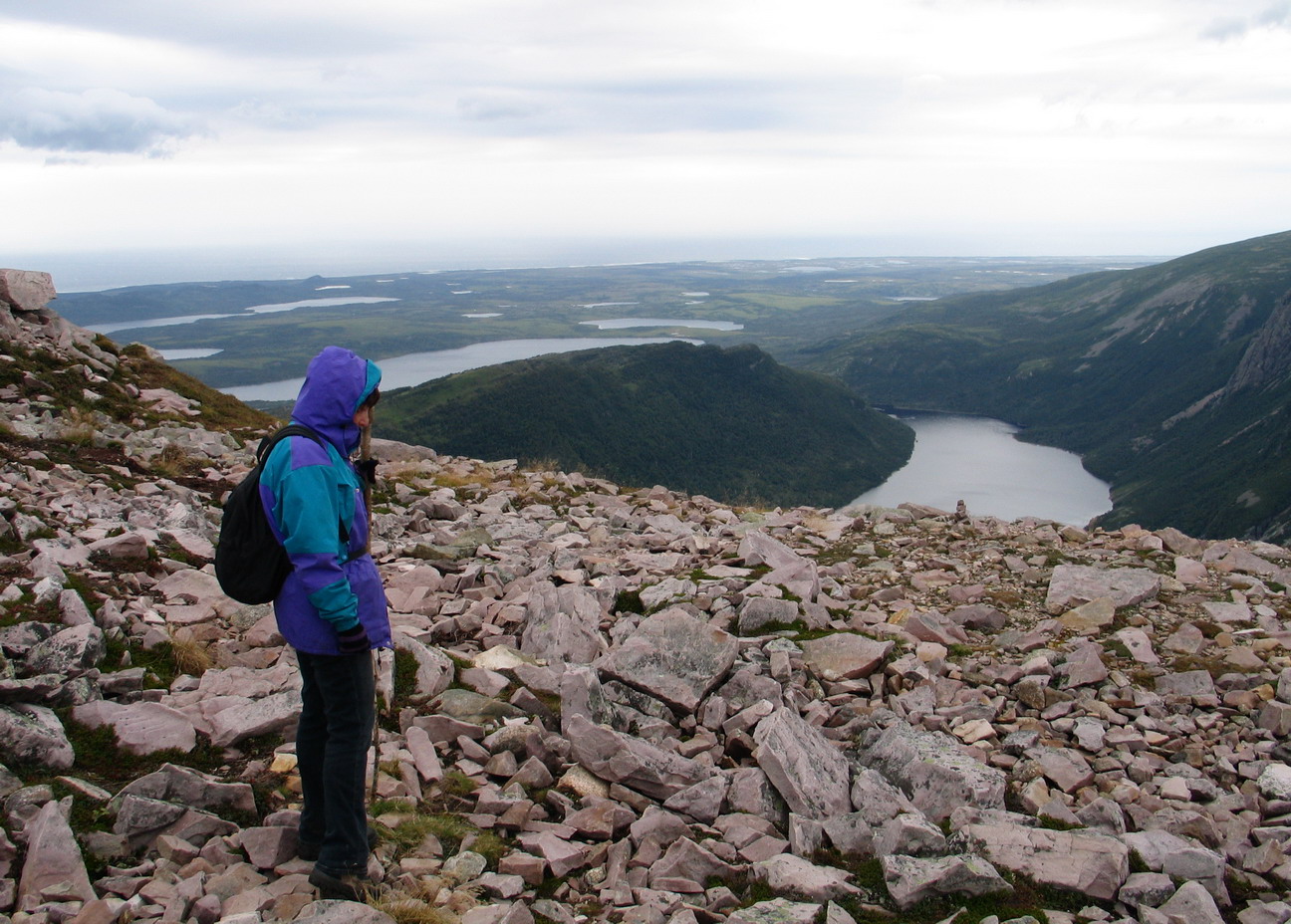 Miriam on top of Gros Morne.
Rocky Harbour and Norris Point
These are the two main towns in the park, only about 10 km apart.

Rocky Harbour (population 900) is more touristy and has more stores and restaurants. (Ask if they have bakeapple cheesecake!)

Norris Point (population 600) is quieter. Norris Point has a marine biology centre which is open to the public. Boat tours of Bonne Bay (1-888-458-2016/709-458-2016) leave from the dock. Gros Morne Adventures, just past the dock, has kayaks you can rent, and offers Zodiac tours of Bonne Bay. Burnt Hill hiking trail starts down near the dock. There are two places in town to buy Joe's Bakeapple Jam: the lookout above the town, off the highway as you come in, and C & J Rumbolt's grocery store.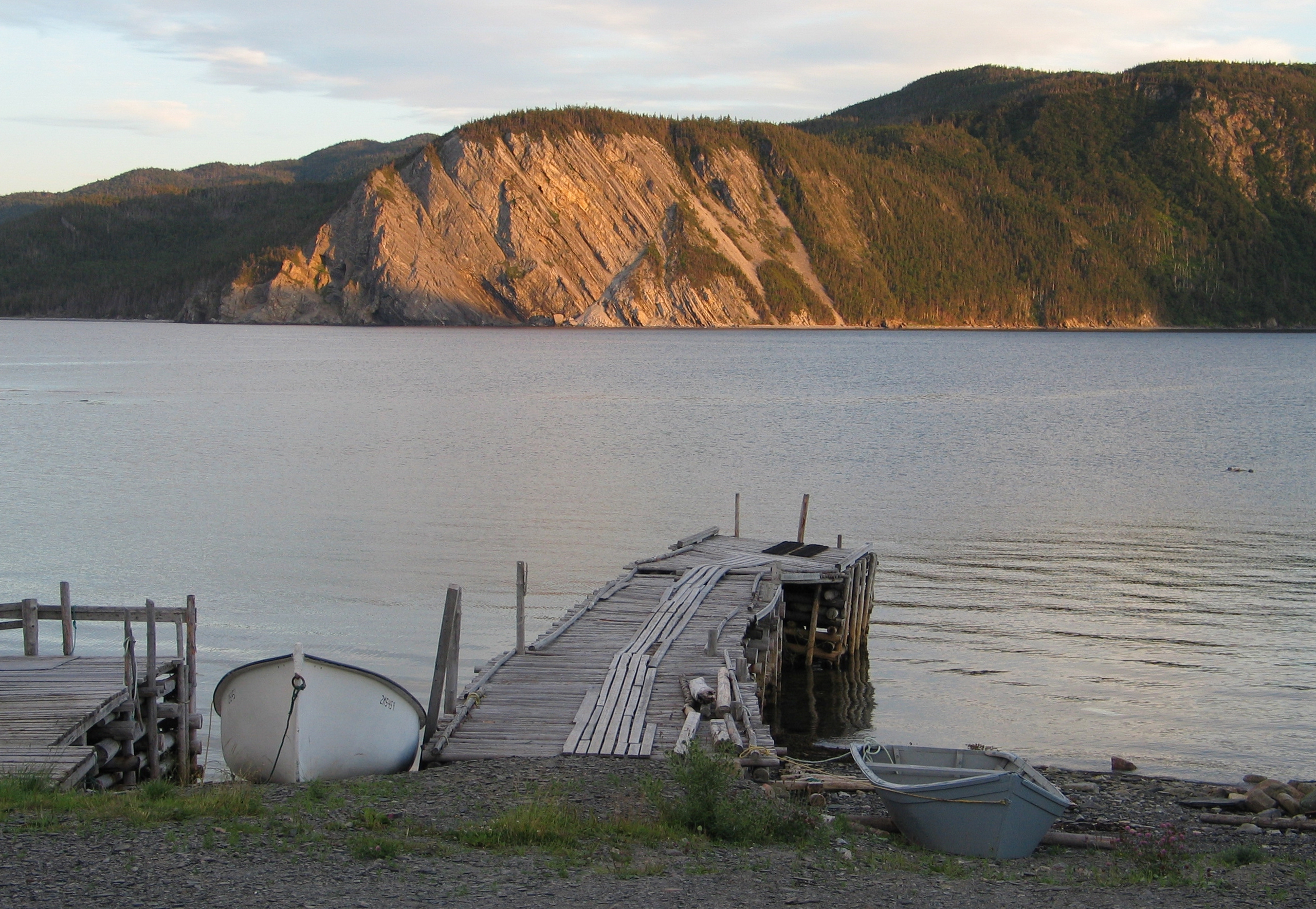 Norris Point.
Wreck of the Ethie
The S. S. Ethie was wrecked off Martin's Point in a storm in December 1919. There were 92 people on board, including a baby. All were saved, thanks to the efforts of local people who rushed to help, and a Newfoundland dog which swam out to the ship with a rope which was then used to get a steel cable out to the ship. The baby was brought ashore in a mailbag ("Special Delivery!") You can still see pieces of the Ethie on the shore at Martin's Point. The wreck and rescue have become part of folklore; Miriam and I saw a play about the Ethie at the Gros Morne Theatre Festival, which takes place every summer in Cow Head.
Western Brook Pond
An inland fjord which was cut off from the ocean, Western Brook Pond can be reached via an easy 3-km hike from the parking lot. The trail goes through coastal bogs as well as some forested stretches. It was here that Miriam and I learned to tell the difference between moose droppings and caribou droppings. You can imagine our excitement! The trail takes you to the western end of the pond (which is really a substantial lake: only in Newfoundland would a body of water that is 16 km long, 165 metres deep, and surrounded by 600-metre cliffs be called a "pond.") To see the really spectacular parts of Western Brook Pond, you need to take the boat tour (call ahead for departure times: 1-888-458-2016/709-458-2016. It's not cheap, but this is a once-in-a-lifetime experience. Dress in layers; it can get cold out there. Towering above Western Brook Pond are 600-metre cliffs with numerous waterfalls. It is a place you will remember.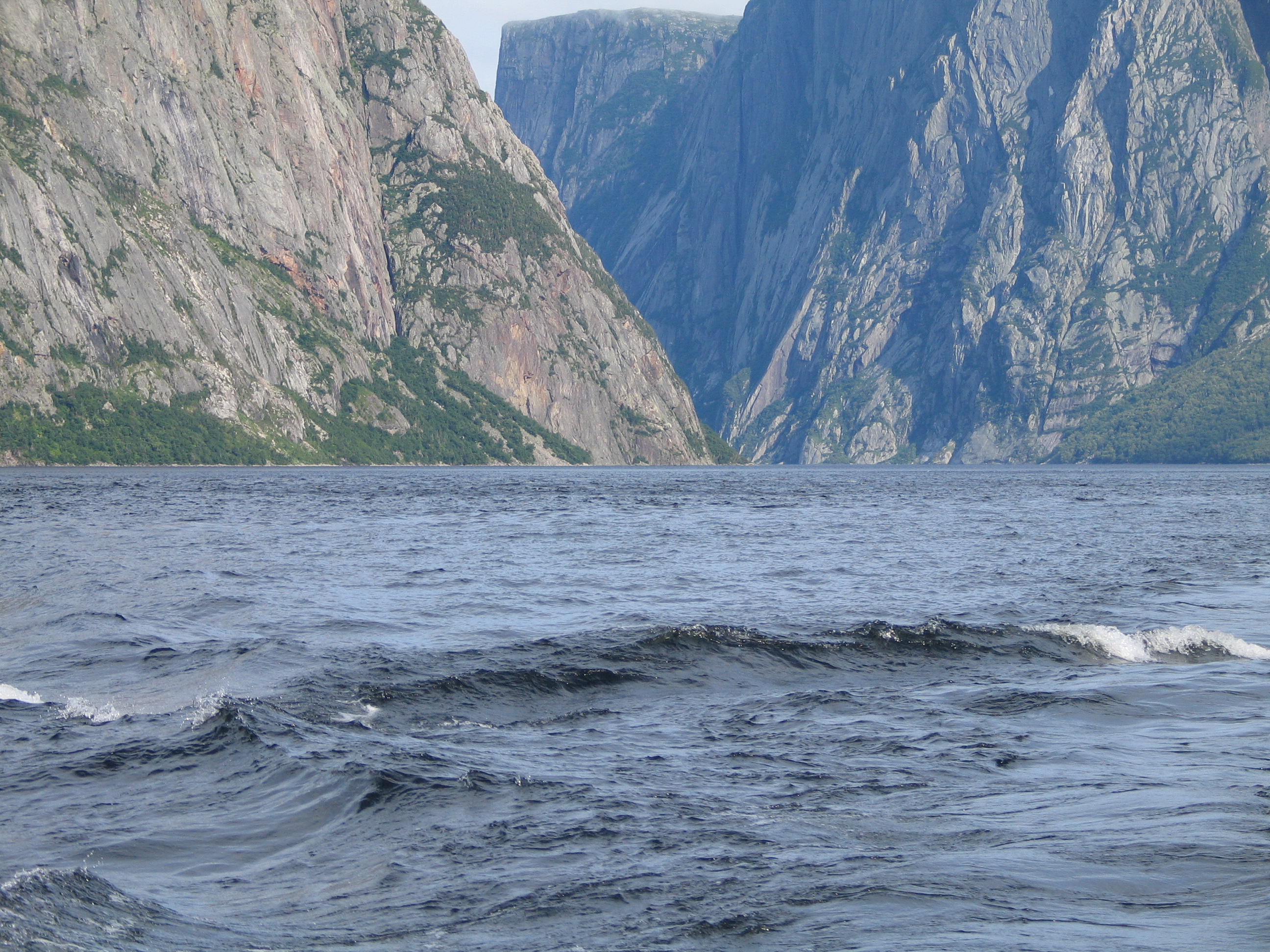 Western Brook Pond.
Further north?
You can continue up Highway 430 all the way to St. Anthony and L'Anse aux Meadows. There is much to see, and it is worth it if you have the time. St. Anthony is 416 km north of Deer Lake. If you feel adventurous and have time, you can even take a ferry from St. Barbe over to Labrador.
Ulli Diemer
May 2022